ellaslist Finds A Rural Oasis at Calmsley Hill Farm, Sydney
Preschoolers
Family
Kids
Mums & Bubs
Teens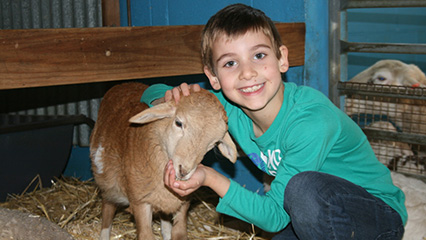 By: Tamarin Vaughan, ellaslist explorer
Tamarin, one of our ellaslist explorers, and her family hopped in their car and found rural Australia at Calmsley Hill City Farm, just a short drive from their Sydney home.
Spring is here and September school holidays are just around the corner so when I was given the chance to visit Calmsley Hill City Farm in Abbotsbury, just 40 minutes from Sydney CBD, I jumped at the chance.
City Living To Rural Australia in 40 Minutes
The suburban street on which the farm is located seems like any other, but as we drove into the driveway, past the impressive cow mailbox, and onto 400 acres of farmland, we were transported from suburban Sydney into rural Australia. It's hard to believe that a farm of that size is located only 40 minutes from the city; a well-hidden but very accessible gem!
A Country Welcome From The Residents
Upon entering the farm we were greeted by Jess, one of the farm's working kelpie dogs, who sat quietly on her rock while our children smothered her with pats and kisses. The only thing that could draw them away from Jess was the discovery of the two farm cats, Fenton and Scrambles, who were given lots of cuddles throughout the day and were rated by our kids as one of their favourite things on the farm!
Fun For All Ages
Having been to the farm a number of years ago when my eldest child was a toddler, and knowing that my one year old and pre-schooler would enjoy it, I was keen to see how my school aged boys would enjoy the farm now that they are older. They loved it!
Hands-On Involvement
I was really impressed by how hands-on everything was. Throughout the day the kids were given the opportunity to try their hands at many farm activities including milking the cow, bottle feeding the baby lambs, hand feeding the animals in the nursery, cracking the stock whip and riding in the trailer behind the farm tractor. As well as all their farmyard favourites, the kids also saw birds, reptiles and a number of Australian native animals including emus, wombats, koalas, kangaroos and wallabies.
Our Highlights


With our visit being only two days before the start of Spring we were hoping to see some baby animals and we were not disappointed! We met Jersey cow Meg and her adorable bull calf (temporarily called Milo but with a naming competition planned to choose his name), baby lambs, kid goats, chicks and a litter of piglets that were only 2 days old. The kids were fascinated to compare the teeny tiny 2 day old piglets to their stable mates next door (who were approximately 6-7 weeks old) to see how fast those piglets grow!


Our hearts were stolen by little orphaned lamb, Olli, who was rescued by the farm and at only one week old is so tiny that he needs a small dog's jacket to keep him warm. After hand feeding him a bottle of milk our son wanted to take him home!


After watching Farmer Matt's very impressive whip cracking skills our 8 year old son was keen to give it a go. He was thrilled when, with Farmer Matt's assistance, he was able to get the whip cracking


All our children were looking forward to the tractor ride and there were squeals of excitement (even from the grown-ups!) when Farmer Keira took us the fast way down the hill!


Our 1 year old daughter was on a mission to pat every animal she could find. Her highlight was the Animal Nursery where she was surrounded by lambs and goats that were more than happy to accept all her cuddles


My highlight was the fact that whilst my children were all enjoying themselves they were also learning loads! Thousands of school children visit the farm every year and so there is a real focus on education and also sustainability. My 8 year old was fascinated to learn that a Jersey cow can produce 30l of milk every day and that black fleece isn't worth as much as white as you can't dye it different colours
Top Tips


The 2 morning shows are repeated in the afternoon schedule so as long as you arrive before 12.30pm you will have the opportunity to see everything. You could, however, spend the whole day there. We had to drag our kids out of the door at closing time with the promise that we will come back really soon!


After 12.30pm there are a few shows that run back to back so it's a good idea to eat your lunch before 12.30pm, or have it ready to take with you. The Farmhouse Café offers a pre-booking option so you can order your lunch in advance and have it ready to go to beat the queues at peak times. The Café serves hot food (such as burgers, nuggets, chips, rolls and party pies) between 11 and 1pm and snacks and drinks until 3pm. It also has plenty of seating and a few high chairs for babies.


If you would rather self-cater the farm has free electric BBQ's and loads of picnic tables including undercover tables and outdoor tables where you can enjoy the fresh air and sunshine.


Tractor rides and animal feed-bags are available from the main entrance/gift shop at a small extra cost. If you purchase tickets for the tractor ride then you will be allocated a time slot. Keep your tickets in a safe place and keep an eye on the time or an ear on the announcements to make sure you arrive at the tractor in time for your ride.


Our kids loved hand feeding the animals and the feed-bags are a really generous size. However, if you intend to feed the lambs and goats in the animal nursery then be warned that the goats can be really pushy! Even grown ups can have trouble hanging onto those bags when there is a determined goat pulling on the other end. Lost food bags can result in tears! We found it easiest for an adult to hold the bag and tip a little food into the child's hand.


The farm is situated on one of the highest points between the city and the Blue Mountains so it has great views. Keep an eye out on the tractor ride and you can see the city skyline, or climb the stairs to the viewing platform near the working dog arena for a beautiful birds-eye view of the farm and its surrounds.


From September to April the farm offers an overnight camping/farm stay option where families can spend a night camping under the stars and experience more of what it is like to live and work on a farm. We had such a great time at the farm we've already booked our return trip to camp there!
The Essentials
Open: 9 am to 4.30 pm daily (last admission 3.30 pm).
Show Times: Find them here.
Cost: Adult: $27.50, Child: $15.50 (Under 3s Free), Pensioners: $21.50,
Seniors: $19, Family pass (2 adults/3 children): $75,
Annual family pass: $195 (2 Adults and up to 3 children)
Location: 31 Darling Street, Abbotsbury, NSW 2176
Telephone: 9823 3222
Find out more about Calmsley Hill Farm here.