ellaslist Explores The Bella Family Experience At The MCA
Preschoolers
Family
Kids
Mums & Bubs
Parents Only
Teens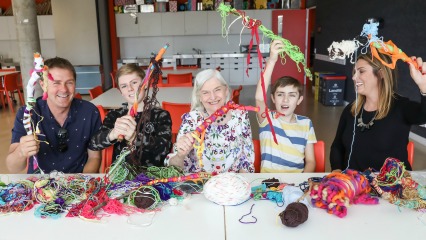 By: Harriet Body, MCA Artist Educator
For families experiencing disability or who have specific accessibility requirements, finding fun, family activities and experiences that cater for these needs can be very difficult. Enter Bella Family, a free program for the whole family to enjoy offered by the Museum of Contemporary Art (MCA). The Bella Family program is individually tailored to the specific learning and access needs of a family member with disability and/or accessibility requirements. A Bella Family program typically runs for 90-minutes and may include a hands-on gallery exploration, an art-making workshop and a visit to the Bella Room: an interactive exhibition space within the MCA's National Centre for Creative Learning. The Bella Room is re-commissioned every year and always contains artwork that is multi-sensory, meaning there may be aspects of the artwork that can be touched, heard, seen, smelled, or even tasted.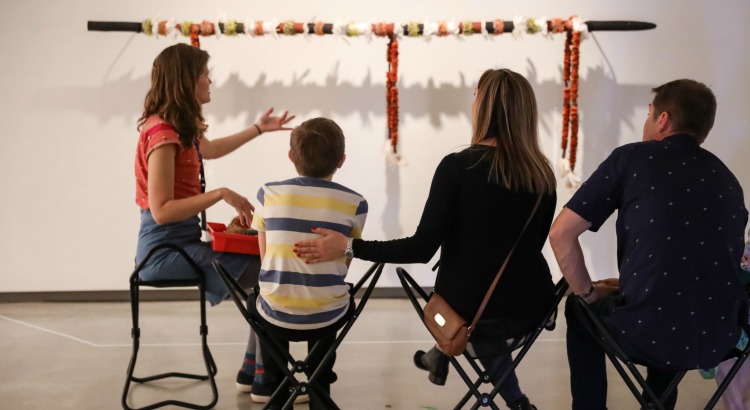 An Individual & Unique Experience

I recently welcomed Riley and his family who joined us for their very first Bella Family program. While every Bella Family program runs differently, dependent on the family's specific needs, I will use Riley's program as an example of what can be expected from a Bella Family program: Riley arrived with his mum and dad, older brother, and grandmother. We settled into our own private studio space which was known as 'home base' so that I could welcome everybody, go over the timeline of our program and make sure that everybody was happy and comfortable. We began the program with an exploration of the gallery. We examined Bob Burruwal's Morning Star Pole, a three-metre-long wooden staff covered in wax and draped with feathers. I handed out samples of sticks, feathers and wax for Riley and his family to hold and explore. The tactile sensation of these materials allowed us to examine the artwork through an alternate means of enquiry – an example of an accessible way of examining artworks that both Riley and his family members could equally participate in.
Interactive & Sensory Visit

After the gallery exploration we visited artist, Kathy Temin's, Bella Room commission titled The Koala Room. Riley loved the sensation of the soft, velvet covered space and he relaxed on a plush, lurid green bench, under a koala blanket while the rest of the family and I dressed in koala costumes and performed for him, laughing and making jokes. I taught Riley's brother and father to create stop-frame animations using an iPad and magnetised koala-characters, harbour bridges and gum-trees that cover one wall within The Koala Room.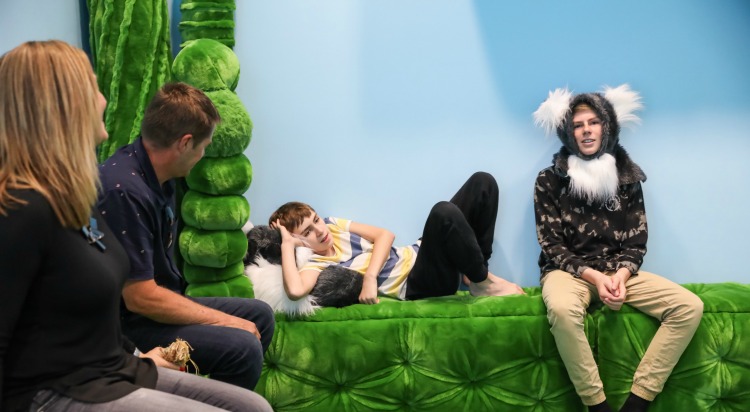 Getting Crafty

The final part of Riley's program was an art-making workshop where we responded to the Burrawal's Morning Star Pole that we had seen during the gallery exploration. We wrapped found sticks with different types of materials including fabric, ribbon and yarn, and then displayed these together on the wall as a collaborative collection of sculptural items.
Dynamic, Diverse & Tactile

Riley's program was dynamic (to hold interest and dissuade agitation and distractedness), diverse (to ensure there was something for all family members to enjoy) and tactile (to satisfy Riley's strengths in processing information via touch). All Bella Family programs are tailored in this way; we work with the family to create a program that everybody will enjoy, that also suits the needs of the family member with accessibility requirements. Importantly, Bella Family is a program that facilitates enjoyment in creativity for the whole family.
Bookings: Advance bookings are essential and should be made at least 4 weeks in advance.
For more information about how you can book into a Bella Family program, visit the Bella Family page.
Bella at the MCA offers creative programs to people of all ages with disability and/or accessibility requirements. Bella was established in 1993 through the generosity of MCA patrons, Dr Edward Jackson AM and Mrs Cynthia Jackson AM, and the Jackson family, in memory of their late daughter and sister Belinda.