ellaslist Explores the Amazing Early Start Discovery Space in Wollongong
Preschoolers
Family
Kids
Mums & Bubs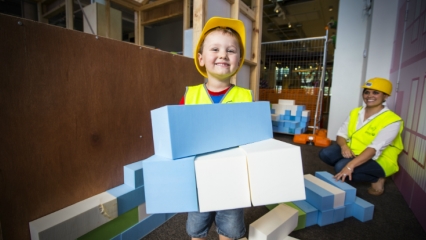 ellaslist COVID-19 update: Please note that all the information on the website is correct at the time of publication. Please check the relevant website before visiting a venue or destination for the latest COVID-19 information. ellaslist is not responsible for any cancellations or closures.
By: Sarah Stores, ellaslist explorer
On a recent weekend away to Bowral we took a diversion to the University of Wollongong to visit the Early Start Discovery Space.
Blown Away by This Amazing Play Space!

Promising a fun and interactive play space for kids and adults alike I had been keen to visit it for several months and it did not disappoint! My boys and I were blown away by the space and had an amazing morning.
The Early Start Discovery Space is broken up into several separate play areas each delivering an immersive experience which transports you to a new world. The staff are helpful and non-intrusive – you can see how passionate they are about this new centre. If the below list of activities doesn't convince you to jump into your car right now and go then I am not sure what would. It really is the best experiential area for kids that I have seen in Australia.
Highlights of The Early Start Discovery Space
We started at the shipyard where a replica ship had been built. The boys dressed up as pirates, swept the decks, caught fish and placed them in big nets. They then climbed up to the top deck and steered the boat and mast.
From the ship yard we moved onto the tummy tour. As bizarre as it sounds, in this section my boys climbed through the mouth of a large inflatable digestive tract and crawled through as if they were food passing through the body. They then exited by squeezing through a bottom. My boys thought this whole process was hilarious and did this multiple times over and over. It actually even helped contextualise some toilet training issues we are having as well.
This was probably my favourite section. The centre had built the wooden frame of a house and then supplied all the right stuff for the kids to be just like Daddy and build things. My two donned a safety hat and vest and then spent ages laying bricks to build a wall, connecting pipes though the wooden frame, laying tiles in the shower and generally be handy! I was super impressed!
This was my 4-year-olds favourite space. At the entrance of the caves the centre supplied wind up torches. After winding them up for maximum light we went into the dark caves that had stalactites, stalagmites and hidden caves to explore. Bats and owls hid in crevices and my Master 4 loved exploring this space and spotting the animals.
From here we collected shopping trolleys and did some 'shopping'. Master 4 was in charge of the cash register while Master almost-2 piled his goodies up onto the table. My favourite bit of the market place was the fresh flower selection. Of course my boys didn't really care about the flowers but many other kids seemed to love arranging the fake flowers.
Very, very last stop with tired legs and bodies we went to the sand pit archaeology section to dig up some bones!
It was time for some scheduled craft at the creARTivity space. We made some beautiful butterflies with the craft guided by the lovely and patient staff.
Next up we got dressed as dinosaurs and dogs, picked up the microphones and put on a show! My little one then discovered the controls to alter the lighting for the stage and even more fun was had!
We had a quick inspection of the baby space which is a nice soft crawling area. My boys were too busy to stay long but it looked like a great space for littlies.
We took a break in the Book Nook and piled onto the beanbags to read some books.
Shipyard
Tummy Tour
Construction site
The Cave
The Market Place
Archaeology
CreARTivity space
Lights, Sound Action!
Crawlers Cubby
Games Area


Another quick stop at the games area which had giant snakes and ladders and connect 4. I was very keen for a game of snakes and ladders but my boys had discovered the outdoor area…so we moved on.


Discovery Gardens


Next activity that really caught my boys attention was the outdoor space that had bridges and water and boats galore! My kids love water play so this was the perfect addition to an already amazing morning. Plus, you can access the café from the gardens so I got my coffee fix!


The Pod


Just when we thought we were done we discovered a large 2-story semi-circle movie screen that was showing an incredibly life-like video of an underwater experience. Master 2 was enthralled by the sharks and the fish!

Book Nook
Can you believe, that this isn't even the full list of activities. There are other fun stops dotted around such as skeletons and a music space. It really was an accessible, fun and engaging morning. I am considering planning a weekend back to Wollongong specifically to revisit this museum!
What you Need to Know about Early Start Discovery Space

Where: The Discovery Space is located in the Early Start Building at UOW's Wollongong campus. Building 21, 101 Ring Rd, Keiraville
Opening Hours: Tuesday – Sunday: 9am – 4pm
Cost: Adults and Kids over 12 months: $15. Memberships are also available.
MORE INFORMATION ABOUT EARLY START DISCOVERY SPACE
I'm Sarah. A Mum of two over-active boys and a self-confessed Sydney tragic. I love living in, exploring, discovering and experiencing all Sydney has to offer. Having lived in Sydney most of my life I have loved exploring it as a grown up but now as a Mum I'm relishing re-discovering my passion for Sydney through the eyes of my boys. I love planning and executing our regular family outings to explore new things in Sydney. As a working Mum, it is a great way for our family to stay connected and have fun together. I would love to spend all my time travelling the world but given I live in the real world of mortgages and jobs we see exploring Sydney as tourists as the next best thing. You can follow our adventures on
Instagram at SarahStores