ellaslist Escapes To Neverland In The Heart Of Blacktown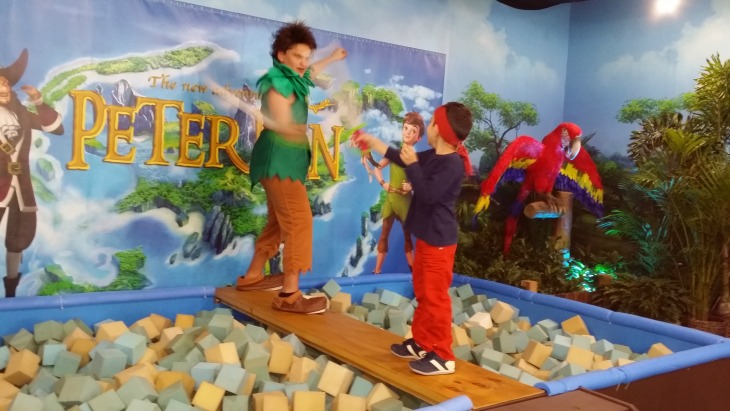 By: Amy Schembri, ellaslist explorer
Blacktown Westpoint is THE PLACE to go these school holidays as not only will you get a wide variety of options for lunch & shopping, you're literally in a shopping centre that has created a wonderland of fantasies including Captain Hook, Tinker Bell & Peter Pan spread all across the centre from level 1 all the way to On Four!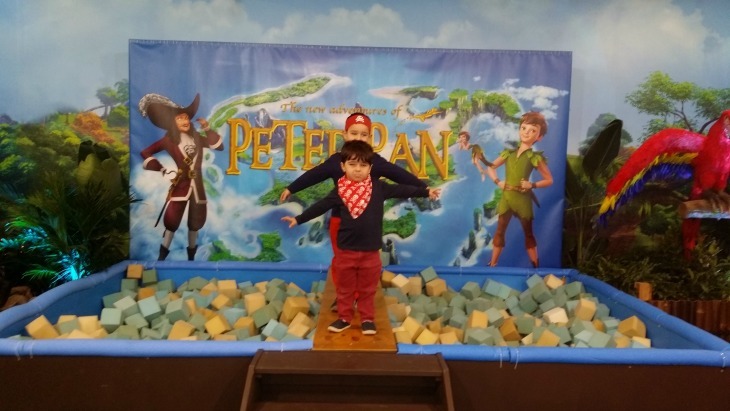 The Centre Has It All These Holidays
On Four which is the very top level of Westpoint Blacktown is where it is ALL happening from Bowling to Hoyts, Max Brenner & an arcade to a HUGE Pirate Ship - The Jolly Roger: don't bother looking for it as you CANNOT miss it! It is a Jolly Big ship where you'll meet Captain Hook and be taken by amazement as smoke spreads atop the ship making you think you really are in a Peter Pan fantasy!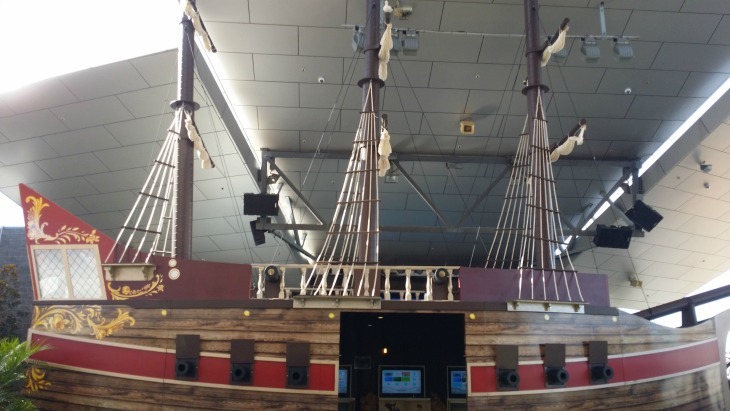 We're Going On A Treasure Hunt
Whilst walking around and seeing the new and exciting shops around Westpoint Blacktown you can do a TREASURE HUNT which is not only fun for the kids these school holidays but also yourself as it's not as easy as it seems and you'll definitely get a workout walking from one end of the centre to the other finding all the clues that'll eventually lead you back to the Customer Service Desk on Level 3 where you can pick up your TREASURE from Westpoint Blacktown's friendly staff! A hardcover book named: Seek & Find Pirates!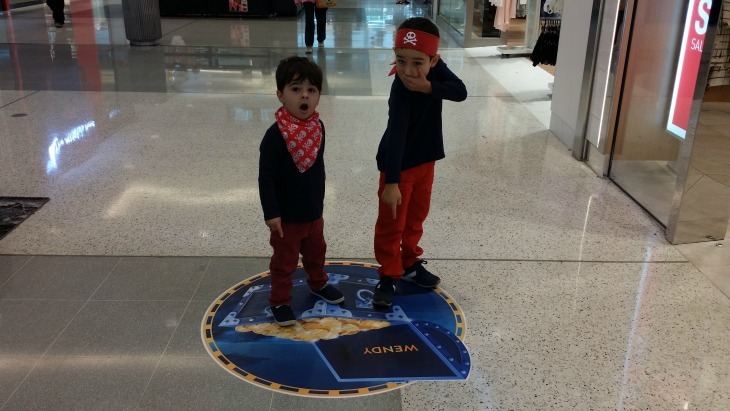 Getting Crafty
Not only do you receive a cool book that'll get your children reading you also have the opportunity to make either a Pirates Hat that kids can decorate with feathers, glitter and glue, or the little Tinker Bell in your life can make her very own Fairy Wings!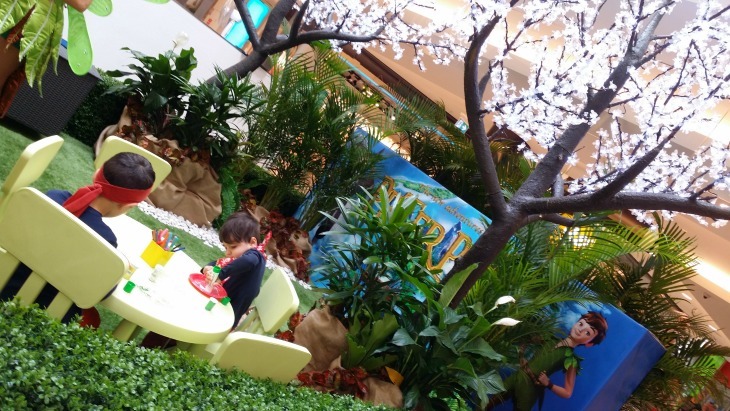 There's An Indoor Playground, Too!
There is a small playground located on Level 2 (Near JB HIFI) which is best suited for children 5 and under and give you a rest whilst you fill out your Treasure Map!!
Make Lunch A Special Treat
For lunch you have the options of all your favorite takeaway and fast food from Mcdonalds, KFC, Subway to Sandwich shops or if you're feeling up to it, go dine on Level 4 (On Four) where you can enjoy a hot dog at bowling or a nice meal at Hogs Breath, Panarottis or a sneaky treat at Max Brenner!
Top It Off With A Movie
After your children have walked the plank, made a wish or played a little Wii in The Jolly Roger, you can go to Hoyts sit back & watch one of the latest blockbusters.
Loads Of FREE Entertainment
I definitely recommend Blacktown Westpoint these School Holidays as there is hours of fun to be had for both your children & yourself! Escape to Neverland at Westpoint is a great option for kids these school holidays as you will need at least 2 hours to get around to everything as there is LOTS on offer...all for FREE!
There's Treasure At The End
Yourself and the kids can do a TREASURE HUNT whilst going through Westpoint for their different activities as they are spread all across the centre- just take your completed Treasure Map to centre management where you will receive your TREASURE!!!! *Spoiler Alert, it is a Hardcover Book called Seek & Find PIRATE!
You Can't Miss The Jolly Roger
The Jolly Roger is a massive ship on Level 4 (On Four) where you'll meet some pirate maids & also Captain Hook himself! The ship has approximately 8 TVs set up with Wii games & controllers which is best suited for children 6 & up, I believe.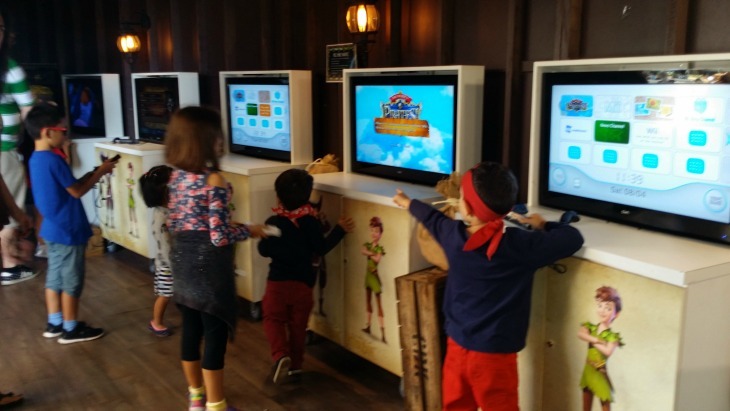 Mermaids Lagoon Is A Hit
Mermaids Lagoon which is located on level 2 (near Myer) will give your child an option of Tinker Bell wings to decorate or a pirate hat! Feathers, glitter & glue all provided to make it as cool as you want!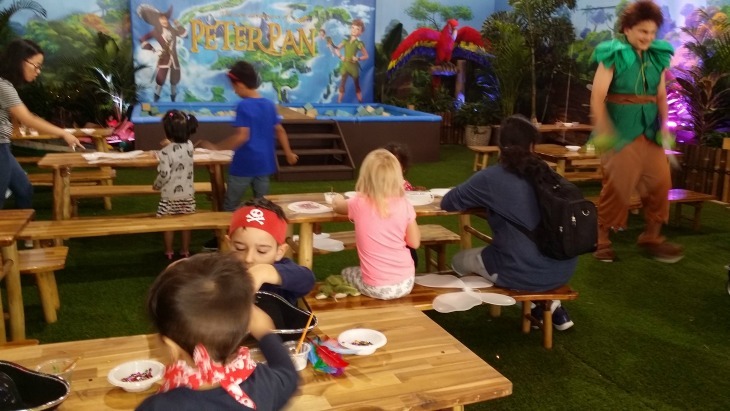 Meet Peter Pan & Tinker Bell
At the very same place you can WALK THE PLANK with the most amazing Peter Pan who will also have a sword fight with your child on the plank!!! Down on Centre Court (Level 1) you will meet Tinkerbell in The Pixie Hollow, have a photo opportunity with her with a lovely backdrop and even decorate your own star and MAKE A WISH which you can either keep to take home or hang near Tarocash in Westpoint!
Our Favourite Bits
The kids absolutely LOVED it, so much so after creating their own pirate hats asked: "Wow, do we really get to take these home?!?". The funniest moment was sword-fighting with Peter Pan on Walk the Plank! The most boring was actually The Jolly Roger although the ship itself is a beautiful sight, tall & large giving you great photo opportunities! The most thrilling part was doing the Treasure Hunt around the centre not knowing what surprise you'll receive to take home!! Highlights were how creative everything at NEVER GROW UP looked and felt with amazing characters that really made you feel welcome!
ellaslist's Top Tips
Be cautious of Pixie Hollow as the kids WILL be covered in glitter at the end of decorating their own star!!! Definitely ask for photos with your favourite characters!
Escape To Neverland: NEVER GROW UP will be entertaining kids and families for FREE these April school holidays, Saturday 8 April to Sunday 23 April 2017. Visit their website for a full schedule of activities.