ellaslist Discovers The Super Slides At Frontier Park, Rockbank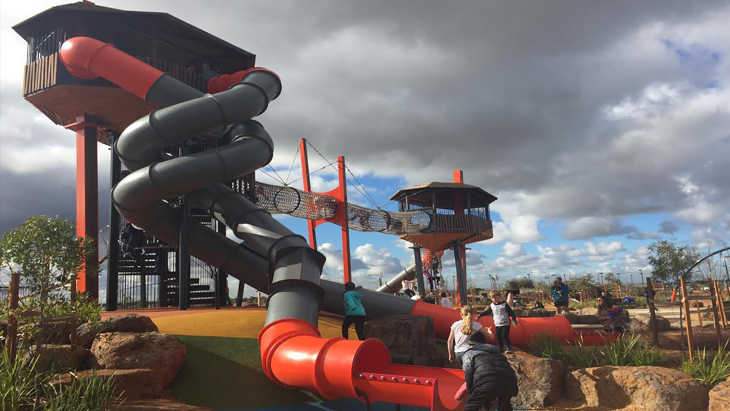 By: Natalie Roach, ellaslist
Melbourne has no shortage of excellent playgrounds with new ones popping up every now and then. Frontier Park located inside the upcoming Woodlea Estate in Rockbank has jumped ahead in the race with a super cool adventure playground and is certainly one of our favourite's.
Woodlea Estate is a new estate being developed 30 minutes west of the Melbourne CBD. Situated near Rockbank, the developers have made playgrounds a priority. There were two playgrounds open, and another was still under construction. The two parks that were open were Frontier Park and Woodlea Estate Playground, both worth a trip out west and only a short 500m walk from each other.
Here's what we loved about the amazing Frontier Park, Rockbank.
Mindblowing Fun
Frontier Park is awesome! This park has been very well planned for families; they have not only thought about play equipment and facilities but also sports for the kids. The greatest thing about this park is the way it caters for children of all ages, it is great for 1-18-year-olds or even maybe some adults who would like to shoot some hoops.
Roll The Ball And Skate Up A Storm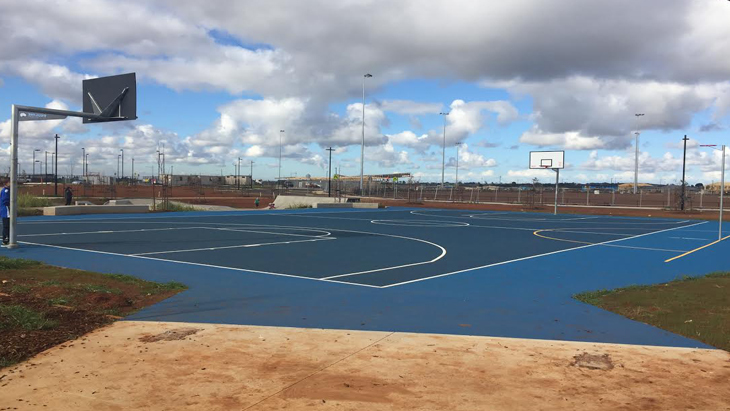 Frontier Park has a basketball court with rings at both ends enabling a game to be played rather than half courts at some other parks. Next to the courts is a skate park for those who love to get their roller blades, skates, skateboards or scooters out doing some tricks. I could see some of the older kids loving playing in these areas.
Slippery Sliding Adventures
The highlight of the park is the towers; there are multiple ways of getting to the top via nets and ladders which provide kids with a sense of adventure. Once at the top there are huge slides to travel down. Be aware it is dark in the slides so some kids who are afraid of the dark might not like this. Nonetheless, I had fun going down them with my kids screaming and laughing at the same time.
My kids loved climbing the nets and ladders to get to the top of the slides ready for the big descent down the long, winding tunnels.
Swinging Times
The swings are in a pentagon shape so all the kids can see each other whilst swinging, really giving a sense of community. There is a sandpit with a water pump that the little kids loved getting their toes dirty in during winter, and a small climbing area with bridges and a lookout for the little ones who don't want to go to the higher towers.
The Extras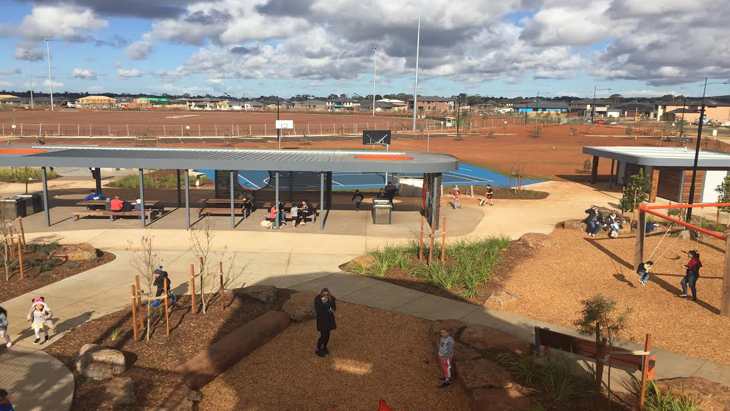 The facilities are good at this park with multiple toilets that are large enough to fit prams or wheelchairs in. It has an outdoor sink which is good for filling up water bottles and washing hands. BBQ facilities are undercover and there are plenty of tables to sit and eat.
Water Works
My understanding is that there are water play facilities available but this was not active while we were there, we visited in mid-winter. But come summer, get ready to splash away.
What you need to know
You will need to walk around with younger children because it is so large you can't sit in one spot and see them from every angle.
Where: Cnr Woodlea Boulevard and Frontier Avenue, Rockbank 3335, Victoria