Dough-Licious! Check Out The Cookie Dough Cafe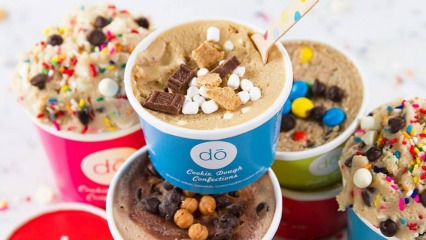 By: Phoebe Ackland, ellaslist
A Nutella Cafe, a cereal cafe, and a restaurant where you can make your own ice-cream at the table….we're beginning to think New York City wouldn't be a bad place to raise kids. At least as Sydney-siders, we're already used to the sky-high rent.
Well, they've given us yet another reason to have us scanning for cheap flights: Cookie DŌ, the cookie-dough cafe that has lines around the block and completely sells out of dough!
[fbvideo link="https://www.facebook.com/Insiderfood/videos/1664528723851598/" width="500" height="400" onlyvideo="1"]
Source: INSIDER Food

D'Oh!
Cookie DŌ,
 goes through a whopping
453kg of dough per day, over 11 kg of sprinkles, and over 45kg of chocolate chips
! The only question remains: cone or cup? This cookie dough is safe to eat raw, made with pasteurised eggs and heat-treated flour. Menu items include milkshakes, fudge, baked cookies, ice cream sandwiches, and of course, cookie dough scooped into either a cup or cone. Dough flavours include red velvet, cake batter, signature choc chip, sugar cookie, brownie batter, peanut butter snickerdoodle, oatmeal M&M and Commando- the plain dough amongst some more deluxe choices.
Dough-verwhelming Support
Company founder
Kristen Tomlan
took weekly cooking classes and wore out multiple easy-bake ovens as a child. She said: "For me, the best part of making cookies is, and always has been, the pure, dough-ey goodness of the unbaked cookie. There is something undeniable about the smooth, sugary, deliciousness that comes right from the mixing bowl." She has been overwhelmed with support for this nostalgic-style cafe, whose website, as we write this article, cannot accept online orders due to "overwhelming" demand! We hope one of these makes its way over to Sydney…