Double Trouble: Times Two!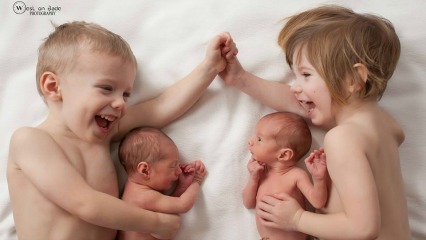 By: Phoebe Ackland, ellaslist
"You're having twins!" It's the shocking, overwhelming and exciting news that around 1.4% of mothers in Australia experience. But imagine being told it twice…in just 14 months!
That was the reality for a couple from Kent, 29-year-old Stacey Wright and her partner Peter Podolski. To boot, Stacey was on the pill! They had their first set of twins, boys named Harry and Oscar in 2010. She gave birth prematurely to the second set, girls this time named Annie and Eliza, in June of the following year.
[caption id="attachment_118974" align="aligncenter" width="620"]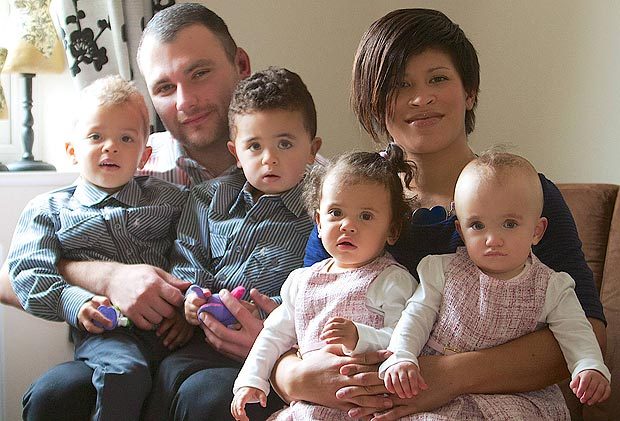 WORLDWIDE FEATURES[/caption]

They Hadn't Even Tried
Wright told
The Daily Mail
"It really was meant to be. To fall pregnant with my second set of twins whilst I was on the contraceptive pill meant that it certainly was fate. To have two sets of twins within 14 months of each other is astounding – and it took a while to sink in."
Wright and Podolski hadn't been using fertility treatments for their first set of twins, so their arrival came as a happy surprise. After their birth, Wright had to have some pre-cancerous cells removed from her cervix, on top of which the couple said they definitely weren't trying to have any more children.
But, there you go- life doesn't always go to plan!
When Wright was told of the second set of two heartbeats in her womb, she told
the Daily Mail:
"I was happy, but I burst into tears again. I was so worried about how I was going to cope with two sets of twins, born so close together. There aren't any sets of twins in either of our families, so we just don't know where they came from."
[caption id="attachment_118975" align="aligncenter" width="634"]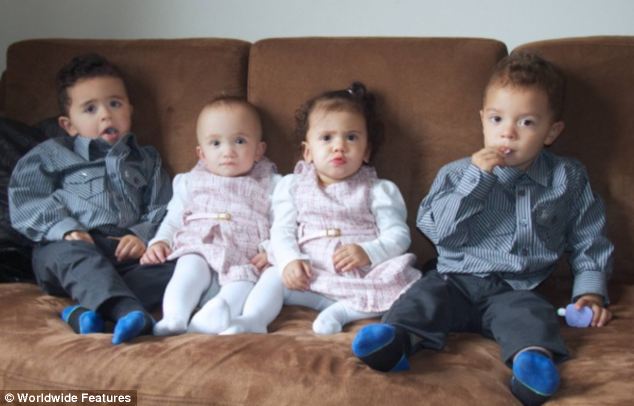 WORLDWIDE FEATURES[/caption]

The Story You Just Won't Believe
Twin births have almost
doubled in the past 40 years,
so cases like the one mentioned are becoming less and less incredible-seeming. Take Donna and David Cordingly, for example- it happened to them too! Donna was shocked to discover that stomach pains were actually 5-month old twins in her womb. Shortly after their birth, on the day of a procedure to close down her baby-making factory forever, Donna found out that she was 4-months pregnant with yet another set of twins during a routine scan.  She told
The Daily Mail:
"I sobbed until my hospital gown was soaked — I was four months gone. I sat in the hospital car park crying for three hours, too traumatised even to call David."
Read more about her incredible story
here.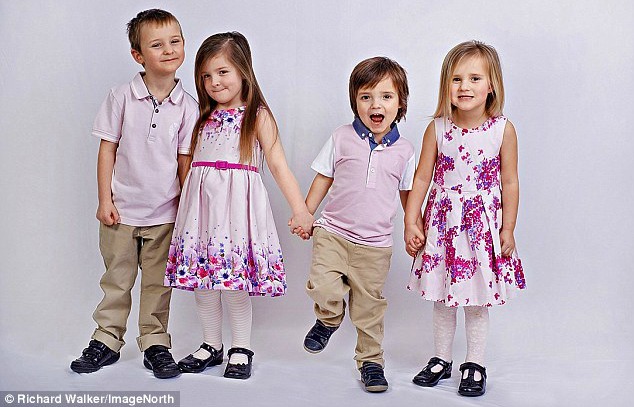 Too (or should we say two?) Adorable
Whilst too many unplanned sets of twins is the stuff of stress rather than dreams, some of the photo opportunities that come with these occurrences can be pretty darn beautiful. Check out the popular photo posted by mum of 2 sets of twins, Juliet Cannici, the woman behind the lens of
West On Jade Photography.
Social media has had an overwhelming response to the photo, saying that it is the stuff of pure sibling love. Just look at it- how could you not agree?!
[caption id="attachment_118980" align="alignnone" width="960"]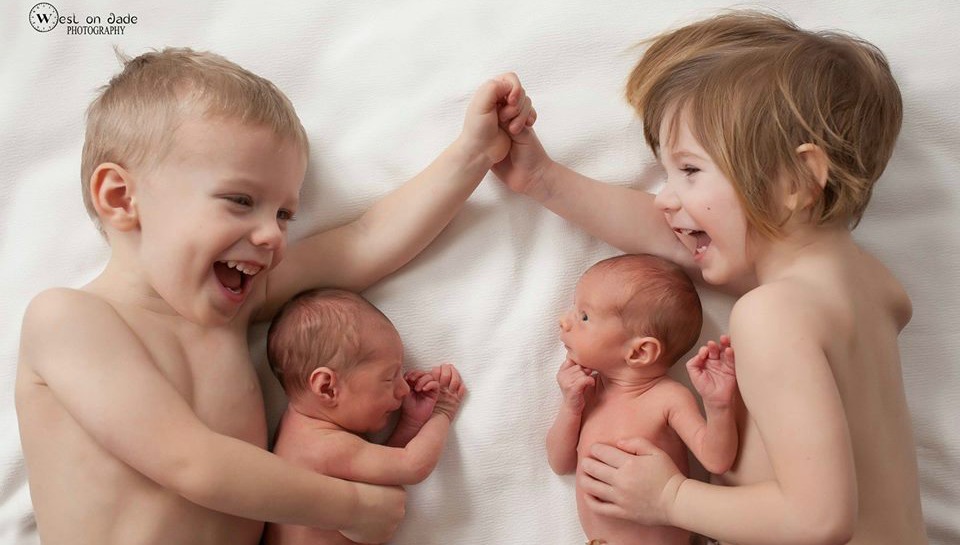 Source: West on Jade Photography[/caption]
[caption id="attachment_118987" align="alignnone" width="960"]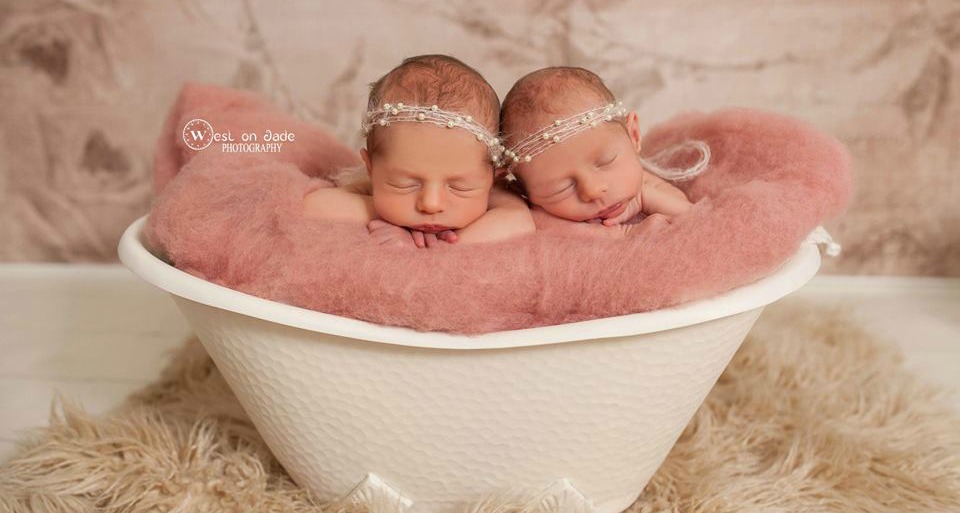 Source: West On Jade Photography[/caption]
[caption id="attachment_118989" align="alignnone" width="960"]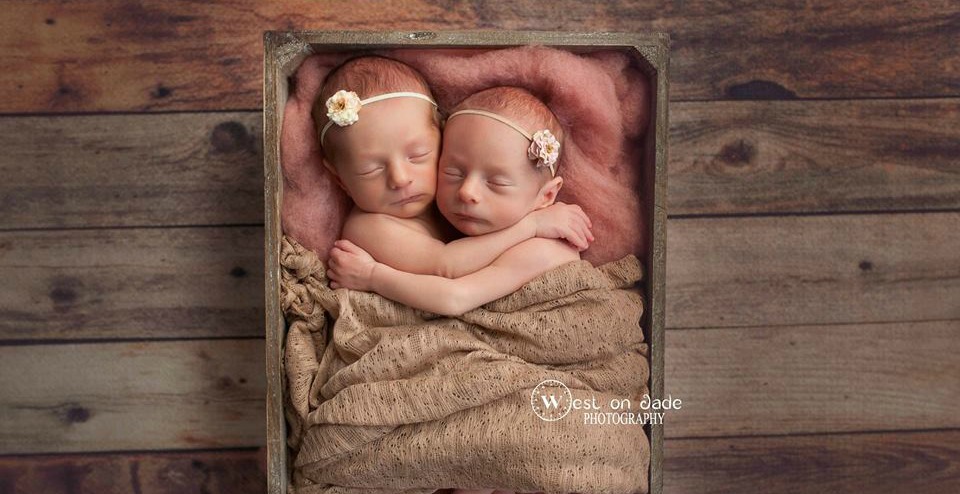 Source: West On Jade Photography[/caption]