Dad❜s Dance with Babies in a Hilariously Awesome Video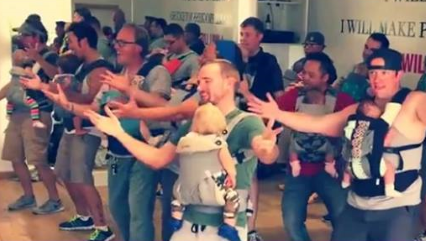 By: Serina Hajje, ellaslist
This is the most adorable thing we've seen in a while! Check out this hilariously brilliant video of dads dancing with their babies to Play That Funky Music.
Dads learn how to boogie with their babies at GroovaRoo, a San Diego dance school for parents and babies.
It's impossible not to smile at the group of dads swaying their hips and having a great time with their bubs.
The founders of the class, Meeshi and Amber Anjali, started the school to get kids and their parents dancing together.
"We want dancing to be another activity – like playing catch – that families can do together," Meeshi told NBC San Diego.
Stepping Into Healthy Bodies and Minds
Dancing with babies is not traditionally seen as a masculine activity, but GroovaRoo is breaking stereotypes in these fantastic bonding sessions.
"One of the main visions in starting these classes is to expose a whole new generation of babies and baby boys, in particular, to dancing right from the start before they can even walk," the couple told NBC 7. "We feel that it is important for American dads to model that it is okay for men and boys to dance, and we hope that these dads grow in confidence with bonding and dancing with their babies."
Mums Bust A Move!
And of course the mums step in to show the dads more than a couple of great moves! The sessions are open to all new mums and dads, and combines fun with a healthy workout. GroovaRoo are setting their eyes on world domination with these weekly dance classes.