Could these be the best chips in Melbourne?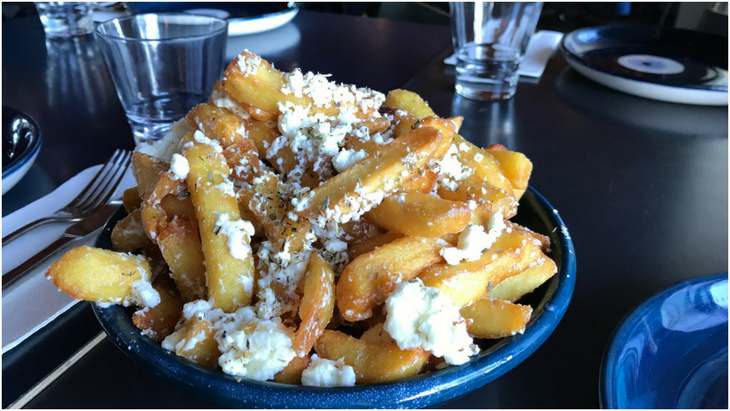 In January of last year, when Nigella Lawson was in Melbourne shooting scenes for Masterchef, she popped into Gazi, George Calombaris's Greek street food spot in the CBD.
When her order of chips arrived crisp and golden in their dark blue bowl, smothered with salty feta and a dusting of dried oregano, she was smitten.
The experience, she said, was enough to call it the "best thing she ate in 2016" and it was only January.
Just eaten best chips ever @GaziRestaurant - fat, garlicky and tossed with crumbled feta and oregano #Melbourne pic.twitter.com/SjaWeiTmft

— Nigella Lawson (@Nigella_Lawson) January 14, 2016
Now, that is quite the claim. By December, she was still insistent that the chips she had eaten in January of that year had beaten out every other food morsel that had passed her lips for the whole of 2016.
"They taste like the real thing – but different. They're fat chips that are halfway to potato wedges, fried in intensely garlicky oil and, once crisp and golden, tossed in a bowl with proper Greek dried oregano and crumbles of sharp feta. It's impossible not to eat well in Melbourne (well, in Australia generally), but these chips were absolutely worth flying the 10,496.05 miles for."
Recently I headed into Gazi to see if I could replicate the experience - I'm a hot chip lover from way back, and if these were as good as Nigella claimed, nobody could keep me from these golden batons of potato deliciousness.
One bite, and I had a feeling Nigella just got a really good batch that day. Two bites and I was frowning. No crispy outside and fluffy inside that I've come to know and love in a good hot chip. I continued on, wondering if I'd just picked the overcooked little ones to try, but the verdict was in - they were all overcooked.
Holy chip!
Coming off the bat from the recent Chip Challenge on Masterchef, I knew George had the know-how to craft a stunning chip. I hear these ones are in part influenced by Heston's triple-cooked chips, but perhaps the third cook was what tipped them over the edge from crisp pillows of potato into what I had before me that day.
I consoled myself with the saganaki mac and cheese instead, which was utterly divine what with it's smoky paprika flavour and oozy unctuousness. All was not lost.
Return of the chip
I vow to fight another day and replicate the chip-eating experiment, as there are just too many variables that could have affected the outcome of the chip situation in Gazi that day. It's only fair to repeat the test and take an average score, am I right? I'm never going to say no to more hot, salty chips!
Have you been to Gazi and had the chips? Were they the wondrous experience Nigella raved about? Did I just get a bowl of bad luck?
If you do go and see for yourself, I'd love to hear your verdict.