Complete Your Cultural Experience At The MCA Cafe
Family
Kids
Mums & Bubs
Teens
Preschoolers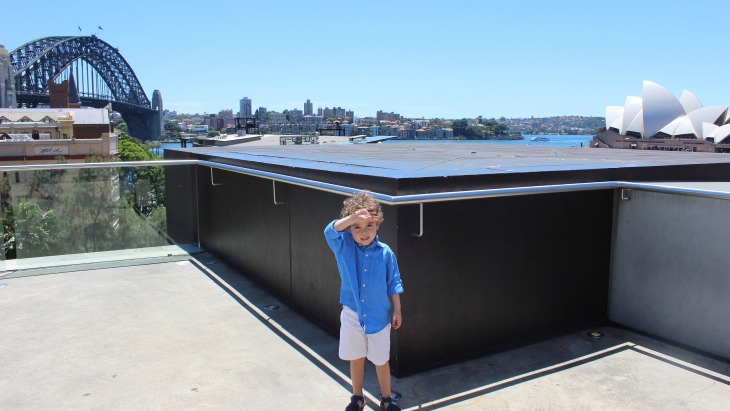 By: Stephanie Boyle, ellaslist explorer
The MCA cafe may not immediately strike people as a destination for children and it's true, it's not your typical 'children's' cafe. There is no child specific entertainment (though there is a large, open and safe outdoor balcony space where children could technically play sensibly while you sit right next to them and keep a close eye on them) and the cafe is extremely sophisticated and elegant, in keeping with the gallery's overall atmosphere. It's a fantastic venue to bring interstate or international visitors to, given its stunning and, dare I suggest, unsurpassed rooftop views of Sydney Harbour, stretching from the bridge across to the Opera House and for this reason, is a perfect spot for photos. But despite initial appearances, it's this view, coupled with a fantastic menu and accommodating staff, that also makes this cafe a great place for children.
Relaxed Dining, Friendly Staff
While it may not immediately strike you as such, the cafe is actually quite relaxed and the staff are completely used to little diners. High chairs are available and the mixture of banquette and chair style seating is generally comfortable for most older children. On any given day you'll find a range of different people dining there and generally quite a few other families. Ordering is done at the counter and guests are encouraged to take a menu as they enter and seat themselves wherever comfortable before coming back to make their order. This can be a bit awkward if you're by yourself with a little one (or more) since after taking a seat you then need to make your way back to the front counter. Not all tables are within easy reach of the counter nor within eyesight and of course, I would never recommend leaving your little ones alone for a second. One easy way to avoid this situation is to peruse the menu online on the cafe's website and decide what you want prior to visiting so that you don't need to remove any really small children from their pram only to have to put them back in again to go and order.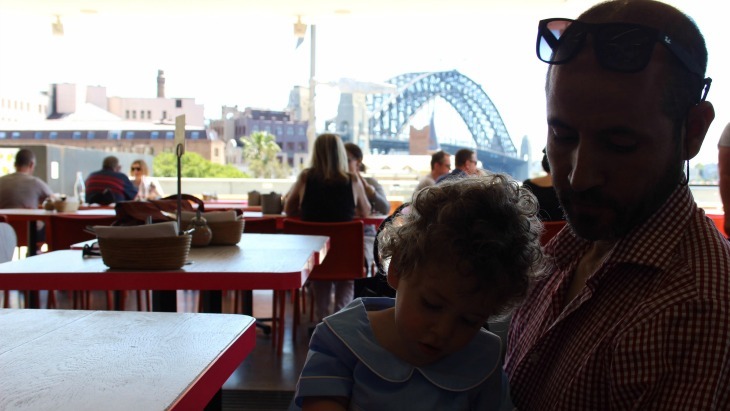 When Should You Visit?
The cafe does not take reservations and does tend to get quite crowded at lunch time so if you're concerned that your children may become quite raucous or if you prefer to have a bit more space and peace, I would recommend visiting outside of core lunch hours. That being said, weekdays are still somewhat less crowded than weekends though it remains a favourite place for office workers from surrounding areas. Morning tea and afternoon tea at the cafe are absolutely delicious anyway and the menu is flexible (meals from breakfast onwards available throughout the day) so there is no need to feel confined to certain times.
A Complete Cultural Experience
One of the things I love the most about the MCA Cafe is that they not only change their menu seasonally, they change their menu to reflect their major exhibitions and the cultural background of their major artists. Since Tatsuo Miyajima was the 'flavour of the month', (exhibition now closed) the current menu is inspired by Japanese cuisine with main dishes like Japanese fried chicken, Japanese-inspired burgers (including a tofu version for vegetarians) and tempura and 'small bites' of gyoza soup, barramundi spring rolls, edamame and eggplant and mirin dip. Delicious! All of these dishes could potentially really appeal to children and adults alike and would absolutely enhance the cultural experience of seeing the exhibition. What a perfect way to continue your discussion of the art and artist with your child!
Kids Menu? Check!
For children with more conventional and less adventurous taste buds (as mine are sadly!), there is also a children's menu with classics like pasta with tomato sauce, fish and chips and a children's lunchbox, which is what my son chose, containing a milkshake, chicken sandwich, cookie and apple. Not the most exciting pick to be sure but it made my fussy little eater very happy. Staff were also very happy to swap the chicken for cheese which was extremely accommodating of them.
Not to be missed on the menu are the homemade soft drinks. These are absolutely incredible and perfect for summer with choices such as rosehip and mint fruit punch and old fashioned lemonade. While the menu is not cheap, it still represents excellent value for money since the meals are beautifully and carefully prepared with high-quality ingredients and the portion sizes are far from small. A visit to the art gallery is probably not an everyday kind of event anyway and so a meal at this beautiful cafe could be easily justified as a special treat.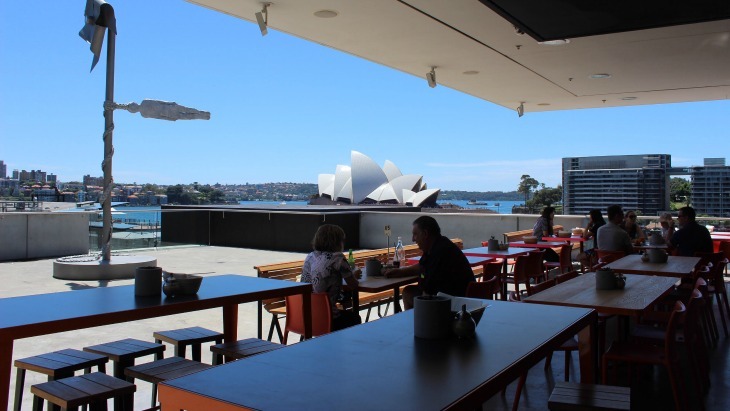 In A Nutshell
What makes the cafe child-friendly: the friendly staff, adaptable menu, outdoor space and the exciting view.
Atmosphere: generally very warm with visitors from a wide range of backgrounds including a number of other families.
Food: absolutely delicious!
Value for money: not cheap (mains range from $18-$32, small bites from $8-$28 and the children's menu from $12-$16) however the quality is fantastic and the portion size very generous.
Special features and fun bits: the menu designed to reflect the cultural background of major exhibitors, the fabulous homemade soft drinks. Who is the cafe best suited to: anyone really! The clientele is extremely diverse.
What did you love: the view, the delicious and exciting menu and the accommodating nature of the kitchen and staff.
For more info, visit the MCA Cafe's website