Bringing Babies On A Jetstar Flight: It❜ll Now Cost You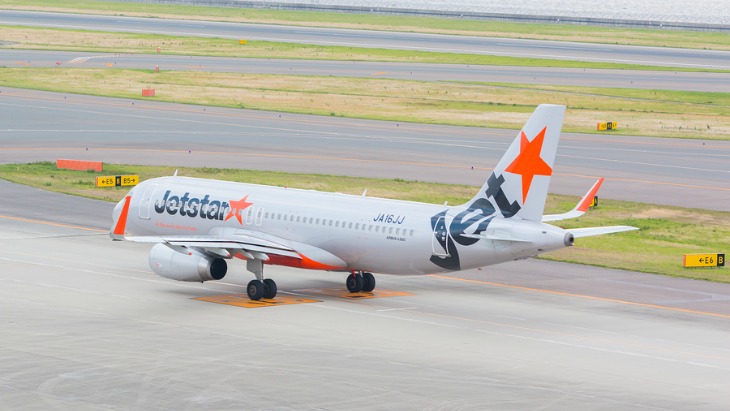 By: Phoebe Ackland, ellaslist
Jetstar has just announced they will start charging parents with babies under 2 on their laps travelling on domestic flights. In addition to this, the existing cost for babies travelling in the same way on international flights has been hiked up, set to start on Monday.
How Jetstar Measures Up
The fee for a domestic flight will now come at $30 per baby, and $50, up from $40, for international and Trans-Tasman flights. This $30 charge now matches Tigerair's similar cost for travelling babies, however, covers the total one-way journey, not just one leg of it (for example, it would cover the entire journey if your flight was from Hobart, via Melbourne, onto Queensland). Qantas and Virgin Australia, unlike these two budget airlines, don't include a fee for any child under 2 years of age travelling domestically. In terms of international flights, Air Asia charges $50, TigerAir charges $75, Singapore Airlines charges $51 whilst Air New Zealand, Qantas and Virgin charges 10% of the fare for babies. When questioned on social media, Jetstar certainly had something to say: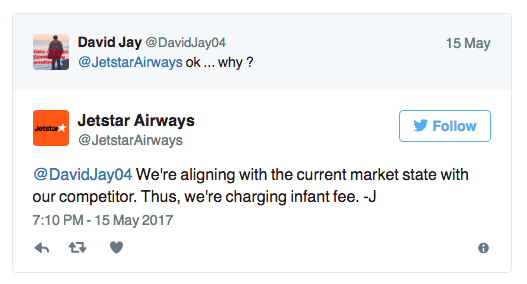 It's Not All That Bad...
Although this is an extra costing that parents didn't have a few days ago, Jetstar has tried to soften the blow. The $30 fee comes with an allowance of up to four oversized baby items including a pram, stroller, high chair, and portable cot. Most other airlines don't offer this allowance, and Tigerair only allows one of these items. Of the increased charges, a Jetstar spokesperson said: "We know that fees and charges can be unpopular, but giving customers choice and charging each customer for what they actually need helps us to offer the lowest possible fares, every day."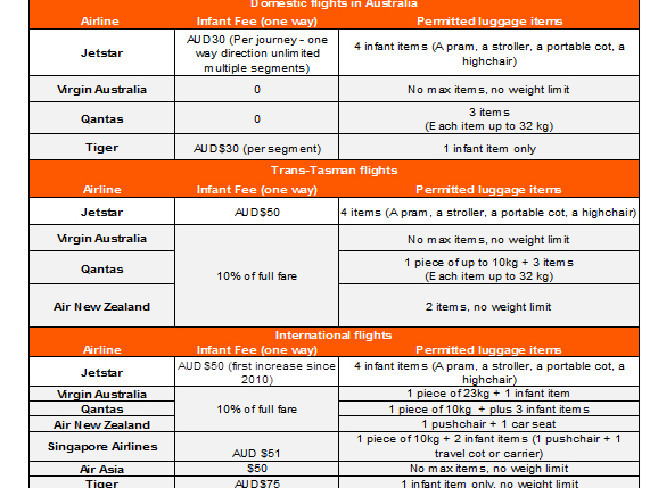 Check out the best and worst airlines in Australia and the world.