Brand New Hasbro Board Games For Toddlers
Brand New Hasbro Board Games For Toddlers
Toddlers
Preschoolers
Kids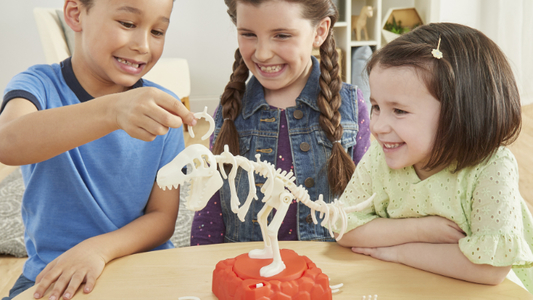 Hasbro has released a range of fun new games for children aged four and up. These engaging, interactive games for preschool and kindergarten kids are easy to learn and simple to play, with lots of amusing elements that little ones love.
Porcupine Pop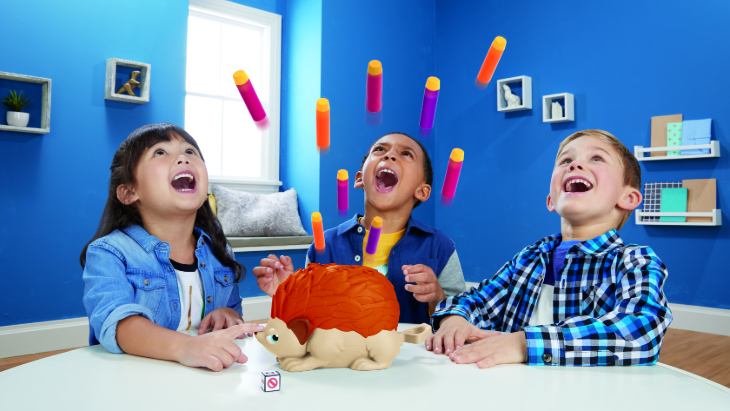 Porcupine Pop is an exciting game of anticipation. Who will make the porcupine pop? And when? An easy game for little hands, players take turns rolling the die and pressing the porcupine's nose. They have to press the nose the number of times indicated on the dice, never knowing when the nose might pop. Great for applying early counting skills and number application! Play continues between two or more players, building into a suspenseful whodunnit - or in this case who didn't do it, as the last one standing without popping the porcupine wins! Beware - when the porcupine pops, darts will go flying out.
There are three playing options that kids can choose between to create different variations and new challenges. Turn the game plan on its head and try a round where the first player to pop the porcupine wins! Alternatively, aim to earn the most points, grabbing as many darts as you can when the porcupine pops.
Equal parts silly and surprising, this is the perfect way for parents to introduce the time old tradition of family gameplay to children at an early age, while also encouraging them to engage with other children and connect with a hands-on activity. An ideal birthday or Christmas gift!
Suitable for ages 4+
Plumber Pants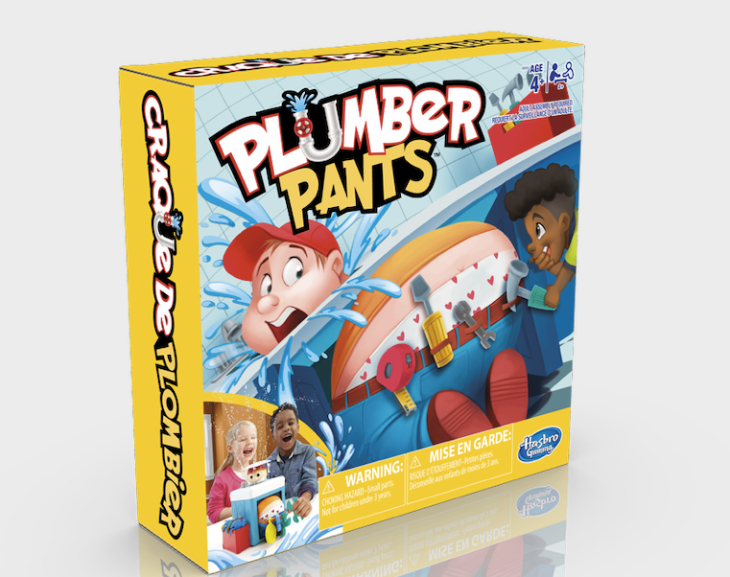 Does anything make children giggle more that seeing someone's pants fall down? Well, that's the name of the game in this fun-filled new creation from Hasbro!
In this hilarious game the plumber is fixing a clog under the sink, but some sneaky kids are at the ready, waiting to foil his job! Players raid his toolbox and take turns loading the plumber's toolbelt with tools. Each one adds extra weight to the plumber's pants, gradually making them drop until - you guessed it - they finally fall down, exposing his undies! Poor guy. Not only does he drop his dacks but his plumbing goes awry as water shoots out 360 degrees around the sink, spraying everyone in its wake!
Kids will love the suspenseful element of the game as they anticipate who will make the plumber's pants fall down, and when? Plus they'll get the added surprise of getting wet! The only player not to make the plumber's pants fall down - and spray their friends with water - is the winner.
This is the perfect summer party game for young children to play. It's never been more fun to see someone caught with their pants down!
Suitable for ages 4+
T-Rex Rocks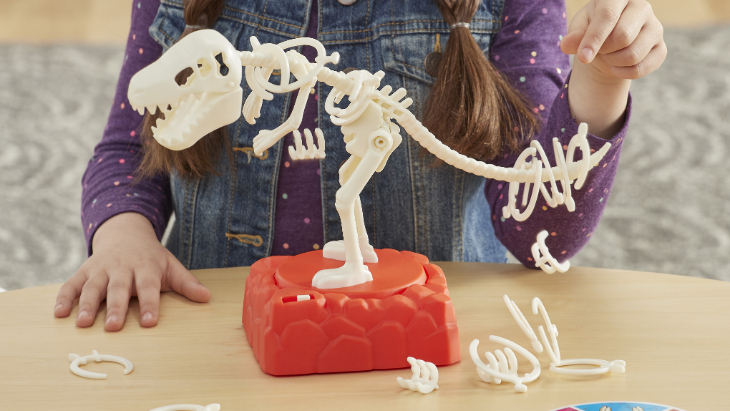 Who doesn't love Hasbro's classic game of masterful medical precision, Operation? Well, this cool and clever new game takes that familiar strategy, and introduces it to a whole new audience of youngsters with T-Rex Rocks.
With this electronic skill game for kids, the aim is not to wake the dinosaur! Great for sharpening coordination skills, players must carefully place the bones on the T-Rex without waking him up. They continue taking turns as each player gets a chance to try their hand at the challenge, waiting with nervous anticipation to see if the dinosaur will budge.
On their turn, a player uses the spinner to determine which bone they must draw from the pile. They then place it along the dinosaur's backbone. If he shakes - oh no, he's awake! - and the player is out. The last player left wins!
Combining children's love of dinosaurs with a fun, interactive game, T-Rex Rocks will keep them coming back for more to hone their hands-on paleontology skills!
Suitable for ages 4+
Thanks to Hasbro: This article is brought to you in partnership with Hasbro Gaming, our Supporting Brand Partner for the Unplug & Play Initiative.

More Unplug and Play Fun:
Have you signed up to our newsletter? Join ellaslist to get the best family and kid-friendly events, venues, classes and things to do NEAR YOU!