Best Things to do with Kids This Spring in Melbourne
Truly, there isn't much better than Melbourne at the height of spring - the trees all in blossom, the bluebells out, and the air is warm after a solid few months of chilly winds.
Few can resist the lure of bright blue skies, so head outdoors and shake off the winter cobwebs with six of our recommendations to get out and about in the city in Spring.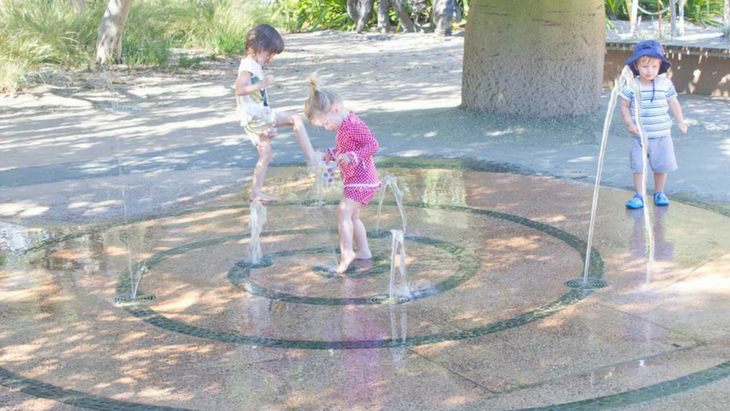 1. Head to the Ian Potter Children's Garden
The Ian Potter Children's Garden tucked away inside the Royal Botanic Gardens is a favourite for a reason! Plenty to keep little ones occupied and plenty of shade for when the Melbourne sun unexpectedly turns fierce. Climb through hollow trees once lost forever to raging rivers, hear a story, paddle the stream, or just set out a blanket and enjoy the epic greenery around.
Perfect for babies and toddlers thanks to its extensive fencing, and fun for hot days when the water fountains get turned on, it's one of our favourites once the warm weather hits.
The Children's Garden is an interactive educational environment in which children of all ages, backgrounds, physical abilities and cultures can play, explore and discover the natural world.
What you need to know:
Royal Botanic Gardens, Birdwood Ave, Melbourne
Open 10am–sunset Wednesday–Sunday and public holidays; 10am–sunset seven days a week during Victorian State School holidays
Rill (stream): 10am–4pm daily, spiral fountains: 10am–4pm on days when the temperature is forecast to exceed 25 degrees. The fountains do not operate when the forecast is less than 25 degrees.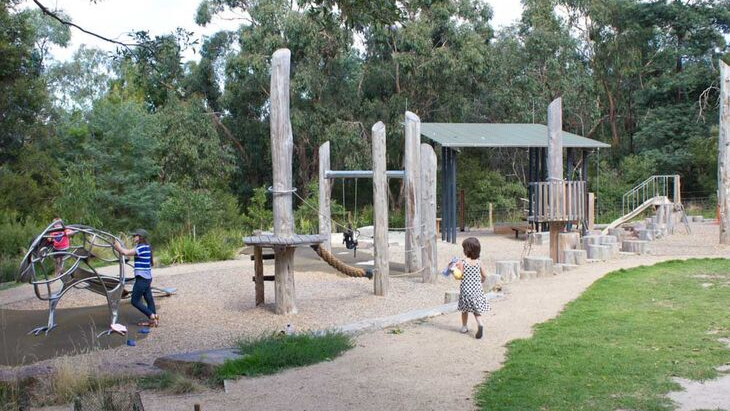 2. Get out in Nature at Valley Reserve Adventure Playspace
If your kids have been climbing the walls all winter, take them to the award-winning Valley Reserve Adventure Playspace and let them climb that instead!
The rope-courses are epic, the sculptures perfect for scootching all over, and the flying fox a firm favourite. It takes half their energy just to climb in thebirdsnest swing, but before long they're off that and up in the treehouse.
Add to the fun slides, water pump and creek play area, barbecues and picnic spaces and pure space to run around in, it's one of the best playgrounds in Melbourne. The natural materials used to create the play area means more problem-solving is required to navigate it, and provides hours of open-ended play.
The playground has been created to a socially inclusive, playful, active, relevant and connected playspace, and all are welcome.
What you need to know:
80 Waimarie Drive, Mt Waverley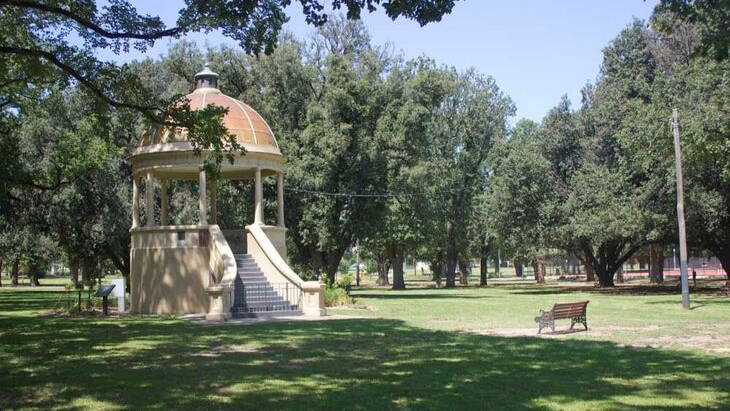 3. Pack a Picnic and Head to Edinburgh Gardens
It might be a bit of a cliche, but it's a cliche for a reason! Laying out the picnic blanket at Edinburgh Gardens on a sunny day is practically mandatory for Melbourne folk. Extra points if you bring a cricket set or a Sherrin for a bit of a kick, and dogs are always welcome.
Two fantastic enclosed playgrounds are on offer for the kids, and the facilities on the whole are pretty good. The toilets can be a bit hit or miss but there are some, as well as sculptures, the heritage-listed rotunda, tennis courts, lawn bowls area, basketball court, skate park, table tennis table, drinking fountains and plenty of space for sport.
What you need to know:
Alfred Crescent. Fitzroy North
Open all year round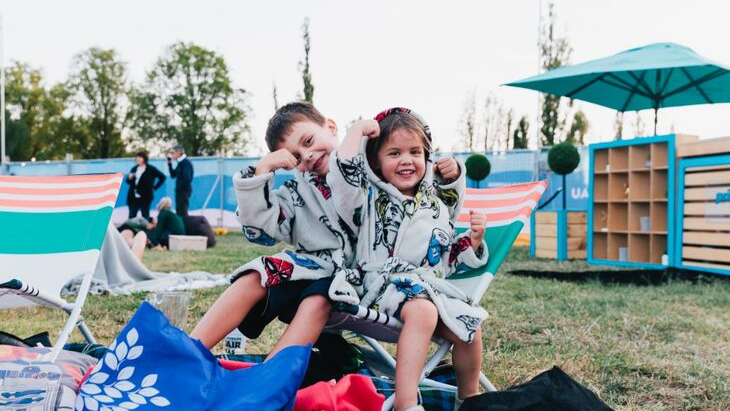 4. See a Movie with a Difference at American Express Openair Cinemas
Why sit indoors when you can catch a flick under the stars?
The super-popular American Express Openair Cinema is back this spring/summer with a slew of new movies for your crew.
The program includes new twists on old favourites like The Lion King and Aladdin, and the big-screen adaptation of Dora the Explorer alongside the current smash hit Abominable.
Take advantage of the delicious food available on-site, the fully-stocked bar, and your choice of seating (or bring your own!).
American Express Card Members can even get the full VIP treatment by purchasing tickets to the American Express lounge, complete with premium seating, unlimited popcorn and a beverage of choice. American Express Card Members also save 15% on selected tickets, are granted access to the American Express Garden and recieve complimentary blanket hire.
What you need to know:
American Express Openair Cinema Yarra Park is in Paddock 20 Yarra Park, East Melbourne, right next to the MCG from October 9 - November 3
The full program is here.
Tickets start from $17 for concession general admission. American Express Card Members receive 15% off
Gates open from 6pm.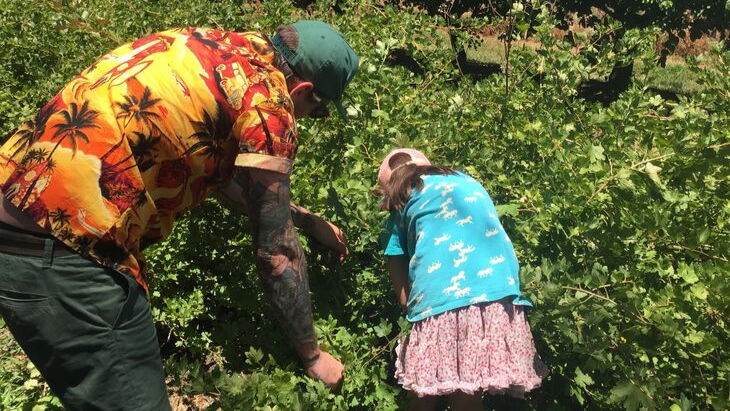 5. Pick Your Own Fruit
Rayner's Orchard has quickly become a huge local favourite thanks to its huge collection of fruit to pick and eat (more than 450 varieties, all ripening at different times), the super-friendly service, the great food and the fun tractor tours that operate most days.
Right now is when berries are starting to come into season, and will continue until January/February next year, and stone fruit will be along shortly after.
If you're looking for something out of season, they have plenty frozen and bottled and their onsite shop is fantastic for locally-made products.
Enjoy a workshop if you have time, or just grab a bucket and start picking! It's one of the cheaper places for such incredible quality fruit.
What you need to know:
60 Schoolhouse Rd, Woori Yallock
Upick 9am - 4pm in Spring
Entry is free, cost per kilogram to pick only $5 per kilo, tractor tours extra.
Check picking availability here.
For more info: www.raynersorchard.com.au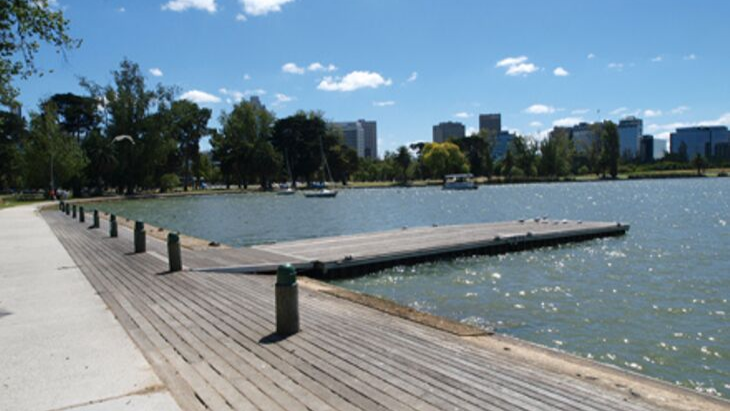 6. Bust out the Bikes Around Albert Park Lake
A bike or scoot around the iconic Albert Park Lake is basically a warm-weather institution. Dust off the chrome and oil up the chains, it's time to be back on two wheels again!
The track around the lake is five kilometres, so either do a smaller section, or break the journey up with refreshments at the local cafes and restaurants overlooking that sparkly blue.
A great deal of the track is paved, except around the boating areas, so firm enough for even the youngest rider. Marvel at the wildlife and the incredible view over the city - some say it's the best to be had!
What you need to know:
Aughtie Drive, Melbourne
Remember your sunscreen and hats!
Hero image: Sunnyridge.com.au