Best Things to do with Grandparents in Melbourne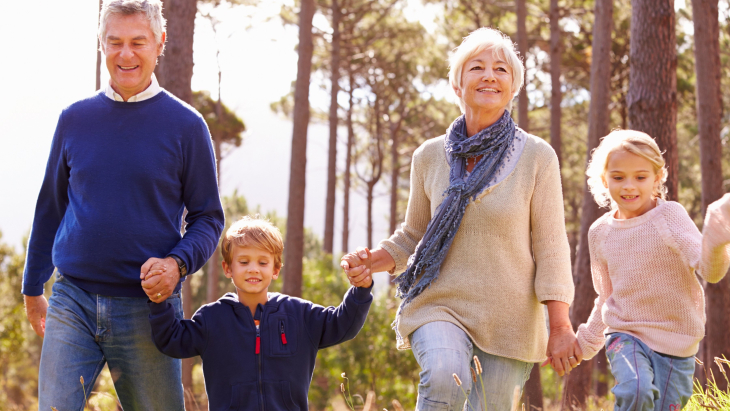 Day trips with grandparents are what childhood memories are made of. Whether you're the type of grandparents who are in for the school holiday long haul or the short visit types who like to spend quality time the kids will always remember, their activities have something for everyone.
With so many lovely things to do in and around Melbourne – from a gentle stroll around the Melbourne Museum, to the scenic chug of Puffing Billy Steam Railway in Belgrave – grandparents can also find fun with little ones in more humble things, including simply being that person who says 'yes' to the double scoop ice-creams
Royal Botanic Gardens
This inner-city oasis has a lot going on – and it's worth re-visiting at every season change, with new things to see in summer, autumn, winter and spring.
There are more than 8500 species of plants to see here and because they originate from so many different international locations, a trip here is not only fun and colourful – it's educational as well.
The rolling lawns are fantastic for picnics – just remember that there are no ball games allowed.
The Ian Potter Foundation Children's Garden has enough to keep little ones occupied, alone – and on hot days, bring a change of clothes so the little ones (and maybe you too?) can frolic under the water features.
Keep up-to-date with the 'what's on' section of the website to check for special school holiday programs and performances under the trees.
What You Need To Know
The café offerings can be expensive, so think about bringing your own food, and splurge on hot or cold drinks, as the weather dictates. The classic scones with jam and cream are a perennial favourite, though, and to get to where they are served up requires a lovely stroll past the tranquil lake, with birdlife galore.
Phone: 9252 2300
Address: Birdwood Ave, South Yarra
More information: visit the website
Coal Creek
This living history museum is a snapshot of what life used to be – you know, back in the olden days.
Coal Creek Community Park and Museum recreates the settlement and the stories of South Gippsland's coal miners. There is a bush tramway to ride and volunteers who can tell you all about the local history.
Make sure the stop to the old-fashioned lolly shop is one of the last parts of the tour – otherwise they'll only have eyes for that everlasting gobstopper and the sugar high might be too much to handle. For older kids, ask them about booking the spooky ghost tour.
What You Need To Know
The café was recently closed for renovation so check before you go – and be prepared to arm yourself with picnic food for those hungry little bellies.
Phone: 5655 1811
Address: 12 Silkstone Rd, Korumburra
Price: FREE entry
Opening hours:
Thursday-Monday 10am-4:30pm
Tuesday & Wednesday closed
More information: visit the website

Altona Miniature Railway
Miniature railways are fun for anyone who's young at heart and this club has passenger trains run by a couple of hard-working diesel engines, as well as private steam engines that belong to club members. That clickety-clack of the railway line is a lovely sound that's not usually heard these days and it's a memory worth preserving in the minds of the younger set.
This is low-key daggy fun train-loving kids will adore. And it might just jog a few grandparents' childhood memories too.
What You Need To Know
Because it's a hobby club, it's not open all the time. To ride the little rails, turn up on the 3rd Sunday of any month.
Phone: 0417 149 596
Address: 1-21 Blenheim Rd, Altona North
Price: $2.50 per Ride or 11 Rides for $25
Opening hours: 3rd Sunday of every month 11am-4pm
More information: visit the website
Melbourne Star Observation Wheel
It's no rough and tumble thrill ride but is a great way to see Melbourne – and point out some special places from your life to the little ones you bring with you.
People with vertigo may not be so keen but for anyone else, the fully enclosed, spacious cabins give you a spectacular bird's eye peep at the city and surround you love – from Port Phillip Bay to Mount Macedon and the distant Dandenong Ranges.
What You Need to Know
Shop in advance, online, for ticket savings that can trim dollars off your entry fee.
Phone: 8688 9688
Address: 101 Waterfront Way, Docklands
Prices: A family ticket for 2 adults and 1 child start at $54.75 online.
Opening hours: Daily 11am-10pm (last ride at 9.30pm)
More information: visit the website
Healesville Sanctuary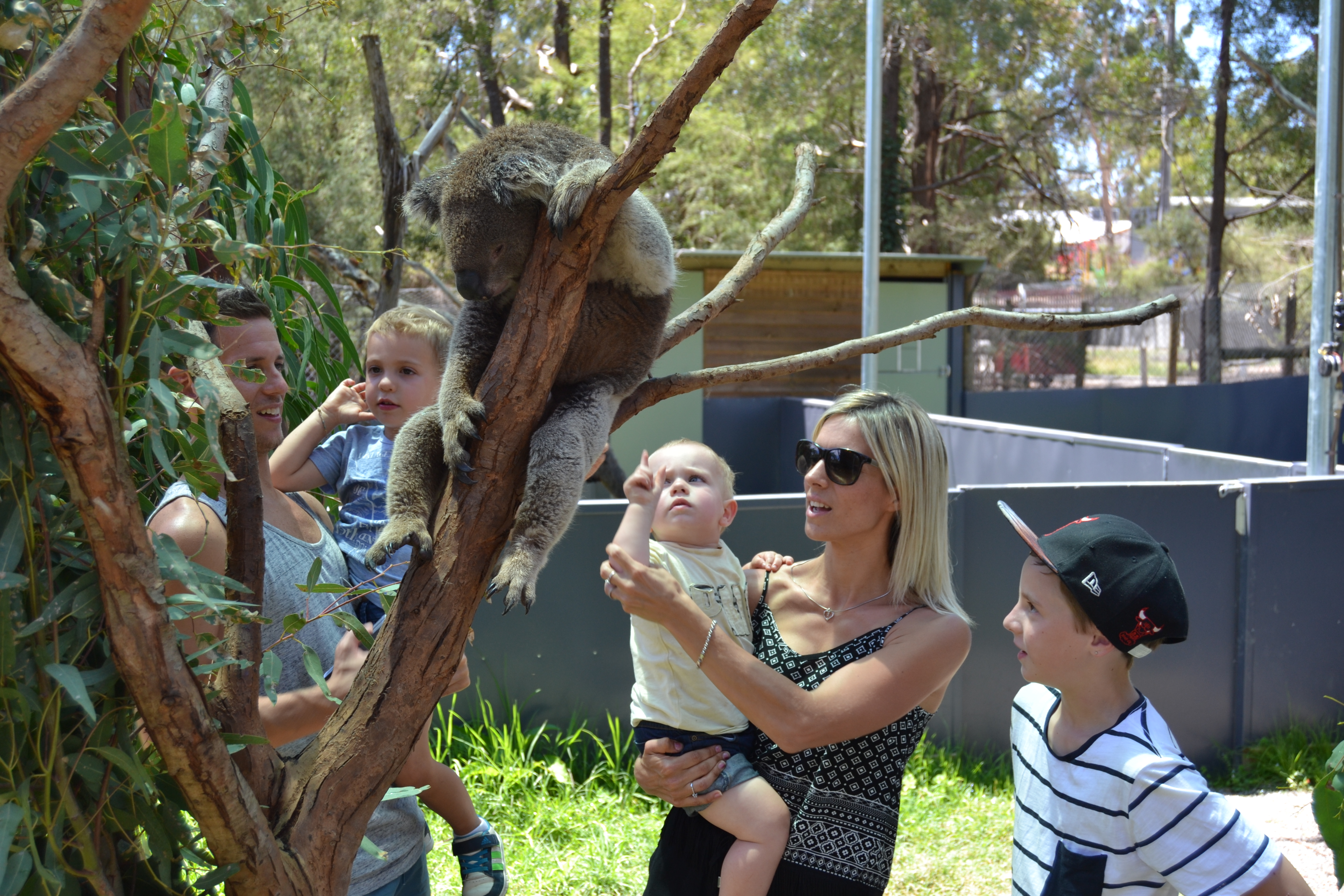 Even busy parents usually have time to take their children to the Parkville zoo now and then but for a full day out and a country drive, grandparents love Healesville Sanctuary.
The drive through the Yarra Valley is a wonderful start to the journey and, once you're there, the dingos, platypus, wombats, emus and kangaroos make it an Australian wildlife experience the kids will love. Make time for the koala experience – you can get up close and personal to create a memory that will last a lifetime.
And more good news? Kids are free every weekend, public holiday and during Victorian school holidays.
Don't forget to schedule time for the Birds Of Prey display. It's worth it!
What You Need To Know
Phone: 1300 966 784
Address: Badger Creek Rd, Healesville
Opening hours: Daily 9am-5pm
Prices:
Adult $32.50
Child (4-15 yrs) Weekends and holidays FREE
Mon-Fri outside holidays $16.30
Concession $24.90
More information: visit the website
Collingwood Children's Farm

It's hard to believe this farmyard haven is less than five kilometres from the hustle of the CBD.
The Yarra River adds to the charm of the location and if you plan your day wisely, you can squeeze in cow milking, bottle feeding lambs AND feeding the chickens. Patting the guinea pigs is always a peaceful way to pass some time and with a great café on-site, you can top up your caffeine in between.
The 2nd Saturday of every month is Farmer's Market day – and that means busy! On the 1st Sunday of every month, pony rides and tractor rides make up the Family Day offering for some country-style fun.
What You Need To Know
Phone: 9417 5806
Address: 18 St Heliers St, Abbotsford
Opening hours: Daily 9:15am-4:30pm
Prices:
Child $5
Adult $10
More information: visit the website