Best Places To Plant a Tree 2016
Preschoolers
Family
Kids
Mums & Bubs
Teens
Todders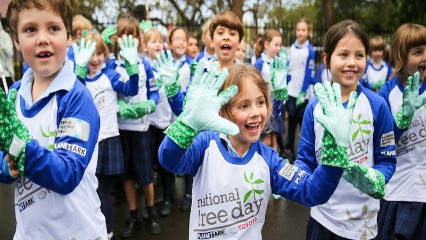 By: Phoebe Ackland, ellaslist 
National Tree Day falls on Sunday 31 July this year, the perfect opportunity to get kids outside, hands muddy, smelling the earth, connecting with nature and fostering their respect and love for the world around them. It's the perfect excuse to get the whole family involved!

Disconnect To Re-Connect
This year National Tree Day's theme is "10 Minutes Outside Can Heal An Online Nation". Turn off those bleepin' gadgets and add a lil nature for a "healthier, happier, brighter, calmer and closer-to-nature" community.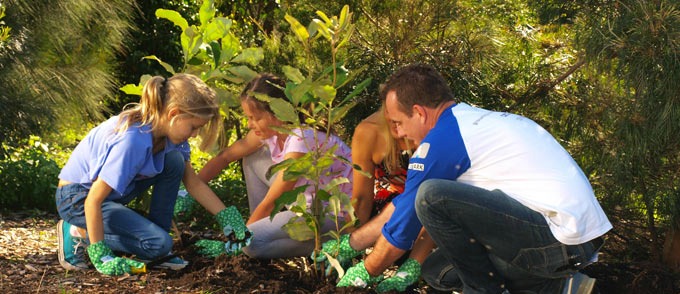 Why Plant a Tree?
And it's not just great fun! We all know how important trees are for shade, erosion management and, of course, the aesthetic appeal of our cities. As concern increases over the next generation's increasingly indoor lifestyle and rising levels of depression, there's even more reasons to get the kids outdoors, grab a spade and get digging…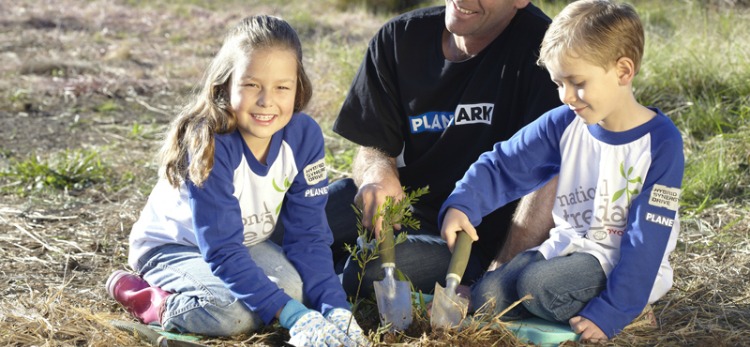 Tree Planting Events:
Find a local tree planting event near you , many councils across

NSW

are participating.
Your Local Bunnings Store: Bunnings home wares stores around Australia are running fun and FREE DIY nature-craft workshops on National Tree Day weekend.
Where: Your Local Bunnings Store
When: Saturday 30 – 31 July 2016.

City of Sydney:
Jubilee Park:
The
City of Sydney
is inviting the community to revitalise Jubilee Park in Glebe in celebration of the over 23-million trees planted due to this initiative. There will be over 2,000
FREE
seedlings to plant, a
BBQ
, petting zoo, Indigenous Dance performance and much more!
Where:
Jubilee Park, Northcoate Road Glebe
When:
Sunday, 31 July 2016 from 10am-1pm
Eastern Suburbs:
Diamond Bay:
Enjoy a morning of exciting activities in Diamond Bay, Vaucluse for this year's event including a yoga class for adults and children, seedling planting with some helpful hints, sausage and veggie sizzle, and a kid friendly 'habitat' game. Don't forget your yoga mat!
Where:
Diamond Bay Reserve,Craig Ave, Vaucluse
When:
Sunday, 31 July 2016, 9am-12pm.
Randwick City Council: Join in this plant giveaway aiming to increase the City's urban forest and habitat and food source for a variety of native bird life and other fauna. Council workers will help to educate and inform the public on the day about the benefits of trees and planting.
Where: 2 Barker Street, Kingsford
When: Sunday, 31 July 2016 9am-12pm

Northern Sydney:
North Sydney Council:
Help add mid-storey species in the Cremorne-to-Cammeray green corridor to help house vulnerable small birds. This is one of only two biodiversity hotspots in North Sydney left so help maintain and improve it so we don't lose it!
Where:
Young Street, Cremorne
When:
Sunday, 31 July 2016 9:30am to 11:30am
Northern Beaches Council: Help make this popular walking track a habitat corridor for native animals and save it from harsh coastal erosion. There will also be environmentally themed displays to enjoy with your BBQ.
Where: Mckillop Park and boardwalk above South Curl Curl Beach, Curl Curl
When: Sunday, 31 July 2016 10am-1pm
Lane Cove Council: Lane Cove Council Bushcare aims to increase biodiversity and extend habitat for local wildlife at the Tambourine Bay Reserve which connects bushland from the adjacent Riverview school grounds to Warraroon Reserve.
Where: end of Tambourine Road, Riverview
When: Sunday, 31 July 2016 9am-11:30am

Greater West:
Liverpool City Council:
Liverpool Council is again hosting a fun tree planting day out for the whole family. Tools, refreshments and a
BBQ
provided.
Where:
Lake Francis – corner of Cowpasture Road and Greenway Drive, West Hoxton
When:
Sunday 31 July 2016, 9am-12pm
Inner West:
Inner West Council:
Come and provide a new habitat for native fauna and help beautify the park in the conservation effort at Leichardt Park, Lilyfield.
Where:
Leichhardt Park, Lilyfield
When:
Sunday, 31 July 2016 9:30am-12:00pm
Inner West Council: There's a garden bed in Ashfield covered in African fountain grass- a weed that you can help to replace with native species. After this event, this space will join part of the Bushcare site and biodiversity corridor.
Where: 116 Hawthorne Parade, Ashfield NSW 2131
When: Sunday, 31 July 2016 9am-12pm

Western Suburbs:
Cumberland Council:
Increase biodiversity and improve fauna habitat by planting trees in the Auburn Botanic Gardens. Gloves, tools, equipment, drinks and a
BBQ
provided as you chit chat with your local community.
Where:
Auburn Botanic Gardens, Chiswick Rd, Auburn
When:
Sunday, 31 July 2016, 10am-12pm
North West:
The Hills Shire Council:
Join in the Cattai Creek Headwaters Project to help make a wildlife corridor at the top of the Cattai Creek catchment.
Where:
White Cedar Drive, Castle Hill
When:
Sunday, 31 July 2016 9am-1pm
South Sydney:
Sutherland Shire Council:
Sutherland Shire's Bush Care will host a tree day event as part of their Coastal Rehabilitation Project currently being undertaken to protection coastal dune vegetation.
Where:
Mitchell Road (North) Carpark, Cronulla
When:
Sunday, 31 July 2016 8:30am-1:30pm
Hurstville City Council: Here there will be a 2,000 tube stock seedling giveaway for residents who present proof of residency. Take your seedling home to plant in your own backyard!
Where: 630 Forest Road, Penshurst
When: Sunday, 31 July 2016 8am-2pm

More Ways to Connect With Nature