Best Series To Binge Watch Right Now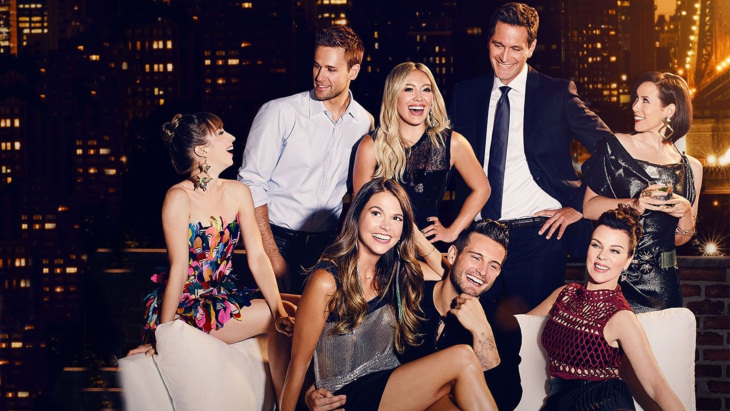 By: Melissa Fine, ellaslist
Kids asleep? Get the tea (or wine) and biccies out and put your feet up for a few glorious hours of TV time with yourself.
Whether you're after a light or heavy series, or for less of a commitment, a doco or mini-series, these are the ones you're going to want to keep watching.

Younger
A very American dramedy by the brains behind Sex and the City Darren Star, it's worth signing up to Stan just for this one. Enter the world of 40-something year old single mum Liza, battling to get a job in publishing thanks to her un-social media savvy age. Desperate to be able to afford her daughter's college fees, she transforms herself into a 26-year-old to land her dream job - which marks the beginning of new friendships and a love triangle with two very different but equally charming suitors (Swoon...).
The episodes are only 23 minutes each, so you won't feel guilty getting through a whole series over two nights.

UnReal
Bachie and Love Island addicts AND skeptics - this one's for you.
Now in it's fourth season on Stan, it's hard to stop at one episode of UnReal, a fictitious portrayal of what really goes on behind the scenes in these find-the-love-of-your-live reality shows. Exec Producer Quinn King (Entourage's Constance Zimmer) and her sidekick producer Rachel (Shiri Appleby) are the scheming, twisted and complicated duo behind 'Everlasting'. One of Unreal's creators worked on the set of The Bachelor in the US, which makes you wonder, how close to real is UnReal?

The Crown
I'll be honest, I was one of those who assumed this Netflix series would be dull but it's far from. We've had little insight into Queen Elizabeth II's personality and how her reign influenced how historical events in the second half of the 20th century played out - until now, and it's fascinating, with each episode a story in its own right.

Wild Wild Country
This six-part Netflix documentary will have you saying over and over again, "This really happened?"
It did, and not long ago - in the 1980s in rural Oregon, where the town of Antelope - population 50 - was taken over by around 2,000 orange-donned Rajneshees, members of what came to be known as an Indian "sex cult". Here they built and ran their own Utopia - albeit one tainted with hardcore firearms, a bioterrorism attack, and an attempted assassination Perhaps more intriguing than the leader, Baghwhan Shree Rajnesh, was his scheming and charming sidekick Ma Anand Sheela, and the vulnerable Rajneshee members who you'd swear could be your sweet average Joe next door neighbour.

Billions
Stan's 'It' show, you'll need to keep your thinking cap on for this one, but don't let that or the finance behind it deter you...this series is EPIC and really is about the people behind the money, delving into NYC's Wall Street where worlds collide between equally astute U.S. Attorney Chuck Rhoades (Paul Giamatti) and hedge fund-king Bobby Axelrod (Damian Lewis). Rhoades' wife Wendy happens to be the psychiatrist turned tough-love giver at Axelrod's Axe Capital, bumping up employee ego - we're only getting started but let's just say, expect things to get very messy.

The Handmaid's Tale
Not for the fainthearted, in this dystopian drama feat. Mad Men's Elizabeth Moss, women have by and large become barren - and the fertile few have become property of the state in a totalitarian society broken off from the USA. Prepare to hold your breath - Every. Single. Minute of Every. Single. Episode. Season 1 can be purchased on iTunes, and Season 2 can be binge-watched via SBS On Demand.

Orange Is The New Black
About to launch it's seventh season on Netflix, OITB gives you more than a taste of female prison life through the story of seemingly sweet, innocent and happily engaged PR Exec Piper Chapman - whose past as a drug runner under the influence of a female lover - comes back to haunt her. She's a laughable character but some of the other inmates' back stories will have you reaching for the tissues.

Big Little Lies
An ellaslist office favourite, this six-episode HBO series brings you mums troubled by murder, men and mischeif, all within the picturesque backdrop of California beachfront town Monterey. Based on Aussie Liane Moriarty's novel, this will have you on the edge of your seat until the very last minute.
Don't have Foxtel/HBO? You can buy the episodes on iTunes. We love the star-studded cast (Nicole Kidman and Reese Witherspoon are incredible in this), and the soundtrack which you'll soon have on repeat. We're impatiently waiting on the release of the second season feat. Meryl Streep.
Have you signed up to our newsletter? Join ellaslist to get the best family and kid-friendly events, venues, classes and things to do NEAR YOU!