Best Melbourne Parks For Kids❜ Birthday Parties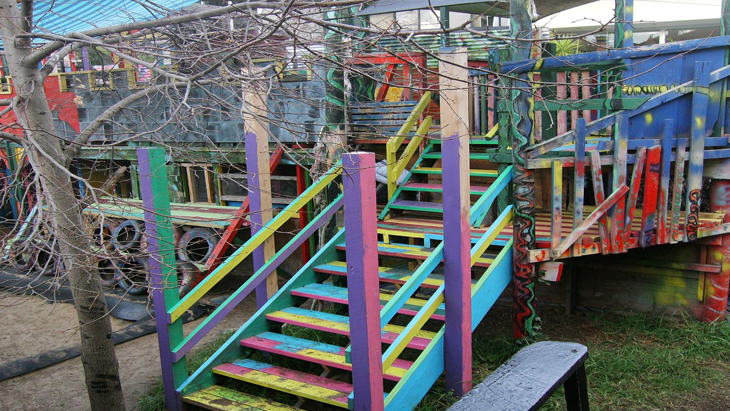 By: Claire Halliday, ellaslist
Looking for a fantastic birthday party venue in Melbourne?
The pursuit of birthday party success doesn't need to be stressful. When you're in charge of entertaining a swarm of active children (and sometimes the accompanying adults), having access to a few key ingredients is all you really need.
Hosting the big bash at home isn't always an option (the space, the clean-up, the breakables!), so if you prefer your birthday parties in someone else's backyard, explore some of Melbourne's best parks and playgrounds for party fun your birthday boy or girl won't forget.
To help your birthday spectacular run smoothly, no matter where in Melbourne you are, try these favourite birthday party parks in Melbourne for your next celebration.
1.St Kilda Adventure Playground
Best advice about this park – check the Port Phllip council website for opening times – and be prepared to have some parking issues (but public transport access is easy).
This supervised playground is something very different and best suited for kids aged 5-12. The feel is ramshackle backyard construction, with recycled materials that are all about risk-taking and adventure. Flying fox, trampoline, go-kart track and lots of things to climb on, make this a neighbourhood favourite. Tea and coffee-making facilities (a gold coin donation is welcomed) keep the adults happy too.
What You Need To Know
Address: off Neptune St, St Kilda
Opening hours are limited:
Weekends and school holidays opening hours are from 12pm-4.30pm. Monday-Friday is 3.30pm-5.30pm only.
Don't be precious – if your kids' clothes don't get dirty, they simply weren't having enough fun.
2. JT Packer Park
If size matters, this one is hard to beat, with a huge all-abilities playground area that offers plenty of room to run. Kids of all ages love the musical boardwalk and, as well as multiple slides, an enormous spider web rope and, of course, swings.
It's a fantastic park for bike-riding, too, with a path that weaves through a man-made wetland area and around ovals that are perfect for ball games. BBQ facilities, picnic tables, a rotunda and the addition of a free-to-use bowls and bocce area make this a popular weekend birthday spot.
What You Need To Know
Address: Leila Road,Carnegie
Weekends can be busy – be be prepared to get there early to find a parking spot and stake your claim at the tables/barbecues.
3.Bicentennial Park
Super slides, a Smurf Village (a perfect detail for a birthday party theme), and plenty of whimsical interest at this huge park and playground.
Climbing frames, stepping stones, a giant basket swing, flying fox, monkey bars and tic-tac-toe game offer a great outlet for energy-burning and plenty of shelters, BBQ facilities, toilets and water taps make hosting a gathering easy.
What You Need To Know
Address: Scotch Parade, Chelsea
4.Central Gardens (Rocket Park)

Its popularity peaks with the younger set – with equipment (including swings, a slide inside a rocket structure, a three-horse carousel, a see-saw and a spinning cup) that is best suited for under-8s. The spacious park setting is perfect for picnics and party games.
What You Need To Know
Address: Henry St, Hawthorn
Parking can be a problem on weekends – and weekdays when students are coming and going from nearby Swinburne University.
5.Eltham Lower Park
A Double flying fox, liberty swing, butterfly climbing wall, spinning carousel PLUS miniature railway make this perfect for birthday fun. Wait your turn on the two flying foxes, explore the expansive parklands or buy a ticket on the winding miniature railway that runs each Sunday from 11am-5pm. Birthday party brilliance in one easy location.
What You Need To Know
Address: Diamond Valley Rail Park, Main Rd, Eltham
6.Village Park
Pack your bathers and towels – when the temperature hits 25 and over, the water play is on. Sprinklers, a spray tunnel and soaker cannons help kids keep their birthday party cool but even without the splashing, the general playground has enough equipment to keep them occupied – including monkey bars, sandpit, net swing and climbing walls.
For older kids, incorporate the skate park and basketball court into your birthday party theme and you're sure to create a fun event they'll remember, long after the lolly bag.
What You Need To Know
Address: Newmarket Rd, Werribee
7. Union Street Reserve
People doing the hard work for you – an easy way to fuel hungry, energetic little party guests while they celebrate that special birthday.
What You Need To Know
There is a playground aimed at toddlers to one side of the reserve, a playground for older kids to the other side and, in between, the charming convenience (and great coffee) on offer at Cubbyhouse Canteen. This cute little café hosts birthday parties and creates amazing birthday cakes, if you're someone who appreciates the handiness of other
Address: Union Street, Armadale