Best Hands-On Science Parties For Kids❜ Birthdays
Toddlers
Preschoolers
Kids
Teens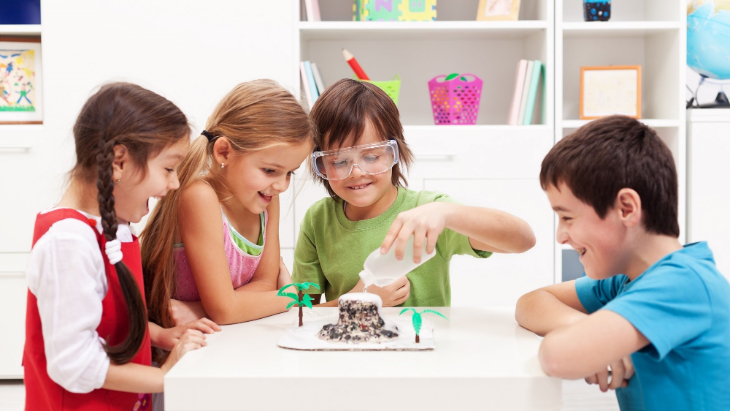 Forget face painting and pass the parcel, science parties are all the rage right now. With spectacular science demonstrations, chemical magic, bubbly potions and super stretchy slime, you can see why your little budding scientist will come home from school demanding a science party (and believe me it will happen).
We've rounded up the best hands-on science parties that will make your mad scientist very happy on their big day. So all that's left to do is to keep the young scientists fueled with bacteria bites (sliders) and fruit molecules (fruit skewers) and watch the joy unfold through stellar experiments.
Nutty Scientists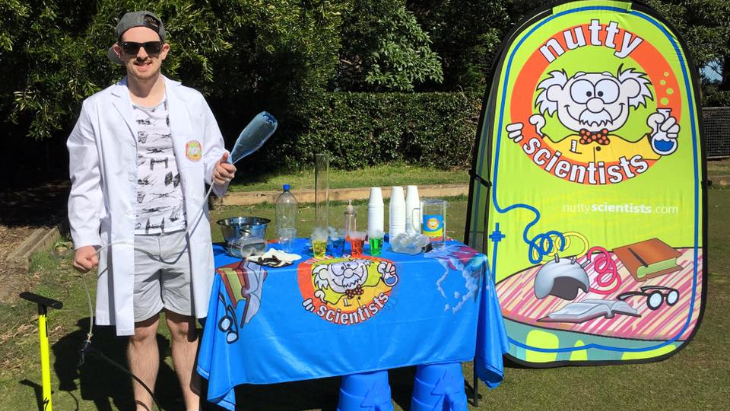 Nutty Scientists offer fantastic party packages designed for 10 kids or more which include 60 minutes of exciting and interactive activities. The combination of fun, theatre and education makes these shows an unforgettable experience for all the children at the party.
The Nutty Professors will create a laboratory of experiments around certain themes. These include The Ice Age, Harry Potter Potions, Star Wars and Dinosaurs and you can even tailor your kids party to what they love. For those who don't want much mess (home parties, we get it), this is also an option.
But for the messiest, gooiest package filled with explosive experiments, you can't go past the Messy Big Science Party. The interactive experiments including elephant toothpaste, flubber, playing with non-newtonian fluids and dry ice experiments- the real WOW of Science! Your special birthday boy or girl will love getting super messy. But don't worry the kids will be completely protected in their super cool lab coats that they won't want to take off.
Fizzics Education

Image Source: Fizzics Education
Fizzics Education run hundreds of highly interactive, educational, and (most importantly) fun science parties every year hosted by a REAL scientist, science teacher or science communicator!
This group really know their science stuff- they've been running since 2004 and have hosted over 1000 kids science parties.
You and your budding scientist can choose from a huge selection of parties which include a Liquid Nitrogen Show with delicious ice cream and clouds of fog surrounding the party, The Space Science Party where kids will launch rockets, make 'alien' slime and learn how spaceships work, and a LEGO Robotics Party where kids will learn to code a robot. There's even a party designed to please kids that love to get grubby; the ones that come home from school filled with mud and other unknown items in their hair, clothes and shoes. The Gross Science Party includes gooey science activities, making fake wounds & blood and disgusting fake vomit & snot- a sure way to have every kid at the party giggling!
Each party package runs between 60-90 minutes and includes over 20 hands-on science experiments, super cool lab coats and lots of spectacular science sparks.
You can also allow all the kids to take the Fizzics science party home with optional science party bags filled with extra experiments - sounds science-tacular to us!
Fly By Fun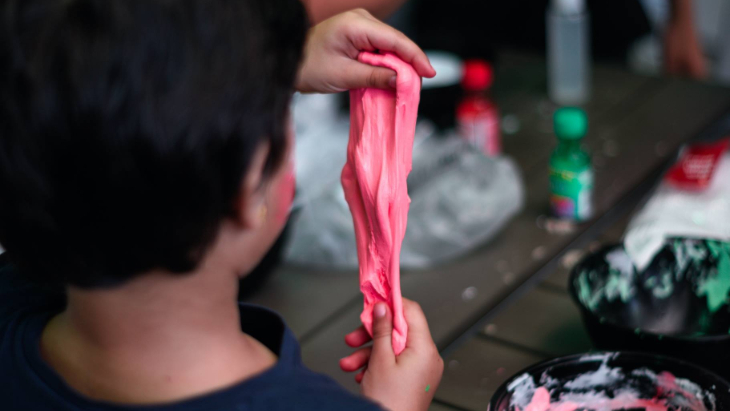 Fly by Fun host seriously fun science parties that are educational with a range of interactive hands-on science experiments. You can choose between a Crazy Science Party, Creative Cosmetic Party or Super Slime Party.
The Crazy Science Party features up to 5 amazing science experiments including making crazy ooze, magic bubbles, flubber, coke explosions, volcanoes, lava lamps, giant bubbles, kinetic sand, instant snow and more! The kids will love feeling like real scientists in their take home lab coats. All the music and ingredients for the science magic will be taken care of and you can also opt for some cool birthday party invites to be mailed to you pre-party.
The Creative Cosmetics Party will give kids an insight into the chemistry of cosmetics, as each little scientist will either make their own flavoured lip balm or bubbly bath bomb, using all natural ingredients. They also include between 3 to 5 of the popular experiments from the Crazy Science Parties depending on what package you choose.
And then there's the super fun Slime Party full of sciencey fun and excitement. A Mad Scientist will take the kids on a hands-on and engaging adventure with exciting science experiments and fun party games. The kids will make two of their very own colourful, glittery unique slimes to take home in their own special containers.
The Crazy Scientist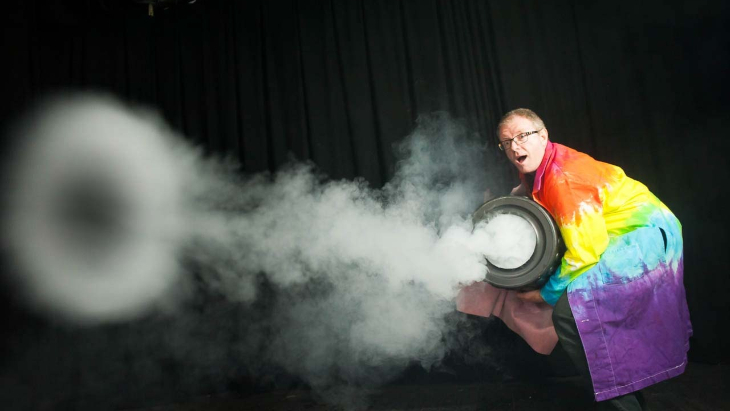 Image Source: @darrenedwards
For a party with the coolest science equipment hand-picked from around the world (and fancy new equipment designed and manufactured by the Crazy Scientists themselves), you can't go past The Crazy Scientist kids parties.
Each party is customisable depending on your child's interests and runs for 60 minutes. The parties include incredible theatrically presented science concepts that will entertain all the kids (and adults).
Children will start their experience dressed up in coloured lab-coats and glasses and be challenged with cool learning activities like a Chatterbox Tube Challenge (based on Bernoulli's Principle of air pressure), kinetic energy power, electric circuits, discovery science tables, sickening alien slime and test tubes investigation.
And then in a dramatic showing the crazy scientists bring special bubble juice made in America to ensure they are the biggest and best bubbles. They are so big the bubble will be created around your child so that they are physically in the bubble -for a serious stimulation of the senses. The kids will also love the shooting smoke vortex rings which teaches them many concepts such as air pressure, vortex ring science (volcanoes, water vortices, polar vortices and more). Kids can also take home a lava lamp and snow to continue the science party at home.
The Crazy Scientist parties are science edutainment at its finest.
Bop Till You Drop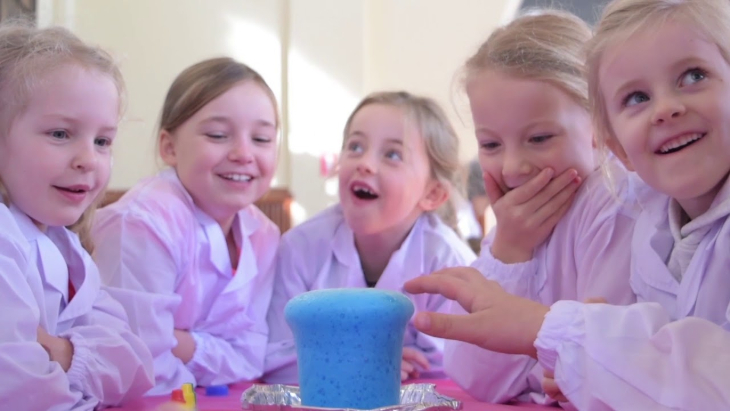 Bop Till You Drop host fantastic science kids parties that run for 1.5 to 2 hours that will have young scientists exploring, experimenting, concocting, and learning all in the name of science.
Under the guidance of a fun and crazy scientist, the kids will have a blast exploring a number of different scientific principles like surface tension, density, volcanoes, rockets and viscosity. At a Bop Till You Drop Party you will see anything from exploding volcanoes, blasting rockets, skittle magic, luscious lava lamps, colour changing milk and water bomb wonders.
The most popular party is the Bopper Slime Party with glitter and textured slime including a DIY slime creation for each guest to take home at the end of the party.
The kids will love wearing their white scientist lab coat, the awesome music, fabulous fun hosts, and cool experiments.
Street Science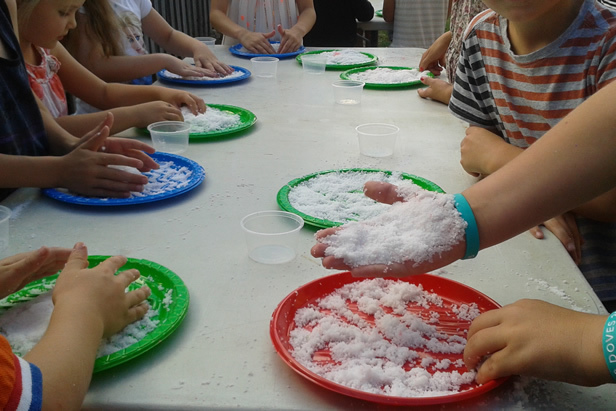 Street Science kids parties are fun, educational, and most of all provide you with a day your child will never forget!
Every science party kicks off with a 30 minute stage show with exploding balloons, intriguing demonstrations, light, sound and fire to boot; this is a performance that will get the kids revved up with excitement. The fun continues with a 60 minute science workshop of your choice including the Serious Slime & Snow Party for kids aged 5+ where kids get to mix chemicals to make some ooey-gooey slime, and then back it up by creating instant snow that expands to 100 times its original size and creates numerous piles of the soft fluffy white stuff. There's also the Bath Bombs & Beautiful Science workshop for kids aged 7+, a favourite choice for female scientists, where kids learn the science of bath bombs - why they fizz, manipulate the fragrance, customise their own colours and take home their unique fragrant bath bomb creation. And then there's the Rockin' Rocket Party where kids get to build and launch their own rocket up to 10 metres high, and the Wacky Worms, Balls & All Party where kids mix seaweed-derived chemicals together to create a range of delightfully disgusting polymer worms, bouncy balls and other oddities.
For an explosive extra show stopper you can't go past the Big Rocket Launch Add-On where the birthday boy or girl will receive a special present from the party host- a boxed rocket. The kids gather around and count down and your lucky birthday kid even gets to hit the launch button and watch their very own rocket fly up to 300m high with a trail of white smoke, before releasing a parachute and sailing back to earth.
Now what's a truly AMAZING finale!
More Birthday Fun
Have you signed up to our newsletter? Join ellaslist to get the best family and kid-friendly events, venues, classes and things to do NEAR YOU!