Best Apps for Kids On Long Journeys
Family
Kids
Mums & Bubs
Parents Only
Teens
Preschoolers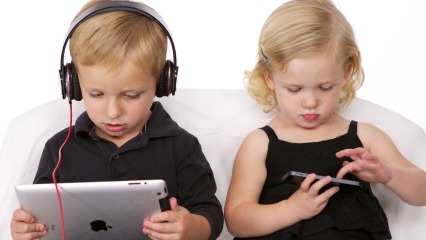 By: Serina Hajje, ellaslist
Facing a 24-hour plane journey or even a half-day drive, is enough to make you cancel your holiday. Thankfully we live in a world of technology and there are thousands of apps designed to keep kids of all ages entertained. Here is a list of our favourite top apps that combine play, education and plenty of fun!
Apps for 1-2 years
1. Sago Mini Monsters
Cost: $4.49
Create as many colourful monsters as you like! Make your monster happy with paint, food, and decorations. When you're finished, snap a photo to share. Sago Mini Monsters is a carefully-crafted activity which fosters feelings of pride, ownership, and nurturing. Part of the award-winning suite of Sago Mini apps, this app is sure to get your little one laughing.
Get the app HERE.


Source: Sago Mini Facebook
2. Peek-a-Zoo
Cost: FREE
An award-winning interactive experience that asks children to identify different animals who dance, eat, wag their tails, wear sunglasses, sleep and more. Children will learn about animals, emotions, actions and sounds.
Get the app HERE.


Source: Peek-a-Zoo iTunes
3. Play School Play Time
Cost: FREE
Play School Play Time is an activity based children's app in which the activities are based around the theme of "Humpty's Day", clocks and the passage of time. The app encourages imagination and creativity through open-ended-play, exploratory tasks and engagement with the Play School character's world.
Get the app HERE.


Source: Play School Play Time iTunes
4. Fisher-Price Giggle Gang App for Baby
Cost: FREE
This is packed full of fun activities that encourages babies to interact with engaging animation and sound effects while introducing the Giggle Gang! You can tap or tilt the screen to interact with the Giggle Gang characters.
Get the app HERE.


Source: Fisher-Price Giggle Gang App for Baby iTunes
5. Doodoo Pad
Cost: FREE
There are more than 14 interesting brushes to entertain kids. Each brush and color are intentionally randomly selected.
Get the app HERE.


Source: Doodoo Pad iTunes
Apps for 2-3 Years
1. Monkey Preschool Lunchbox
Cost: $2.99
The #1 preschool game in the app store. Learn and have fun by helping monkey pack lunch! Monkey Preschool Lunchbox is a collection of seven exciting educational games that teach kids about colours, letters, counting, shapes, sizes, matching, and differences.
Get the app HERE.


Source: Monkey Preschool Lunchbox iTunes
2. Endless Alphabet
Cost: $13.99
Learn the ABC's and build your child's vocabulary with the adorable monsters in Endless Alphabet. Each word features an interactive puzzle game with talking letters and a short animation illustrating the definition.
Get the app HERE.


Source: Endless Alphabet iTunes
3. Endless Numbers
Cost: FREE
Set the stage for early numeracy learning with Endless Numbers! Kids will love learning number recognition, sequences, quantity, numerical patterns, and simple addition with the adorable Endless monsters. Each number features interactive sequences and equation puzzles with numbers that come alive. There are no high scores, failures, limits or stress. Your children can interact with the app at their own pace.
Get the app HERE.

Source: Endless Numbers iTunes
4. Tozzle
Cost: $4.49
It keeps your toddler entertained as they improve their shape recognition and motor activity. Choose from more than 40 different puzzle pictures, all including funny sound effects.
Get the app HERE.


Source: Tozzle iTunes
5. Bugsy Preschool
Cost: $2.99
With self-adjusting difficulty levels, kids will explore colours, shapes, letters, phonics — beginning word sounds, counting and over 120 words. Kids will be encouraged to play and learn by earning toys while learning, interactive toys and engaging characters.
Get the app HERE.


Source: Bugsy Preschool iTunes
Apps for 3-4 years
1. Dr Panda Games
Cost: $2.99
Dr Panda has a whole trove of games that are bound to catch the attention and excitement of your child. From straightforward races to creating your very own stories through exploring and roleplaying with the school, students and any objects you discover at Dr Panda School.
Get the apps HERE.


Source: Dr. Panda Facebook
2. Colto
Cost: $0.99
A multi-award winning company that create learning games for kids that stimulate little minds and imaginations. The games are open-ended and free from levels and rules that encourage young children to explore, role-play and create their own stories. Their games are designed to be played in different sessions so young children don't become addicted and can easily leave the game and move on to other activities.
Get the apps HERE.
3. Angry Birds
Cost: FREE
Dish out sweet revenge on the green pigs who stole the Birds' eggs. Unleash the unique destructive powers of the Angry Birds in 175 levels from the full Angry Birds game! Angry Birds Free features challenging physics-based demolition gameplay, and lots of replay value.
Get the app HERE.


Source: Angry Birds iTunes
4. Fireman Sam – Junior Cadet
Cost: $3.99
Young fans can learn with Fireman Sam and the rest of the Pontypandy Fire Crew as they take on the role of a fire cadet in training. They can earn an 'Honorary Junior Fire Fighter' certificate before putting their skills to the test and helping out Fireman Sam in some action-packed emergencies.
Get the app HERE.


Source: Fireman Sam iTunes
5. Endless Reader
Cost: FREE
This app introduces "sight words", the most commonly used words in school, library, and children's books. Recognizing sight words is advantageous for beginning readers because many of these words have unusual spelling, cannot be sounded out using phonics knowledge, and often cannot be represented using pictures.
Get the app HERE.


Source: Endless Reader iTunes
Apps for 5-6 years
1. Dinosaur Chess: Learn to Play!
Cost:$7.99
Nominated for a BAFTA, Dinosaur Chess is the fun way to learn and play chess. Over 20 mini games and puzzles introduce kids to a simplified game of chess against 6 beautifully animated dinosaurs. Learning and playing chess encourage concentration, improves cognitive abilities and rational thinking.
Get the app HERE.


Source: Dinosaur Chess iTunes
2. Todo Math
Cost: FREE
Let's go exploring with Todo Math, your child's personal math adventure. Designed and endorsed by educators, aligned to school standards, and recognized for superior game design – Todo Math's early elementary curriculum is ideal for learning foundational math skills at home and in the classroom.
Get the app HERE.
3. Turtle Logic
Cost: $2.99
With 'Turtle logic' kids will have fun while playing with logical exercises. Help the turtles to go back home. Drag and drop arrows to build the right path to the exit. With more than 100 levels, kids will have a real challenge with progressive difficulty levels.
Get the app HERE


Source: Turtle Logic iTunes
4. Star Wars – Hero Path
Cost: FREE
Guide Luke Skywalker, Han Solo, Princess Leia, Chewbacca, and Obi-Wan Kenobi through perilous puzzles that will rack your brain and test your luck! Use the characters' special abilities as you travel from Tatooine to the Death Star, but watch out—every move can trigger enemy reactions that will change the game and your strategy in an instant!
Get the app HERE.


Source: Star Wars iTunes
5. Bugs and Numbers
Cost:$4.49
Bugs and Numbers provides an extensive collection of unique games dedicated to learning and practicing a wide range of math skills in a non-traditional way. Organized into three basic stages, the app grows with your child through 18 games ranging from basic counting to early fractions.
Get the app HERE.

Source: Bugs and Numbers iTunes
Apps for 7-9 years
1. Marble Math Junior
Cost:$3.99
Solve a variety of math problems by collecting numbers as you roll or drag your marble through a series of fun mazes.
Get the app HERE.


Source: Marble Math Junior iTunes
2. Daisy the Dinosaur
Cost: FREE
Learn the basics of computer programming with Daisy the Dinosaur! This free, fun app has an easy drag and drop interface that kids of all ages can use to animate Daisy to dance across the screen. Kids will intuitively grasp the basics of objects, sequencing, loops and events by solving this app's challenges.
Get the app HERE.
3. Disney Animated
Cost: $9.99
The app features a thorough look at the history of Disney animation from the days of hand drawings to today's computer-generated imagery. The app not only gives users historical knowledge about how Disney has made (and now makes) animated films, it also lets users play with tools similar to what its animators use now.
Get the app HERE.


Source: Common Sense Media
4. Faces iMake – Right Brain Creativity
Cost: $2.99
Encourages kids to be creative by creating faces using collage materials. It also provides opportunities for kids to share their creativity via email and social media as well as with other app users worldwide in a special gallery called FaceWorld. The overall design is very kid-friendly and fun and even introduces kids to symbolic elements of art.
Get the app HERE.
5. Monkey Word School Adventure
Cost: $1.99
Monkey Word School Adventure is for kids who are ready to start recognizing letters and words. It is well-designed with young learners in mind, challenging kids age 4 to 7 by using technology that quickly adjusts the words to the appropriate level.
Get the app HERE.


Source: Common Sense Media
Apps for 10+ years
1. Mathletics Student
Cost: FREE
The multi award-winning e-learning platform is available on iPad and now looks better than ever! Use in the classroom, at home – or anywhere. Use online or offline – Mathletics can now truly be accessed ANYWHERE! Mathletics is the world's leading educational resource for mathematics, created by the team behind the World Education Games.
Get the app HERE.
2. Musical.ly
Cost: FREE
It makes it easy and fun to create amazing videos and impress your friends. Simply select a sound and start lip syncing! Anyone can be an awesome singer with musical.ly! Create lip sync videos to your favourite songs. Add cool video effects: filter, fast motion, slow motion, time lapse, reverse, and other "time machine" effects
Get the app HERE.
3. Zoombinis
Cost: $4.99
Save cute creatures with fun, complex puzzles with this educational logic game. It's deliberately designed with no tutorial or instructions with the intent of teaching kids to explore, develop theories, and test their ideas.
Get the app HERE.
4. Sushi Monster
Cost: FREE
A game to practice, reinforce, and extend math fact fluency is completely engaging and appropriately challenging. Strengthen reasoning strategies for whole number addition and multiplication by helping monsters make a target sum or product.
Get the app HERE.


Source: Sushi Monster iTunes
5. Impoppable
Cost: FREE
Get ready for 100-levels of bubble-bursting fun with multiplying and dividing. Impoppable is designed to joyfully build automaticity with multiplication and division facts up to 10×10=100. Both multiplication and division can be used throughout which builds a more flexible understanding than games that focus on only one operation.
Get the app HERE.