Be a Train Driver for a Day near Melbourne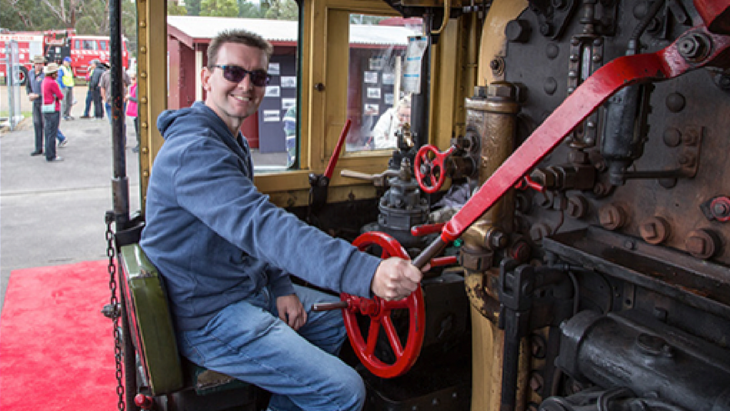 Ever watched Thomas the Tank Engine and wished that could be you chugging round the Island of Sodor on those quaint rail tracks? Well lucky for you, if you live in or near Melbourne, our own scenic railways have some pretty fantastic "be a driver for a day" experiences. Ok so maybe you can't take control of the 9.10 from Flinders Street on the Upfield line, but to be honest, the regional trains sound much more fun!
Grab your striped cap and step aboard, releasing the brakes and easing the steam regulator back... you're on your way driver, and good day to you!
Mornington Railway
Take your pick from a steam or diesel locomotive and you'll soon be standing on the footplate of a classic locomotive in front of the controls and valves and feeling the heat radiating from the firebox. No previous experience is required to lead the train along the Mornington Branch Line from Moorooduc to the new Mornington Station, over two level crossings, Balcombe Creek, through Tanti Station (previously Racecourse), negotiating curves and different grades along the way.
Your family gets to come and see your big moment (you can even choose an optional guest driver) driving to Mornington and back, shunting carriages, running the locomotive around the train in preparation for return to Moorooduc, and lunch is provided.
In addition, you also get:
Safety briefing and guest driver instruction
Catering for family and friends – price on application
One year individual membership to the Mornington Railway
Presentation of Certificate/s of Achievement
Toot toot!
Price: (Current for 2017)
Platinum steam driver experience – 1st person $1,400
Platinum heritage diesel driver experience – 1st person $900
Second person – Add $150
To book: Phone Roger Townsend: (03) 5971 2423
More info: check the website.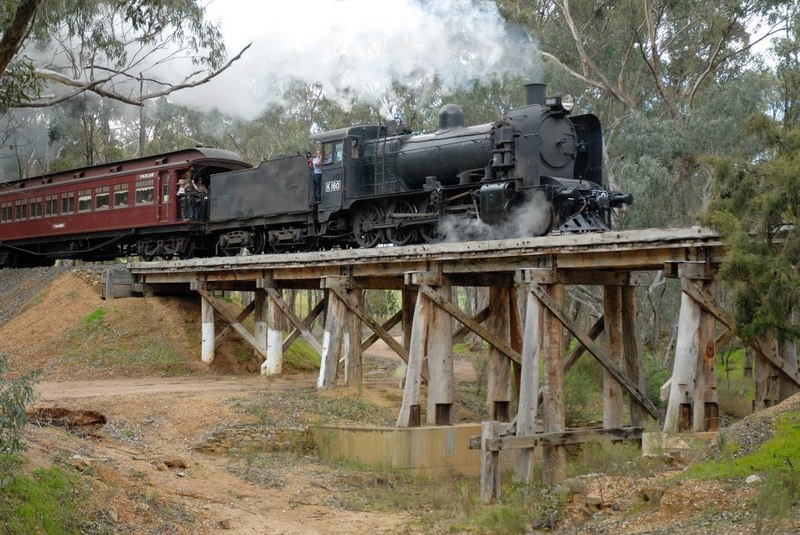 Victorian Goldfields Railway
Another choice between driving a broad-gauge diesel-electric locomotive, this time with the VGR Diesel Driver Experience Package (you get to be at the head of a Y Class Diesel Electric), or if steam is your fancy, you can opt to drive either a J class or K Class Steam Locomotive at the Victorian Goldfields Railway.
All you need to do is show up in the morning where the crew will take you through the process of preparing the locomotive, performing the mechanical inspections, and putting together a typical freight train. Once all safety checks are complete, you'll depart for Castlemaine and get to experience controlling the train both descending and climbing the steep hills of the Victorian Goldfields Railway. After turning the locomotive on Castlemaine turntable, you'll enjoy a relaxing lunch with the crew before driving the train back to Maldon.
You need no previous railway knowledge or experience - they will teach you all the basics of driving a steam locomotive!
Available: Any day they are not running passenger services, i.e not on Sundays, Wednesdays, Saturdays during School Holidays or on Special Event Weekends. Bookings may be limited during the summer fire danger period months (December - March).
Price:
The Steam Driver Experience is $1750 incl. GST (includes lunch, and a year's membership of the Castlemaine & Maldon Railway Preservation Society).
The Dynamic Diesel Package is $1300 (incl. GST) per person (includes lunch and a year's membership of the Castlemaine & Maldon Railway Preservation Society).
To book:
More info: For steam trains, go here. For diesel, it's here.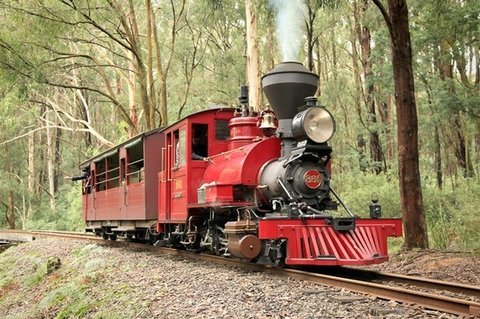 Puffing Billy
Or if it's vintage you're after, the Puffing Billy Railway will furnish you with a 120-year-old steam locomotive to drive along a winding, steeply graded narrow-gauge railway, through a variety of inspiring scenery between Emerald and Cockatoo with the 861 Footplate Experience Course.
Family and friends are welcome to come along for the ride (literally!), and you get exclusive use of the locomotive for a day, under the expert supervision of an experienced Puffing Billy Railway driver. This includes lighting the fire, lubricating the locomotive, learning how to raise steam and how the Westinghouse brakes work.
Your day begins at 7.00 am when the fire will be lit in the locomotive and steam raised, followed by a briefing session on safety procedures, and on the operation of the locomotive. After making up a short train at Emerald, you will depart at 9.15 am for Lakeside where your locomotive will take water before depart for Cockatoo. This section of track features three trestle bridges, and you will have the opportunity to photograph the train at one of these. At Cockatoo you will run the locomotive round the train, do some shunting, before departing for Lakeside. On the way back to Lakeside there will be time for a photo stop at another of the trestle bridges. You also get to do some shunting, enjoy the Luncheon Train, and have afternoon tea before heading back to Emerald and shunting your train into a siding at about 4pm.
Price:
The cost of the 861 Footplate Experience Course is AUD$1,700 including GST, which includes:
Exclusive use of locomotive 861 and a train of two vehicles for the day, under the expert guidance of a Puffing Billy Railway driver, fireman, and guard.
This course operates on a fully operating railway around regular scheduled Puffing Billy services and events.
Detailed course notes which will be sent to you in advance.
Morning tea, lunch, and afternoon tea. This can also be provided for your guests for a small additional charge (Must be arranged at time of booking).
A Certificate of Completion
To book: email [email protected] or telephone Puffing (03) 9757 0700.
For more info: head to the website.