All Aboard Sydney❜s Driverless Shuttle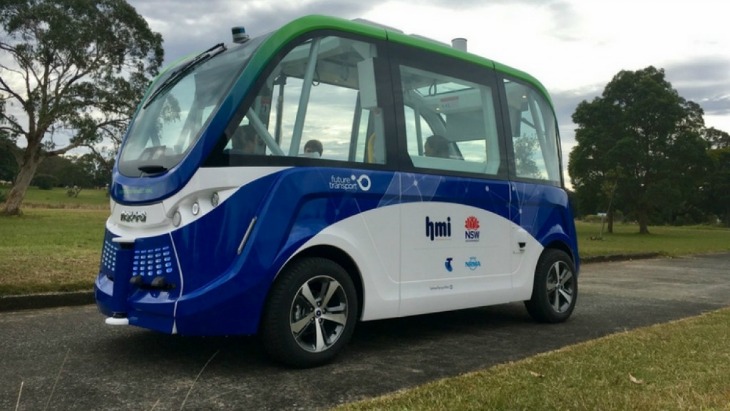 By: Phoebe Ackland, ellaslist; feature image via NSW Gov
A two year trial of driverless vehicles will see workers at Sydney Olympic Park hop aboard an automated shuttle bus which will travel a secure, off-road route at Newington Armoury. The shuttle will undergo tests and safety checks over the trial period, after which use of the shuttle may be extended to the public for travel on the Park's roads.
Transport Minister Andrew Constance said: "Today we drive our cars but the reality is, cars will soon drive us and while we are not there yet, we need to be prepared for this change and we need to stay ahead of the game."
via Telstra Exchange
The Future Is Almost Here
The vehicle will run autonomously on a pre-programmed route at a max of 10 km/hr, although it has the capacity to reach speeds of 45 km/hr. It cost $250,000 and can seat up to 11 people. The trial is being conducted by the collaboration of the NSW Government and HMI Technologies, NRMA, Telstra, IAG and the Sydney Olympic Park Authority.
Roads, Maritime and Freight Minister Melinda Pavey said: "This trial is not only about automated vehicles, it is also about connectivity. We want to use the trial to help develop the systems that will enable automated vehicles to be connected to our infrastructure, like traffic lights and to our customers through their devices and applications. It's the combination of connectivity and automation that will provide the safety and mobility benefits we are looking for.

"There is still some way to go before automated shuttles become common place on Australian roads, but as a Government we are ready to take the next step and from here all sorts of possibilities open up for transport in NSW."
Driverless buses have already begun various trials, with one in Perth back in 2016 and another in Darwin this past January, moving people between popular tourists spots according to the Sydney Morning Herald. It is said that driverless vehicles will improve road safety and traffic congestion, although only time will tell just how sweeping the effects of automation will be on employment and living...