A Great Escape At The Australian National Maritime Museum!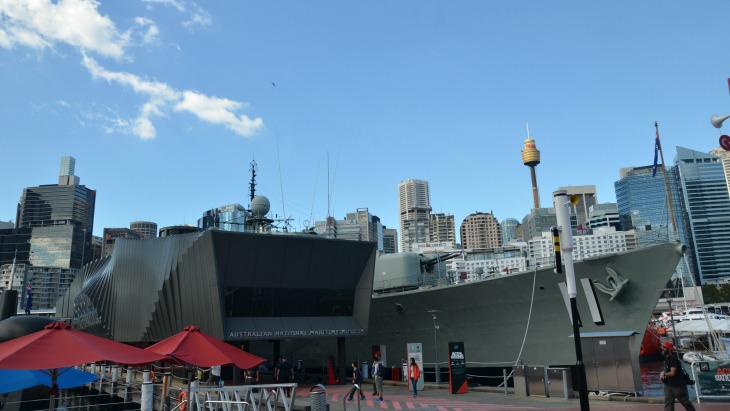 By: explorer team, ellaslist
There is no mistaking the Australian National Maritime Museum, the main building rising like a futuristic white monolith from the docks at Pyrmont on the western side of Darling Harbour. For me, the Museum has always represented one of those Holy Grails of kids activities in Sydney, equal parts curiosity and adventure, education and play, indoor wonders to navigate and outdoor areas to explore. To say simply that there is 'something for everyone' does it a disservice.
Escape From Pompeii
As well as being home to a substantial number of permanent installations representing Australia's colourful naval and nautical history, including colonial replicas and genuine wartime relics such as the destroyer HMAS Vampire and a replica of James Cook's HMB Endeavour, we headed to the Maritime Museum this weekend to investigate the brand new exhibition - Escape from Pompeii: The Untold Roman Rescue.
Spend A Day In Pompeii
The exhibition commences with a jaw-dropping 8-minute long animation called A Day In Pompeii, shot from the point of view of a still camera situated on a random building in Pompeii that fateful day in August 79AD. Like a first century version of CCTV, we watch, stunned, as Mount Vesuvius begins to erupt in the background at lunchtime, buildings rattle from seemingly minor tremors and the first pieces of volcanic debris begin to rain from the sky. The eruption cloud quickly rises to 14km high. We listen, shocked with the eery benefit of hindsight, as dogs bark and babies cry out, realising that within a few hours, thousands of people would disappear without a trace under metres of volcanic ash and pumice...for nearly two thousand years. Needless to say our kids, all aged between 7 and 11yrs, were enraptured.
Pompeii: The Ancient Sydney
Not unlike modern-day Sydney, the Bay of Naples (in which Pompeii is situated) in the 1st Century AD was a cosmopolitan region of great wealth, and a major trading port with the exotic far East. Misenum, across the bay from Pompeii, was home to the then-almighty Roman navy, which at the time and for the first time in recorded history commanded the entire Mediterranean.
First Recorded Maritime Rescue
The 'untold Roman rescue' is the harrowing story of the first recorded maritime rescue attempt. A wealthy Pompeii local, Rectina, whose villa was at the foot of the mountain, soon realised that escape would only be possible by sea. She sent urgent word at once to her friend Pliny the Elder, commander of the Roman navy (situated at Misenum), calling for as many ships and men as he could spare to embark on a desperate rescue mission. Fortunately for Retina, Pliny, who had a keen interest in the natural world, had already noticed the curious cloud billowing from Mount Vesuvius and was arranging a warship to take a closer look! Pliny sent out several of the largest warships in his fleet, each powered by over 200 oarsmen.
The Deadly Explosion
He was too late. By the time he reached Pompeii the conditions prevented them from docking, forcing them instead to nearby Stabiae where they discovered other ships desperate to leave but unable to for all the wind and raining pumice and ash. Balconies and roofs were collapsing, panic had set in, and at dawn the next day just over 12hrs after the first eruption, Mount Vesuvius exploded its final blasts of superheated hot gas and ash, surging into Pompeii and surrounding villages and killing instantly anyone who had not yet fled, including our hero, Pliny.
Escape From Pompeii unfolds a series of bite-sized chunks of this complex but immensely fascinating story, in both words and pictures, all easily digested by our young visitors.
Check Out Awesome Relics & Get Hands-On
We watched some terrific animation of the Roman naval fleet at war (the boys loved it!). We played a fun, interactive animated game which helped us understand the immense wealth of goods being traded with the East at the time. And we combed through an array of genuine artefacts, including some incredible, pristine gold jewellery and kitchenware (including a divine heart-shaped cake tin - was really special to picture wives and mothers even 2,000 years ago baking with love for their families!).
Time For A Bite To Eat
Afterwards we made our way out into the glorious weekend sunshine and took a high table at Yots, the Maritime Museum's gorgeous on-site café which overlooks Darling Harbour, where the kids devoured some incredible muffins and hot chocolate, and my friend and I savoured our good fortune and blessings over a glass of wine and a plate of tiramisu!
The more substantial Italian-flavoured dining options for adults, while not the cheapest around, looked delicious. Kids also have a range of home-style menu options for just $10.50.
The Maritime Has It All For Kids & Families
After refuelling we spent the rest of the afternoon exploring everything else the Maritime Museum has to offer - one of the highlights for the kids being a chance meeting with Bailey, a former working dog and now the Museum's resident border collie (and seagull patrol!) and the submarine (HMAS Onslow). Every inch of the Museum seems to be staffed by friendly, immensely knowledgeable volunteers and it was really inspiring to see how genuinely and respectfully our kids responded to the knowledge they shared with us at each point in our journey.
Escape From Pompeii is on now until 31 August 2017.
What You Need To Know
Cost: $50 per family (2 adults, 3 kids - exhibition only), or $79 for the Big Ticket which gives you access to everything. Kids under 4yrs FREE.
Opening Hours: Every day from 9.30am-5pm (last time for boarding the sub and tall ships is 4.10pm)
Address: 2 Murray Street, Darling Harbour
Contact: 02 9298 3777 or email [email protected]
More Info: www.anmm.gov.au
Become a Maritime Museum Member and receive FREE or discounted entry to all events and exhibitions, as well as many other benefits.
ellaslist's Top Tips
- worth measuring your little ones before you leave home to avoid disappointment as children must be at least 90cm to board the outdoor vessels
- if you come by car, park at The Star - on weekends if you enter between 11am & 5pm it's $20 for 6hrs and only 5mins walk from the Museum
- or catch the light rail from Central to The Star, departing every 10-15mins
- though it might seem steep, the Big Ticket is terrific value - you can easily spend an entire day here if you take your time and see everything there is to see
- pack a picnic lunch to enjoy on the dock as you watch the world go by
- bring your stroller and scooters (there's a coat check at the Museum), the fantastic Darling Quarter water play park and children's playground is an easy 5-10min stroll away
- why not check the Darling Harbour website before you leave home - there are often events on during the afternoon/evening, especially during school holidays