6 Ways To Get The Best Experience At Wet n Wild Sydney With Kids Under 5!
Preschoolers
Family
Kids
Mums & Bubs
Teens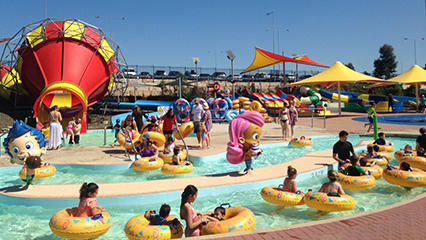 By: Sarah Stores, ellaslist explorer
Waterparks are usually the domain of bigger kids and adults but ellaslist Explorer, Sarah Stores and her family (husband, 4yr old and 20 month old) found heaps of fun for the under 5s at Wet N Wild Sydney. Find out about her highlights of the day and take on board her fantastic top tips to help plan a trip with your young family.
New To This Summer 2016-17!

Brand new to the fourth summer season of Wet'n'Wild is the Dinosaur Lagoon! Right in the middle of the 500m lazy, winding river that propels you gently forward, you'll find 9 interactive creatures of the prehistoric past! You'll come face to face with fierce carnivores and humungous herbivores, as you recline on a soft inflatable tube. The perfect way to take a break from the adrenaline pumping action of the rest of the park.
1. Head To Nickelodeon Beach Waterslides

Wet 'n' Wild Sydney has done a great job of catering to the young crowds at the Nickelodeon Beach. There are an amazing 12 water slides (yes 12!) suitable for kids under 5. We tried all of them and they were great fun! First we explored the four slides dedicated to the young kid who thinks he or she is definitely a big kid. They are on the far end of the Nickelodeon Beach and are mini versions of the bigger slides in the park. You ride each of these four slides in a single tube and you can choose a double tube so that Mum or Dad can enjoy the fun and accompany little ones.
My 4 year old can't quite swim on his own yet (almost but not quite!) but he loved doing both the double and the single option. With the double he cackled with glee as he twisted and turned down the slide. With the single slide he was under strict instructions to hold on tight and you could see how excited he was to go on his own. At the bottom of the slide he was still holding onto the tube and had a facial expression of sheer delight as he was ushered by the attendants to the side of the pool. His first words were "I did it myself! I love it! Lets do it all day!"
Top Tip: The attendants at the bottom of the slides are great at ushering kids to the side of the pool but you really need a parent or carer at the top of the slide and the bottom. As to be expected on a hot day, the queues can be a little long and so you need one person to wait with the child at the top and one at the bottom to help assist the child out of the pool (the rides are too quick for the adult waiting with the child at the top to be at the bottom by the time the ride is finished). These rides aren't really suitable for the littler ones where you can't be sure they will hold on.
2. Let The Bubs & Toddlers Ride The Slides Too

Next on the agenda were slides for under 5s, half of which were strictly kids only! These are small water slides where kids can enjoy the independence of going on their own. We sent both our 4 year old and 20 month old down on their own and they both loved it (although they were little and my 4 year old much preferred the bigger slides). Again, you need a parent or carer at the top to wait with them and put them on the slide and then another parent or carer at the bottom to get them off the slide.
The second set of smaller water slides were suitable for even babies. The small slides have a few twists and turns in them and are specifically designed for young kids to go on their own and for adults to take smaller kids down. This time it is a more traditional slide with no tube required. This is great for any baby that loves the water as they can sit on your lap while you slide down together. I saw some babies as young as 6 months go down with their parents and love the experience.
3. Splash About In The Play Area

When you need a little break from the excitement of the water slides then head to the Splash Play area. This large area has water jets, fountains and dumping buckets of water. It is great to run through and explore and to jump in muddy puddles! This was especially great for the 20 month old and he explored this area for a long time. It is similar to other splash play areas in Sydney but it is larger and accompanied by not only water slides but cool statues of your kids favourite Nickelodeon characters.
4. Take Time Out For Lunch

After a long morning of water slides we retreated to our cabana for lunch. There is a relatively large selection of pub type food available for order. We thought they were reasonably priced and good quality for theme park food. We went for the double beef burger and fries ($13), a Caesar salad ($15) and a warm falafel salad ($15). The kids a shared a BBQ chicken pizza ($13). Wet n Wild ask that you do not bring snacks into the park. They do check your bags on entry but I did still notice a lot of pre-bought snacks in the park. We bought a few kid-friendly snacks in as well as water bottles without problem. New to this Summer: Overlook the park as you dine at The Surf Club Restaurant, whose brand new menu is Tex Mex inspired and boasts burritos, nachos and fish tacos- yum! Grab a quality coffee or delicious wrap from the all-new Village Bean Coffee House, or check out the self-serve frozen yoghurt machine at Sweet Treats!
5. Head To The Beach

After lunch we were all set to explore a new area of the park and so we checked out the wave pool. Wet n Wild have created a huge beach and a massive wave pool with over 6,800,000 litres of water. There are a large number of sun chairs set on the beach and then a huge wave pool. Our young kids loved jumping over the waves in the shallow section and exploring further into the water with our help. It was surprisingly just like being at a real beach. We then retreated to the sand and spent a long time building castles and burying each other!
Top Tip: Bring sand toys! The sand is great fun and provides an excellent opportunity to build sandcastles while taking a break from some of the busier sections of the park. Take your shoes down to the beach as the sand gets very hot!
6. Take On Board My Other Top Tips

Wet N Wild is a great day out that provides the full theme park experience. There is music playing and a good buzz around the park that is a lot of fun. There are lots of showers and facilities around and the park is well laid out. Here are some more tips to really get the most out of your experience:
- Hire a cabana: A cabana provides you with a dedicated spot for the day. It has a comfy lounge, some deckchairs and much needed shade. Kids always have a point to go to if they get lost and you have somewhere for any babies to rest or sleep. There are 50 available, so be sure to book one.
- Hire a locker! I would also recommend getting a small locker to avoid worrying about your keys/wallet/phone or having to designate someone to watch them. There are a large number of lockers spread out across the park. There are small and large lockers although they are not signposted so it can be a bit tricky to work out where the small ones are (Tip: Head to the Wave Pool to find them!)
- Take an extra pair of hands: If you can manage it I would take one more adult than you have kids. With little kids you really need one adult assigned to one kid at all times, especially on busy days. However, when they are riding the slides you also need another adult to catch them at the bottom.
- Go early! Getting there early provides you with the time to orientate yourself to the park and to join the start of the queue for any of the bigger rides you want to do (the queues can be over an hour for a ride at lunch time so it is best to do those big rides early).
- Shoes: Make sure you take shoes wherever you go as the ground can get very hot.
Cost: As you would expect from a theme park, this is not a cheap day out but with a full day's entertainment, you really are getting value for money. If you were going to go more than once the season passes are worth checking out.
Wet'n'Wild is more than just a day of water sliding check out their Live Summer Music Series to hear the vocal stylings of the likes of Ricki-Lee and Justice Crew, watch a movie whilst you paddle in the water at Cinema In The Sand or prepare for your jaw to drop to the floor when a freestyle motorcross team performs heart-stopping stunts at Showtime FMX Summer Slam.
Find out more information on Wet N Wild Sydney here.
I'm Sarah. A Mum of two over-active boys and a self-confessed Sydney tragic. I love living in, exploring, discovering and experiencing all Sydney has to offer. Having lived in Sydney most of my life I have loved exploring it as a grown up but now as a Mum I'm relishing re-discovering my passion for Sydney through the eyes of my boys. I love planning and executing our regular family outings to explore new things in Sydney. As a working Mum, it is a great way for our family to stay connected and have fun together. I would love to spend all my time travelling the world but given I live in the real world of mortgages and jobs we see exploring Sydney as tourists as the next best thing. You can follow our adventures on Instagram at SarahStores.