6 of the Best Places to Get an Amazing Toastie in Melbourne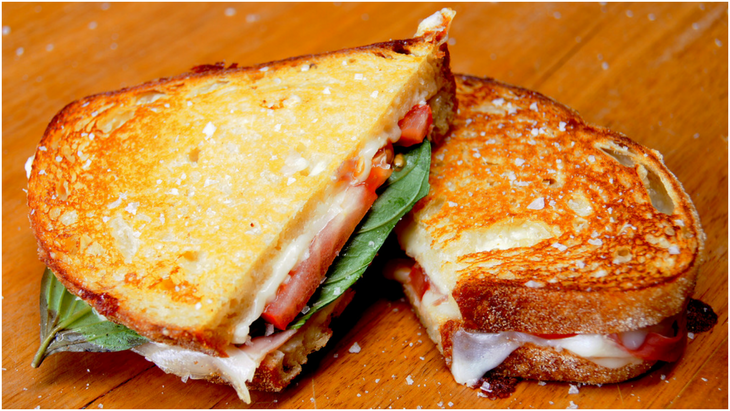 If you could have seen the miserable toastie I ate yesterday, you wouldn't be surprised at the amount of Googling that followed for an actual good one in Melbourne!
MIne was flaccid and tasteless, but no more - these six spots will outdo my poor home efforts a hundred times over. Just the thing I need to shake off the winter chill!
Crispy golden bread, gooey melted cheese, an unexpected ingredient that tips it over the edge... may you never be as disappointed with a toastie ever again with this list of sandwiches, jaffles, grilled cheeses and what really amounts to an entire meal inside two pieces of bread.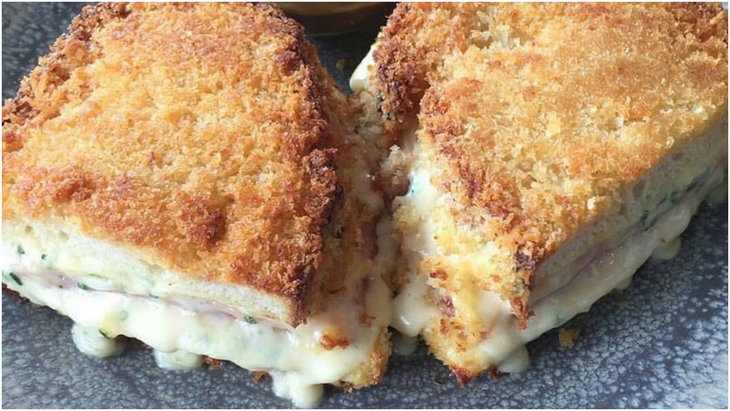 Lolo & Wren, Brunswick West
I want to shout here, but get the Crispy Croque Monsieur at Lolo & Wren! Get it! Shaved leg ham, super-melty Swiss cheese, oozing cheese and chive cream, coated in crisp breadcrumbs and fried, served with homemade tomato relish. Honestly, what is better than a fried sandwich? Not much!
Get it: 484 Albion St, Brunswick West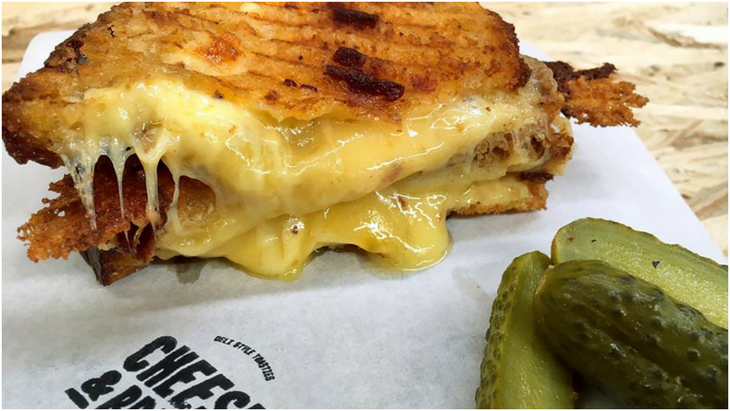 Cheese & Bread, Preston
A bunch of folks happened to think there is nothing better than cheese and bread, and opened a spot where you can get just that! But not just any cheese and bread - here you can get yourself sandwiches named after the best pop culture couples of all time: The Bert & Ernie serves up Roast Beef, Caramelised Onions, Spinach & House Blend Cheese, the Mario & Luigi with their Italian bent gets Pesto, Roma & House Blend Cheese, and for an epic mac and cheese situation, grab the Lenny & Carl - Macaroni, Béchamel & House Blend Cheese. Feeling like a sweet swap? Winnie and Tigger are here for you with their Nutella, House Blend Cheese & Icing Sprinkle.
Sides include pickled onion & cucumber, sujuck sausage and poutine fries. You won't be leaving here hungry!
Get it: The Food Truck Park, 518, High Street, Preston. Open weekends only.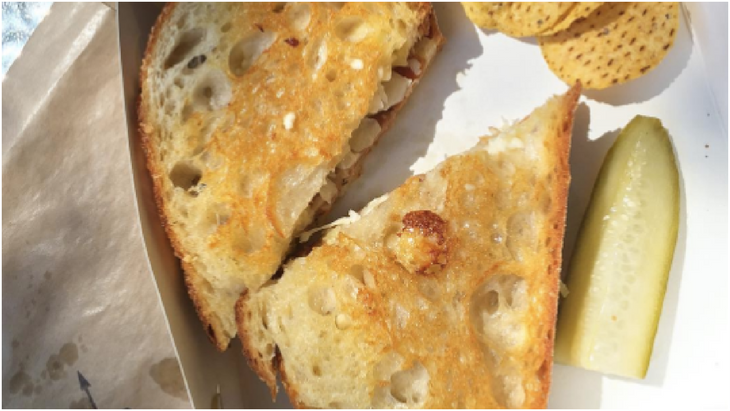 True North, Coburg
When it comes to epic toasties, t's pretty hard to go past the True North Reuben, chock-full of pastrami, dijon mustard, house-made mayo, sauerkraut & Swiss cheese on toasted sourdough (available to in a vegan version that leaves nothing behind!), it's one of the best int the city. Served with a tangy pickle, it will absolutely make your day.
Get it: 2A Munro St, Coburg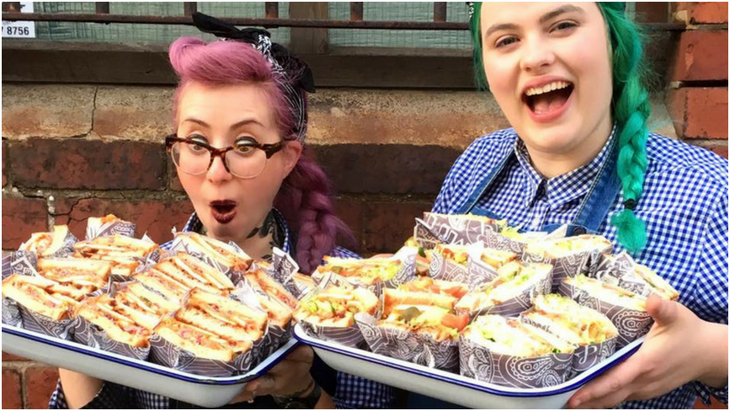 Smith & Deli, Fitzroy
You want vegan toasties? YOU ARE IN LUCK.
Smith & Deli in Fitzroy have *takes deep breath*
Velvet Elvis: cheese and buttery bread toastie
Pesci Pesto: grilled cheese and pesto
The Friend Zone: grilled cheese with ham and tomato
The Truffle Shuffle: grilled cheese with ham and truffle oil
Little Havana: traditional pressed cuban, with ham, roast turkey, mozzarella, pickles, cheddar and mojo dressing
Reubenstein: pastrami, sauerkraut, pickles, Russian dressing on rye
The Godfather: hot chilli salami, pepperoncini, mozzarella, roasted peppers and fresh basil
and assorted other goodies like Philly cheesesteaks and meatball subs - every single thing vegan - and every single thing outrageously delicious!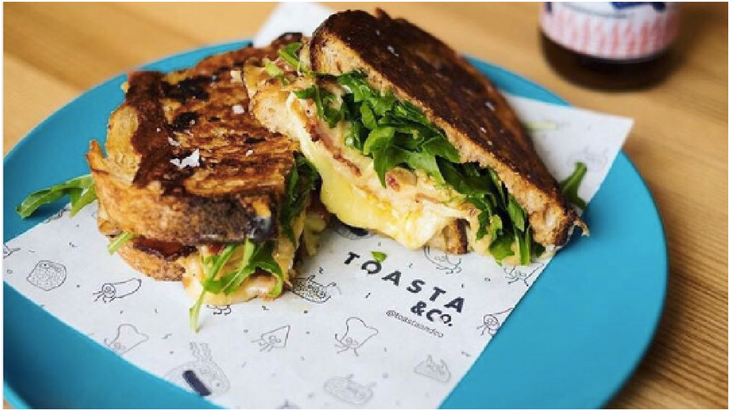 TOASTA & CO, West Melbourne
Grab an insane toastie at their cafe, or find out where the TOASTA truck is at any given moment - you'll be rewarded with three-cheese blends with pickle; cheese, tomato, kale cashew pesto and ham; cheesy tuna toasties, pulled pork with BBQ sauce, or even the mexican-inspired Miguel toastie, all in between two crispy slices of Zeally Bay Sourdough.
In a hurry? Order online!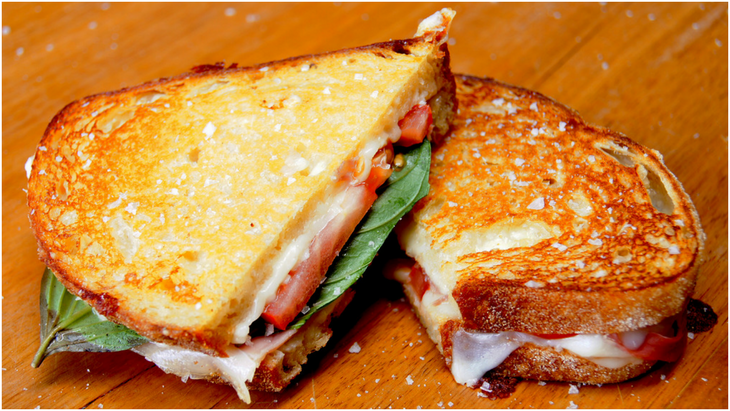 Toasted Toasties, everywhere
Grab a fun twist on the humble toastie, with things like The Waldorf (Boat Shed Blue Cheese - Gruyere - Fresh Pear - Walnuts - Quince Paste - Pink River Salt), the Bengal Tiger (Chilli Cheddar - Eggplant Katsundi - Coriander - Pink River Salt - On Seeded Sourdough) or maybe the Melbourne Truffle (Mozzerella - Truffled Mushroom - Thyme Butter - Truffle Salt - On Sourdough)? Plenty to choose from, check out the menu here.
Toasted Toasties source their produce from some of Victoria's most respected artisan food producers, using artisan bread and cheese, fresh seasonal fruit and veg, amazing preserves and relishes to create next level toasties, both savoury and sweet.
Follow them on Facebook to find out where the truck is at next.
Where do you love to get a toastie that won't leave you disappointed?