Six of the Best Firefighter Adventures in Sydney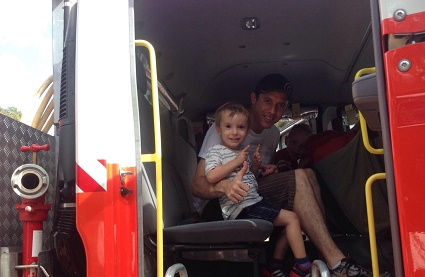 By: Sarah Stores, ellaslist explorer
I have not met a little boy yet who hasn't gone through a 'firefighter stage' in their toddler or preschool years. This list of activities will allow the little firefighter in your life to discover and learn more about the world of fire engines and firefighting whilst allowing any siblings or friends (either boys or girls!) to have a great day out.
1. Visit the Museum of Fire

This is the ultimate destination for all budding firefighters. Situated in Penrith, this museum is in a big silo building and contains a huge collection of old and new fire engines which are delight for anyone to explore. Dating from the 1800s there are fire engines that range from steam powered to horse drawn to today's modern engines. There is also a great Firefighter Training corner to practice all of those essential firefighting skills, like how to drive a fire truck, how to best draw a fire engine and what to do if you see a fire. The site also has a great playground on the grounds as well.
MORE INFO HERE.
2. Visit Your Local Fire Station

Each year NSW has a fire station open day where you can visit your local fire station, meet some real firefighters and climb through a fire engine. Firefighters are a friendly bunch and I find that if you pop past on any quiet day the firefighters are often happy to give you a wave or even a sneak peak at one of their fire engines! The official open day across NSW is 20 May 2017, so mark it in your calendar!
3. Host A Fire Party With A Visit From A Real Fire Engine

The little Chiefs Fire Service provides an amazing children's party experience. Henry the Fire engine will visit your house (or other location) with Fireman Tim with lights and sirens ablaze to really get the fire party started! During the party, kids can dress up and be entertained with fire-themed games and water spraying. A little firefighters dream party!
4. Put Out A Fire At The Wannabees Family Play Town

This unique play centre/theme park/mini town has an excellent firefighting play area. Put your fire hat and jacket on, slide down the fire pole, grab the hose and pour (real) water over a (pretend) fire. It's a great delight. Follow it up by running a restaurant, doing a spot of grocery shopping, catching some robbers and appearing on TV!
MORE INFO HERE.
5. Visit The Brightmore Reserve Mini Town Playground

Take your bikes and trikes and enjoy the simulated road systems with roundabouts, crossings and road signs. Make sure to visit the Brightmore Village along the track where you can play in the fire station and fire truck and then fill up on petrol at the nearby petrol station.
MORE INFO HERE.
6. Powerhouse Museum

If you only have a morning and the Museum of Fire is too far away, head to the Powerhouse Museum and check out their steam fire engine and horse-drawn fire engines. While you're there let your little people explore other forms of transport, pretend to be in space and visit the fabulous interactive Wiggles exhibition.
MORE INFO HERE.
I'm Sarah. A Mum of two over-active boys and a self-confessed Sydney tragic. I love living in, exploring, discovering and experiencing all Sydney has to offer. Having lived in Sydney most of my life I have loved exploring it as a grown up but now as a Mum I'm relishing re-discovering my passion for Sydney through the eyes of my boys. I love planning and executing our regular family outings to explore new things in Sydney. As a working Mum, it is a great way for our family to stay connected and have fun together. I would love to spend all my time travelling the world but given I live in the real world of mortgages and jobs we see exploring Sydney as tourists as the next best thing. You can follow our adventures on
Instagram at SarahStores