12 Weeks To Make My Body Mine Again - Week Eight - I Heart Facebook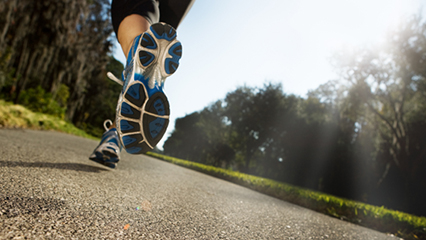 ellaslist COVID-19 update: Please note that all the information on the website is correct at the time of publication. Please check the relevant website before visiting a venue or destination for the latest COVID-19 information. ellaslist is not responsible for any cancellations or closures.
By: Heather Gow, ellaslist explorer
Heather Gow bravely embarks on a very public journey tracking her ups and downs on her personalised running and nutrition program with Benefit Sports Nutrition and Run with Us Online. Read Heather's Intro Article, her Week One Update,  Week Two Update,  Week Three Update, Week Four Update, Week Five Update, Week Six Update and Week Seven Update here.
There's an ongoing debate in my family about social media in general and Facebook in particular. There are those on one side who see it as a waste of time, a hotbed of narcissism and ill-informed "debate" about how climate change is a conspiracy and probably something in your kitchen cupboard was the cure for cancer all along, and the click-happy sharing of posts claiming that something terrible (or good) will happen if you don't (or do) share this post within 20 seconds! And then, on the other side, there's me, who freaking loves it!
The Importance Of Connecting
I'm sure it's no coincidence that my regular use of Facebook coincided with the start of maternity leave when I was expecting my first child. Plunged into the relative isolation and brain-buzzing anxiety of being home alone all day with nothing to do but wait for a late baby to arrive, Facebook became an easy way to connect with my ante-natal group who were experiencing the same thing, and with the wider world.
Parental Advice At A Click
As time went on and more children arrived, it's become a source of parental advice and book recommendations, a convenient and available version of a baby book to record funny things the kids do and say, and a source of reassurance that there are many others who share similar views on social and political matters (and the opposite!)
Always Someone Who'll Listen
Not only that, it's an extremely convenient dumping ground for any amusing thought that seems too hilarious to keep to myself. My Facebook activity always peaks when my partner is away and I'm desperate for contact with people who don't speak fart-ese or habitually use food for clothes. You can't pick up the phone and call someone in the middle of arsenic hour(s) but you can generally update a status or respond to an ongoing online conversation without disrupting the flow of homework/dinner/bath/teeth/book/bed too much.

Running Support At My Fingertips
It's been great then, during the second half of my 12 week beginner program with 
Run with Us Online
, to discover the
Facebook page managed by running coach Greta Truscott
. Greta and her partner coach people at all levels of experience and ability, from goof newbies like me to ultramarathon runners, and the Facebook page is a supportive, fun, encouraging place where running events get promoted, running achievements get celebrated, healthy recipes get shared, and ultimately a community is formed and people are connected via a mutual goal of running for fun and health.
Real People Too!
As with all the best online communities, there's an analog version too – you can meet with actual people doing actual running at Centennial Park or at various locations as advised.
Wait, I Can Do This!
Week Eight's been great – my interval training sessions during the week are feeling manageable and even the longer continuous run at the end of the week is feeling better. My nutrition plan has settled and I'm eating breakfast of oats with maple syrup,
LSA
meal and sultanas every morning and chicken or tuna wraps for lunch – and with the guidance of Charlene Cassie from 
Benefit Sports Nutrition,
I am becoming more organised with cooking batches of healthy meals for the kids and freezing them for the week. Despite the early setbacks, I'm starting to feel like I might actually achieve my goals yet!
READ HEATHER'S WEEK ONE UPDATE HERE
WEEK TWO – THE BEST LAID PLANS!
WEEK THREE – IT NEVER GETS EASY!
WEEK FOUR – UNEXPECTED EATING PLAN ISSUES
WEEK FIVE – CLIMB EVERY PLATEAU
SPECIAL OFFER FOR ELLASLIST READERS!
25% DISCOUNT ON WELL-MUM NUTRITION PLAN
Heather is participating in a 12 week running and nutrition program crafted by BeneFIT Sports Nutrition and Run With Us Online and customised to help her achieve her fitness and wellbeing goals.
25% DISCOUNT ON WELL-MUM NUTRITION PLAN – SPECIAL OFFER FOR ELLASLIST READERS!
If Heather's great progress has inspired you to reassess your wellness plan, take advantage of BeneFIT Sports Nutrition's wellMUM plan. This program has been specially designed for the busy mum in mind. Based on Charlene's own personal experience as a mum to very active 21 month old twin boys, this program will help get your health and wellbeing back on track.  It's time to make your body yours again!
Tailored to suit your individual needs, body composition and goals, this program is based on a flexible day-to-day meal plan and enables you to pick what you want to eat within a daily point allowance as opposed to a detailed meal plan. You receive a recipe booklet and pick your meals within your specific point allowance for each day.
WARNING!  This is not a diet. It's a lifestyle plan!   
For a special discounted price of $75 you will receive:
> Body composition analysis and report
> Macronutrient guidelines detailing the quantity of carbs, protein and fat you should be consuming to lose weight
> Point based nutrition plan for flexibility and choice
> Free recipe e-book with recipes for the whole family, including adjustments for the little people in your life to avoid cooking multiple meals every day
Start your transformation and book yours now!
Heather Gow is a mother of three and a step-mum of one. She's on a break from her psychology career and is currently kid-wrangling full-time. She writes stories for children when hers are asleep.
She blogs infrequently
 and
tweets lefty political rants
. She lives in the Eastern Suburbs and can generally be found somewhere on the endless loop between school, daycare, swimming lessons, gymnastics and Nippers.