12 Weeks to Make My Body Mine Again- Week 12- Done and Dusted!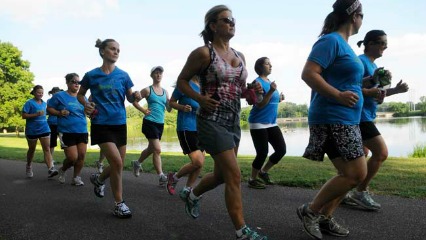 ellaslist COVID-19 update: Please note that all the information on the website is correct at the time of publication. Please check the relevant website before visiting a venue or destination for the latest COVID-19 information. ellaslist is not responsible for any cancellations or closures.
By Heather Gow, ellaslist explorer
Heather Gow bravely embarks on a very public journey tracking her ups and downs on her personalised running and nutrition program with Benefit Sports Nutrition and Run with Us Online. Read Heather's Intro Article, her Week One Update,  Week Two Update,  Week Three Update, Week Four Update, Week Five Update, Week Six Update, Week Seven Update, Week Eight Update, Week Nine Update, Week Ten Update, and Week Eleven Update here. 
Well here we are. Just a few short weeks ago your correspondent was an exhausted, overweight mother of three who had just finished breastfeeding her youngest and couldn't look herself in the mirror. I was skipping breakfast, grabbing lunch on the run and scarfing peanut butter and wine for dinner. I hadn't done any exercise for eighteen months. For those nerds out there who like hard data, my starting weight was 68 kilograms and my body fat percentage was 37.4%, equivalent to a body fat mass of 25.4%. Firmly in the fatty boombah category.

Drum Roll Please…
11% Body Fat Gone – That's 8kgs!
After twelve weeks with Charlene Cassie's
Benefit Sports Nutrition and Greta Truscott's
Run with Us Online
Beginner 5K program with Nutritional Support,
I've dropped 5 kilograms on the scales
and a truly awesome
body fat percentage reduction of 11%
– that's 8 kilograms of fat! Goooone!
More Energy
I feel pretty great actually. Still tired. But hey, I've started a full time job since then and I've still got three kids so bone deep fatigue is in the "Better just accept it" category. I've noticed though that I don't get the big dips of energy at odd times during the day so much anymore, so I'm far less likely to fall asleep whilst driving or commit the social faux-pas of snoring during school gate conversations. A blessing, I think you'll agree.
Keeping It Going
I aim to run three times per week and manage to achieve that most weeks. I ran a five kilometre event and surprised myself at how far and how fast I could run. I claimed the mean streets of the after-dark Eastern Suburbs for myself. Sometimes, would you believe it, running was actually fun.
My Learnings
So here, in no particular order, are
a few of the things I've learned over the past few weeks
;


If you're a mum trying to carve out time for herself for an exercise program (or anything else), shit is going to happen. Your plans will get derailed. It's a road bump, not a failure. Don't give up. Pick yourself up the next day and get back into it.


Run with your mouth shut. Or be prepared to count kamikaze bugs in your calorie count.


Too much David Bowie in your running playlist can really screw up your rhythm.


Running in the rain is fun.


Forget the scales. They'll frustrate you endlessly. See above for mediocre 5kg weight loss on the scales whilst losing 8 kg of fat! Muscle building is where it's at, baby!


Everyone should wear active wear. All the time. It's comfortable, practical, and means you can go for a run at the drop of a hat. Or at the drop of the slightest hint that someone, anyone, might be willing to babysit your kids for 40 minutes.


When you think you can't run anymore, you can. You just need the right song to come on.


There's a reason why they tell you on airplanes to put your own lifejacket on first. You can't be a good parent without taking care of yourself.
So there you go – from fatty boombah to running machine in a few short weeks. I can't thank Greta and Char enough – their non-judgemental support, humour and encouragement has been completely invaluable in helping me get past the tougher times, and they've welcomed me into their community with open arms. I'm going to run the City to Surf next September, and Greta and Char are going to help me do it. Maybe I'll see some of you there?
READ HEATHER'S WEEK ONE UPDATE HERE
WEEK TWO – THE BEST LAID PLANS!
WEEK THREE – IT NEVER GETS EASY!
WEEK FOUR – UNEXPECTED EATING PLAN ISSUES
WEEK FIVE – CLIMB EVERY PLATEAU
WEEK NINE – FUN RUNS AREN'T FUN
SPECIAL OFFER FOR ELLASLIST READERS!
25% DISCOUNT ON WELL-MUM NUTRITION PLAN
Heather is participating in a 12 week running and nutrition program crafted by BeneFIT Sports Nutrition and Run With Us Online and customised to help her achieve her fitness and wellbeing goals.
25% DISCOUNT ON WELL-MUM NUTRITION PLAN – SPECIAL OFFER FOR ELLASLIST READERS!
If Heather's great progress has inspired you to reassess your wellness plan, take advantage of BeneFIT Sports Nutrition's wellMUM plan. This program has been specially designed for the busy mum in mind. Based on Charlene's own personal experience as a mum to very active 21 month old twin boys, this program will help get your health and wellbeing back on track.  It's time to make your body yours again!
Tailored to suit your individual needs, body composition and goals, this program is based on a flexible day-to-day meal plan and enables you to pick what you want to eat within a daily point allowance as opposed to a detailed meal plan. You receive a recipe booklet and pick your meals within your specific point allowance for each day.
WARNING!  This is not a diet. It's a lifestyle plan!   
For a special discounted price of $75 you will receive:
> Body composition analysis and report
> Macronutrient guidelines detailing the quantity of carbs, protein and fat you should be consuming to lose weight
> Point based nutrition plan for flexibility and choice
> Free recipe e-book with recipes for the whole family, including adjustments for the little people in your life to avoid cooking multiple meals every day
Start your transformation and book yours now!
Heather Gow is a mother of three and a step-mum of one. She's on a break from her psychology career and is currently kid-wrangling full-time. She writes stories for children when hers are asleep.
She blogs infrequently
 and
tweets lefty political rants
. She lives in the Eastern Suburbs and can generally be found somewhere on the endless loop between school, daycare, swimming lessons, gymnastics and Nippers.