12 Weeks To Make My Body Mine Again – Week 10 - Fun Runs are Fun!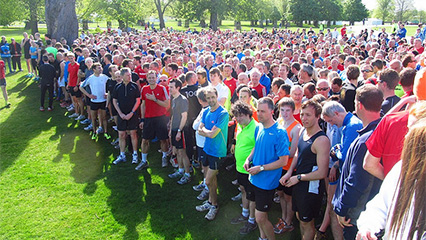 By: Heather Gow, ellaslist explorer
Heather Gow bravely embarks on a very public journey tracking her ups and downs on her personalised running and nutrition program with Benefit Sports Nutrition and Run with Us Online. Read Heather's Intro Article, her Week One Update,  Week Two Update,  Week Three Update, Week Four Update, Week Five Update, Week Six Update, Week Seven Update, Week Eight Update and Week Nine Update here.
Over the years, Saturday mornings at our place have degenerated into this: a battle of wills between the ever-loving and I over whose turn it is for a sleep-in. We've known each other and our respective quirks for so long that we generally manage to hold this battle completely non-verbally and usually whilst both at least still 85% asleep.
"But I've been working really long hours this week, and besides, I'm so tired that I can't even hear that small crying child three feet from my head" he manages to convey by lying completely still and snoring gently.
"But I've been getting up to the kids before dawn every day since Easter" I protest with a barely perceptible groan and an ever so slight elbow to the ribs. This conversation can go on for some time before the sound from downstairs starts to suggest that one of the kids has caused grievous bodily harm to one or more of their siblings, at which point one of us grumbles out of bed, leaving the other to claim all the pillows and to bask in the warmth of victory.
Rise & Shine, First & Voluntarily!
So imagine my surprise, after ten weeks of training and nutrition support with Greta Truscott and Charlene Cassie from 
Run with Us Online
and 
BeneFIT Sports Nutrition
, to find myself not only voluntarily bouncing out of bed before anyone else even stirred, but driving down
to St Peters for the weekly Parkrun
, a community-run 5 kilometre event.
Enjoyment Unlikely
Anyone who read
last week's update
will understand the depth of my aversion to crowds. They are far from my preferred state. In addition, I was experiencing some mild anxiety with regard to my expectation that everyone there would be super-fit, super-competitive, and super-annoyed at Wombat-Woman getting in the way and slowing down proceedings. Further, I'd had a very low week, energy-wise, and had been actively regretting having given my word that I would do the run.
Feeling Positive
However, a phone call to Charlene about what to eat to get my energy right had me enjoying a tomato-based tuna pasta the evening prior, and a piece of toast with banana and honey on the morning before the run. The sun was shining, the birds were singing, and at that hour there's barely another car on the road. By the time I got out of the car and to the starting line, I was feeling far more positive.
A Run For All
Of course my fears were groundless.
Parkrun
is a completely inclusive event that obviously appeals to a broad range of runners, from the super-competitive sorts who finished before I passed the two km mark, to mums with prams, to dads running with their kids, to my fellow wombat-runners with their red faces and wry breathless smiles of recognition.
Loving It!
I found the community spirit inspiring and that I could run far further, far faster, that I expected, given my low energy levels during the week. I finished in 32 minutes – not fast by any stretch but rather miraculous considering I could barely run for a minute straight ten weeks ago.
Greta was right – I did love it. I'm going to aim to do the Parkrun or a similar event monthly from now on – that's going to change those non-verbal battles a bit!
READ

HEATHER'S

WEEK

ONE

UPDATE

HERE
WEEK TWO – THE BEST LAID PLANS!
WEEK THREE – IT NEVER GETS EASY!
WEEK FOUR – UNEXPECTED EATING PLAN ISSUES
WEEK FIVE – CLIMB EVERY PLATEAU
WEEK NINE – FUN RUNS AREN'T FUN
SPECIAL OFFER FOR ELLASLIST READERS!
25% DISCOUNT ON WELL-MUM NUTRITION PLAN
Heather is participating in a 12 week running and nutrition program crafted by BeneFIT Sports Nutrition and Run With Us Online and customised to help her achieve her fitness and wellbeing goals.
25% DISCOUNT ON WELL-MUM NUTRITION PLAN – SPECIAL OFFER FOR ELLASLIST READERS!
If Heather's great progress has inspired you to reassess your wellness plan, take advantage of BeneFIT Sports Nutrition's wellMUM plan. This program has been specially designed for the busy mum in mind. Based on Charlene's own personal experience as a mum to very active 21 month old twin boys, this program will help get your health and wellbeing back on track.  It's time to make your body yours again!
Tailored to suit your individual needs, body composition and goals, this program is based on a flexible day-to-day meal plan and enables you to pick what you want to eat within a daily point allowance as opposed to a detailed meal plan. You receive a recipe booklet and pick your meals within your specific point allowance for each day.
WARNING!  This is not a diet. It's a lifestyle plan!   
For a special discounted price of $75 you will receive:
> Body composition analysis and report
> Macronutrient guidelines detailing the quantity of carbs, protein and fat you should be consuming to lose weight
> Point based nutrition plan for flexibility and choice
> Free recipe e-book with recipes for the whole family, including adjustments for the little people in your life to avoid cooking multiple meals every day
Start your transformation and book yours now!
Heather Gow is a mother of three and a step-mum of one. She's on a break from her psychology career and is currently kid-wrangling full-time. She writes stories for children when hers are asleep.
She blogs infrequently
 and
tweets lefty political rants
. She lives in the Eastern Suburbs and can generally be found somewhere on the endless loop between school, daycare, swimming lessons, gymnastics and Nippers.