Ruffey Lake Park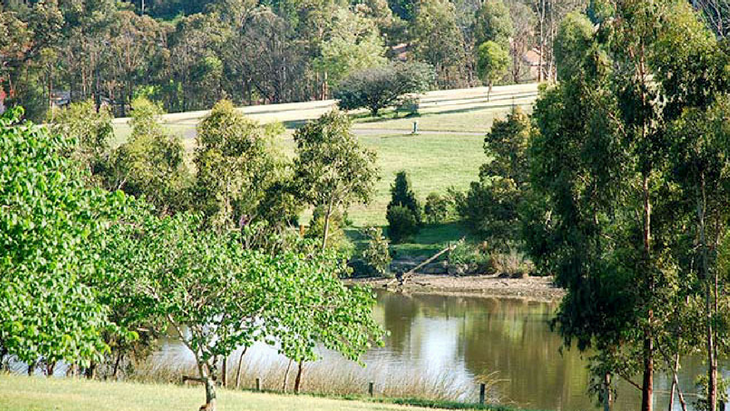 This popular Manningham park is a huge 68 hectares and home to three excellent playgrounds with full facilities.
Ruffey Creek crosses the park and large expanses of grass are dotted with a mixture of native and exotic trees. Four picnic areas on the periphery of the gardens provide good views over the Ruffey Creek valley. There are two large playgrounds, a third smaller playground, a lake, a jogging track and a disc golf course.
Packed full of play opportunities, The Boulevarde playground has something to offer everyone. From artistic totems to traditional play equipment including a track glide, cubby, swings, slides, rockers, climbing unit and wobble bridge. There are also shady open grassed areas for picnics and ball games. Suitable age group: 2 to 12 years.
The Victoria Street Adventure Playground provides a fun outing for the whole family. Fantastic swings, slides, flying fox, sand play, climbing structures, bridges and a majestic tower, designed to represent the tower that became the icon of Doncaster Road in the early 1900s. The playground is architecturally impressive, built using timber and steel with corrugated iron features. The area is landscaped and there are three large picnic shelters to cater for the high numbers of visitors to the park. Suitable for all ages.
Ruffey Lake Park's Church Road North playspace provides a different experience to the other playspaces in the park. Smaller and set amongst mature shade trees, the playground focuses on playing in the natural landscape and features a rock labyrinth, see-saw, swing suitable for all ages, junior see-saw and a cubby.
Works commenced in April to improve and create new play opportunities at Ruffey Lake Park's popular Victoria Street playspace. Works are expected to be completed in June 2017. Please note that a section of the playground will be closed during this time. Read more about these upgrades in the Media release: New play opportunities coming to Ruffey Lake Park.
Opening Hours:
Gates close at 8pm, 10pm during Daylight Savings.
Facilities:
car parks
toilets
shade
BBQs
picnic shelters
wetlands and boardwalk
heritage trail
off street parking and bicycle parking
drinking fountains
Image Credit: Manningham Council