Fairy Park
Toddlers
Preschoolers
Kids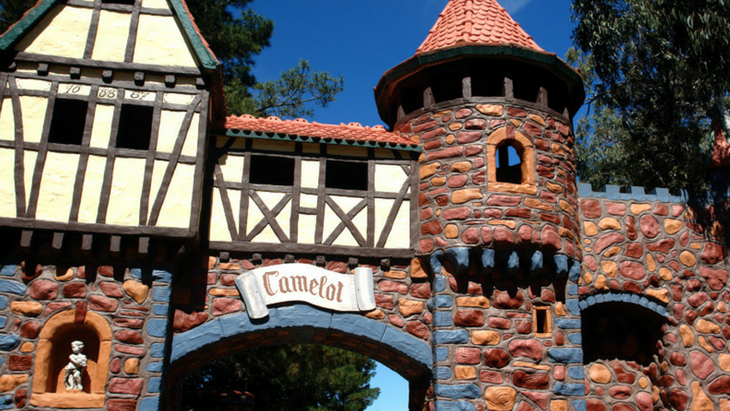 Discover the Magic - Fairy Park is a place dedicated to story telling of fairy tales and ancient myths and legends.

A spectacular rocky hilltop has been crafted into a truly unique place where family and friends come to relax and enjoy a day out together in a tranquil environment.

The three main areas that combine to form Fairy Park are the Fairytale Land, Camelot Playground and the Elephant Rock Picnic Grounds.

Suitable for the young and the young at heart, Fairy Park will delight and intrigue all those who make take the journey.
Open Times: The opening times for Fairy Park vary - check the website for details.
Pricing:
Children under the age of 3 FREE
Children aged from 3 to 13 years $8.00
Adult prices from 14 years $16.00
No concessions
Children must be accompanied by an adult
Facilities:
TAKE AWAY FOOD
Food opening times are generally from 10:30 to 2:30pm. Longer periods on busier days.
KIOSK & GIFT SHOP
Drinks, ice creams and your regular kiosk fare plus a wide range of souvenirs, mystical fantasy items for all ages and tastes. The Kiosk & Gift Shop is centrally located in the main car park area.
ELEPHANT ROCK PICNIC GROUNDS
The perfect place for a picnic or family bar-b-que, with clean facilities and a variety of scenic locations to choose from including:
9 x electric BBQ hot plates ($1 coin to operate for 8 min).
King's Castle - Seating 250++, 3 x electric BBQ's (open on busy days)
Ye Old Shelter - Seating for up to 80 with 2 x BBQ hotplates.
4 x BBQ rotundas - Areas suitable for small groups.
Free parking with easy access right next to most picnic spots.
Drinking Fountains
VENDING MACHINES
Automated vending for coffee, hot & cold drinks, chocolates and snacks are
available at all times. Conveniently located in the main car park area.
TOILETS
Clean toilets, centrally located with baby changing facilities (in the ladies) and a disabled toilet.

Getting There:
DIRECTIONS FROM MELBOURNE via WERRIBEE - Approx. 1 Hour

Fastest & easiest route:
Fairy Park is approximately one hours drive west of Melbourne.
Take the West Gate Bridge out of Melbourne following the Princess Freeway.
Take the first Werribee exit marked C109
Follow this road through to the Werribee Racecourse.
Alongside the Racecourse runs Bulban Rd. Spelt B-U-L-B-A-N.
Follow Bulban Road to the end and follow the Fairy Park signposts at each intersection.