The Amazing Annoyatron
The Amazing Annoyatron can be thought of as like LEGO, but for electronics and coding.

It helps kids and teenagers to learn about electronics and coding with 20 cool creations that they can build and re-build to prank their friends and family.

The kit is designed for ages 9+ and includes everything you need to get started. This award-winning product makes learning about technology super-exciting and is fun for the whole family. The process to make a project is quite simple and builds on basic computer skills that kids will have learned through completing day-to-day tasks. All they need to do is follow the instructions to assemble the electronic circuit and then copy and paste some computer code to the programmable board that is included in the kit.

What's great about the Annoyatron kit is that the projects are simple enough for anyone to complete, but are also educational in that they show kids how coding works. Once they have built the initial invention, they are then guided through changing various parameters in the code to make it work the way they want it to, or even build completely new projects.

About the Inventor
The Amazing Annoyatron was designed by Michael Nixon, a teenager from Wagga Wagga who is passionate about exploring and sharing new technologies. He designed the product as a fun and affordable educational kit that would introduce kids and teens to electronics and coding. The Annoyatron gives kids a head-start with being able to confidently use and modify technology preparing them for a tech-savvy future.

In 2017 Michael entered the Australia Post Regional Pitchfest competition with his idea for "The Amazing Annoyatron". Despite being the only competitor under 18, Michael won the NSW state final in July where he competed with other innovative startups including Elite Robotics and JAR Aerospace.

In August, he won the national final where he and the winners from the other state finals pitched their ideas in front of a five person judging panel and a live audience of over 300 people.

Since Pitchfest, the Amazing Annoyatron has developed from concept to a manufactured product. The Annoyatron is sold through Michael's business Edukits International, which he founded to implement new solutions and to provide education to home users and school communities about technology, specifically 3D printing, electronics and coding.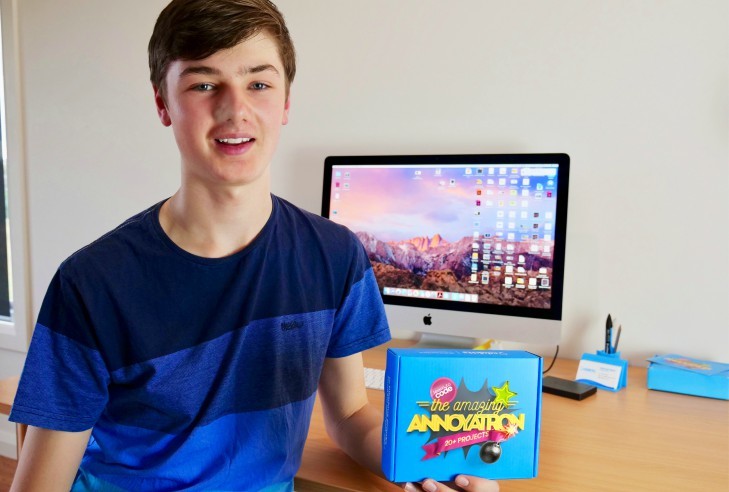 For more information, visit the facebook page.
Tell them ellaslist sent you!