Baby Sensory: Baby Development Classes (0-13m) & Birthday Parties
Baby Sensory: Baby Development Classes (0-13m) & Birthday Parties
Mums & Bubs
Toddlers
Preschoolers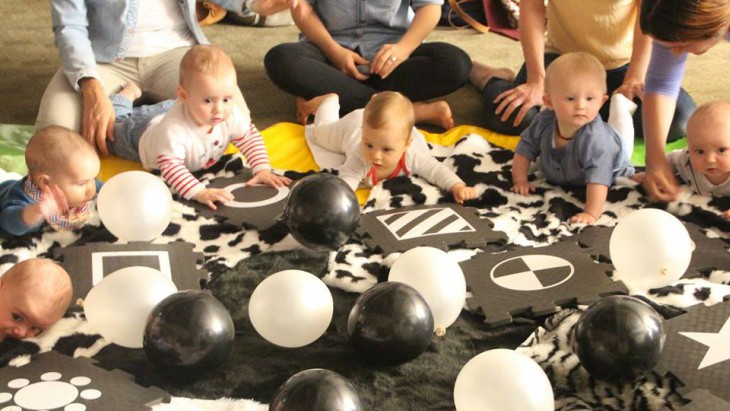 Babies learn more in the first year of life than at any other time. In fact, a baby's brain doubles in weight between birth and one year of age! Amazing!
Never again will there be such an extraordinary pace of development. Babies are driven to learn about their world and are totally attentive and absolutely fascinated by everything that they can see, hear, touch, taste and smell.
Baby Sensory provides hundreds of sensory development activities that are great fun for parents and babies to share in the vital first year.
The Baby Sensory programme consists of over 40 themed lesson plans, so every week you will share new sensory experiences with your baby including fibre optic light shows, bubbles, bells, musical fun, baby signing, puppet shows, amazing light balls and so much more.
Our multi award-winning Baby Sensory programme has been designed specifically for babies from birth based on current research into babies' development. Each activity is supported by the provision of developmental information, so that parents can discover how to lead their baby's learning forwards, both within the class and at home.
Each class includes a variety of different baby development activities plus a discovery playtime, during which your baby can enjoy our exploratory play area whilst you can meet other parents and make new friends.
Baby Sensory classes are running at various locations across Melbourne.
To locate and book into your local class please visit the website and click on the 'Find a Class' page.
**Baby Sensory is proud to have been voted the 'Best National Baby and Toddler Activity (0-2 years) in the 2014, 2016, 2017 and 2018 What's On 4 Junior Australia Awards.**
BABY BIRTHDAY PARTIES!
Baby Sensory provides Baby Parties for every occasion: Birthdays, christenings, naming ceremonies, Easter, Christmas etc.! These are tailor-made to suit your theme! Whether it is a 1st Birthday or just a party, Baby Sensory can provide something that is just a little bit different, have a huge array of props and scenes and always have loads of bubbles!
For more information on classes or birthday parties, contact Ellie at [email protected] or call 0409 088 897.
Keep up to date with events and news on Facebook
And to read ellaslist's article Making Memories And Beautiful Connections With A Baby Sensory Class
Tell them ellaslist sent you!