Top Tips For A Fabulous Outdoor Cinema Night With Kids
Preschoolers
Family
Kids
Mums & Bubs
Teens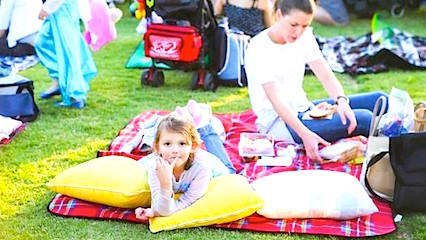 Once summer comes around, Sydney whips up all the best outdoor family activities. The one we love most is the outdoor cinema experience! Moonlight, sunset, twilight, open-air cinema or movies in the park… whatever it's called, everyone loves stretching out on a picnic rug or bean bag to enjoy a good movie under the gorgeous twilight sky.
THINGS TO KNOW… Going along with your young kids isn't a drama and it's a brilliant opportunity for the kids to get a play in the open space. While taking your baby, toddler or preschooler can be fun when you take on our tips to ensure a fabulous outdoor cinema experience this summer.
First, do your research
Even some family or children's films can have themes that may worry sensitive children. Do your research and make sure the moonlight cinema film you're hoping to see won't upset anyone in the family. Check out our list of the Best Kid-Friendly Outdoor Cinemas in Sydney.
Book ahead, Book online
Some films are more popular than others. Tickets sell out fast, so make sure you book ahead instead of buying tickets on the day.
Get there early
You'll want a good view, so get there with enough time to ensure you get a good spot so the little ones can see. Plus, if you have more than just a picnic-load to carry and getting there early will help ensure a closer parking spot. Throw down a couple of picnic blankets to call home and let the kids run around and get the lay of the land (e.g. where are the toilets, drinks stand etc) before you're confined to the blanket for the viewing of the film.
Make it comfy
Take a few pillows and blankets to keep everyone warm as the cool night air settles in. Teddies allowed.
Dinner & drinks
You'll be at the outdoor cinema for a while, so pack a picnic dinner. Eat before the sun goes down so you can see what you're doing. Take some snacks that are easy to eat in the dark for during the movie – biscuits, dried fruit… popcorn of course! As for drinks, cups without lids are bound to result in a wet picnic blanket. Take water in sports bottles or a few juice poppers.
A garbage bag
You'll need an empty garbage bag to put your rubbish in. Enough said.
Take a torch
Trips to the toilet or looking for something that has been dropped will be made easier with a torch. Don't have one? Download the torch app on your iPhone. Be mindful about flashing it about for long periods – it can be distracting for patrons.
Mind the bugs
Be prepared with an insect repellant or a cream to relieve insect bites. An insect bite can dampen the experience for the little ones and make them uncomfortable for the rest of the evening. Drop into the chemist before hand and make sure you get a kid-friendly bug spray
Make a safety plan
Depending on the age of your child, you'll need a couple of different plans. If you have an under 4 year old, write your phone number on their arm clearly. If your child old enough to go to the toilet on their own, pick out a meeting spot they can go to in case they get lost. Make sure it's in a well-lit open area, amongst people and ensure they know your mobile phone number.
It'll be a late night
Most outdoor movies don't start until 8:30pm, which means it could be well past 10:30pm by the time you get home. Let your kids wear their pyjamas or comfy clothes so they can fall asleep in the car on the way home.