Six of the Best Gift Experiences for Kids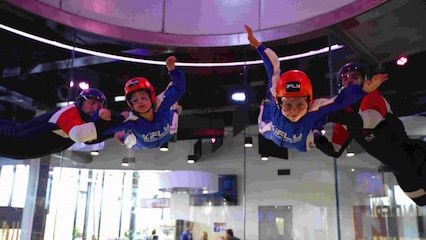 By: Phoebe Ackland, ellaslist
If it seems like you've already bought him or her every toy under the sun, an 'experience' gift could be the most perfect present this Christmas.
Why not take your child to one of these exciting and creative places to make lasting memories instead of just giving them more 'stuff'? Quality time and a new adventure could be just the thing your child forgot to add to their Christmas list.
1. For The Thrill-Seeker
If you're the parent of a bubbly ball of energy, one of these adrenaline-packed activities could be the ideal gift this Christmas. iFly Downunder is Sydney's best indoor skydiving adventure. If real sky-diving with your 6 year old sounds like an absolute nightmare, this may be the perfect alternative. Wind generators lift kids and parents effortlessly into the air, and best of all, it's safe! If bouncing is more your child's thing, why not try Boing Central Trampoline Park? Children can safely bounce their way around town, jumping into foam pits and through various obstacle courses, making it an experience where giggles come guaranteed.  We also had a fabulous time at Sky Zone trampoline park recently, with their awesome climbing walls and obstacle challenges.
2. For An Animal Adventure
For the complete Australian Animal experience, take your child to WILD LIFE Sydney Zoo. Housing every native critter imaginable, kids will love a behind the scenes tour for one-on-one experience with lizard, snake or stick insect. Or maybe WILD FLIGHT is more their thing, a self-propelled ride giving you a bird's eye view of the aviary, and gliding through the air above the zoo's 5m crocodile named Rex! If the underwater world appeals to your child more, take them to Manly's SEA LIFE sanctuary. Enjoy free guided tours, watch a shark feeding session in a glass bottom boat or get hands on in the interactive rock pool- there's so much to see and do at Sea Life and won't be an experience they'll soon forget.
If you little one is a real animal lover to the core- why not treat them to a farm stay or visit to Calmsley Hill City Farm where they will experience farm life hands-on! You can milk cows, ride tractors, feed nursery animals, collect eggs, and breathe in the fresh country air!
3. For An Experience That's A Little Bit Gourmet
If you want to treat your child to a truly luxurious experience, why not brunch them at a hotel? There's a soft serve station and seafood platters galore at Stockroom at the InterContinental Double Bay, and at Cafe Mix and the Shangri La, you'll find everything in bite sized portions perfect for children like petite muffins and mini chocolate croissants. We also love high teas for children- a stylish and elegant experience you can all dress up for.
4. For An Experience That Won't Break The Bank
It truly is the thought that counts when it comes to gifts, so why not take your child for quality time and memory-making at one of these free experiences? Show you truly care with a homemade picnic of all your child's favourite foods, and eat it on a warm and sunny day at one of Sydney's awesome picnic locations, like Centennial Park or the Royal Botanic Gardens. Organise a day of fun and free sports activities the family can do together like bike-riding or good old fashioned frisbee-ing. We're sure your child will appreciate the laughs and memories that come free with this gift.
If you want an educational gift that also provides hours of fun, take them to the Australian Museum and Powerhouse Museum where kids under 16 go FREE! A day of culture, art and wonder is a priceless experience. The Australian Museum has a rooftop cafe with a view that can't be missed.
5. For a Wet and Wild Experience
An Aussie Christmas means blistering heat, so why not make your child's Christmas gift something really cool? Sydney Olympic Park Aquatic Centre & Splasher's Water Playground is hands down the best indoor pool for families in Sydney! With water slides, 5 spas, spurting volcanoes, obstacle courses and spray jets, kids will be begging to return to this incredible water experience! Treat them to a fun day and cool down here simultaneously. Take them to Sydney's ultimate water park Wet 'N' Wild for a day they won't forget- we know they'll love Nickelodeon beach and the mini rides for little ones to have some fun too.
6. Experiences that Get Kids Closer to Nature
For a truly outdoorsy experience, try fruit picking at Bilpin Fruit Bowl or Canoelands Orchard with your child, hunting for delicious sweet treats and learning to appreciate how much nature provides for us.
For a gift experience that also doubles as a mini-vacation, no child will forget a family camp out! Pack up the tents and marshmallows and give your child the gift of being absorbed by nature for a night or two of fresh earthy smells, lake swims, star-gazing and family bonding. Camping is a true experience engaging all the senses, and you'd be giving your child a real gift to remember.