Fruit Picking with Kids at Bilpin Fruit Bowl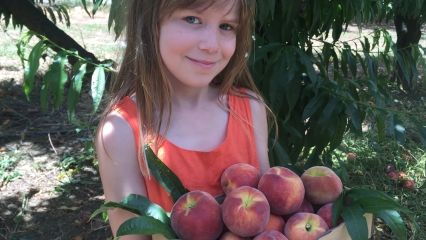 Fruit Picking is a gorgeous and inexpensive outdoor activity with kids. The NSW season starts late Nov / early December with ripe juicy stone fruits like peaches and nectarines, so on our way to visit friends in the Blue Mountains we stopped in at the famous Bilpin Fruit Bowl to get our fill of peachy perfect delights for our tummy's and a lovely gift to take to our friends.
Our journey was an easy 90 minutes (from the East) through the lovely scenic countryside – our girls 7 & 2.5 were excited all the way about who was going to pick the most.
Getting Fruity (and Veggie) at Bilpin Fruit Bowl
A short 5-minute walk takes you to the orchards, past the apple trees growing heartily for picking later in the year, and up to the Peach Fields. We met owner Margaret at the gate for a chat and a quick tour. Margaret has over 10,000 fruit trees and it's the only farm with a huge veggie patch so you can pick your own vegetables too.
Pay for what you Pick
Entry to the fields is $5 pp and kids under 3 are free, and you pay for what you pick by weighing in your fruit-loot at the end.
The Early Bird Gets the Best Peaches
The orchard is split into ready to pick zones, with a new section opened each weekend. Now, unfortunately (for us) this place is popular with tour buses, and arriving in the later morning meant that most of the low hanging fruit in the ripe section had already been plucked. Fortunately for us, we had a 6 ft 2" husband with us and kids who love to balance on his shoulders so there was plenty of juicy fat peaches higher in the trees that we could easily reach.
So here's a HOT TIP! Arrive early! The farm opens at 10am so get there on time to get the pick of the peaches. (more tips below)
We were in the orchard for around 45 minutes, playing hide and seek around the trees, who can spot the biggest peach and the kids competing how many each could collect. We weighed in and headed back to the central shop and restaurant area for morning snacks.
Bring a Picnic
Had we been more organised we would have brought a picnic as there is a lovely shady grassed area to hang out in, but their on-site shop sells local honey, homemade jams, souvenirs, and delicious baked pies, slices and cakes made from fruit straight from the orchard. Overall we spent 2.5 hours at Bilpin Fruit Bowl - a lovely half-day out and a perfect stop-off en-route to the Blue Mountains. We'll definitely be back at apple picking time (Around Autumn time).
Top Tips
New sections are opened each weekend, so visit on a Saturday rather than Sunday – there'll be more fruit to pick.
Go early to beat the tour buses. Arrive at opening time (10am) to beat them, not only will you beat the heat but you'll have the pick off all the low hanging and more reachable fruit.
Hat and sunscreen are a must – the orchards can get very hot, plus a bottle of water.
Make the kids go to the loo at the entrance before you walk up to the orchards.
Dress the kids cute and bring a lovely basket – you'll get great photos of them skipping up and down the orchard.
Don't wear your best shoes or sandals – there's a lot of squashed fruit on the ground, as you spend most of the time looking up for your next juicy pluck – you won't be noticing where your stepping.
Take water to rinse the fruit before you eat it.
There's some lovely shady parkland and play areas at the fruit bowl – so take some snacks or a picnic to round of your visit.
What you need to know about Bilpin Fruit Bowl
Bilpin Fruit Bowl farm is only open on weekends (weather permitting) during harvest time which is between November and May, between 10am and 4pm. The store is open 7 days a week from 8am till 5.30pm. Closed Xmas Day.
It is located at 2093 Bells Line of Road, Bilpin NSW which is exactly 20.93 km from the Hawkesbury River Bridge at North Richmond. To find them you should follow Route 40 from Richmond.
Find out more at Bilpin Fruit Bowl.