Best Pony Clubs In Melbourne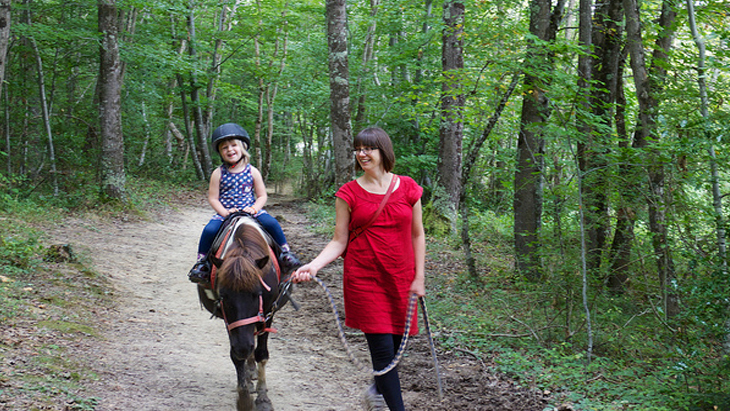 By: Claire Halliday, ellaslist
It's like an arrow from Cupid's Bow.
Pony love strikes the hearts of some children with a passion, while others are happier just owning a cat.
If your child falls squarely into the pony-loving camp, there comes a time in your life when you might start thinking about pony club as a way to feel like one of those wonderfully nurturing parents who go out of their way to cater for their children's passions. Yes, it does involve some serious driving but the pay-off will be a child who is well-exercised and has that healthy glow that comes from country air.
It's worth remembering that Pony Clubs don't often have a lot of resources behind them and are mostly managed by keen volunteers. Don't judge them on dodgy looking websites or their inability to return your phone call quickly. We always recommend you visit in person to get a feel for the culture of each club to help you feel certain that your child's safety will be in good hands.
1. Officer Pony Club
This is a small, friendly and family-orientated club that. What sets it apart from some pony clubs is the facilities.
For wet weather riding, there are two fully-enclosed grass arenas and a 64 × 30 metre sand arena offer classes all year around.
For pony-lovers who have been riding for a while, cross-country areas include house and ski jumps, plus water jumps.
New members are encouraged to come along to one of the club's regular rally days to see the way things run – and if the club is a great fit for your child.
What You Need To Know
Monthly rallies happen on the first Sunday of every month from February-December.
Email: [email protected]
Address: 460 Brown Road, Officer
More information: visit the website
2. Dingley Pony Club
This isn't a place where beginner riders can have lessons and learn how to manage a horse – to be a member here, you need to be serious about pony ownership and have a desire to mingle with like-minded animal-lovers, and compete in regular competitions.
The club membership is deliberately kept small so the needs of its members can be met properly by the active committee and members.
With instruction in theory, dressage, cross-country and show-jumping, your child can practice skills that might see them becoming a future national champion.
What You Need To Know
Phone: 0414 655 044
Address: Learmonth Road, Patterson Lakes (off Thompson Road),
More information: visit the website
3. Williamstown Horse & Pony Club
Own your own pony? This small club is a unique one in a handy location that's just 8 kilometres from the CBD. That's a rarity and one that allows even the most urban kid to have a taste of life as a regular rider.
Membership here includes the benefit of having a 4-acre agistment property at your disposal so your child really can have their own pony and know that it is looked after in handy Altona (perfect if you live close enough to visit often). Club and inter-club competitions and an annual gymkhana create an atmosphere your pony-loving child will adore.
What You Need To Know
Phone: 0410 404 651
Address: corner of Violet Street and Park Crescent, Williamstown
More information: visit the website
4. Valley Park Riding School
It's less than a 30-minute drive (in good traffic) from Melbourne's CBD and that's one of the main reasons this place is popular for city dwellers whose children are hankering for a countryesque pony-filled lifestyle.
Lessons are available after school and on weekends, with pony birthday parties on offer all throughout the year.
Private or group tuition is available and the teachers can work with beginners, through to advanced riders.
What You Need To Know
Phone: 0475 000 088
Address: 86 O'Briens Lane,Templestowe
More information: visit the website
5. Tandivale Equestrian Centre & Pony Club
Because it's been operating for more than 40 years, parents can feel as confident as possible in knowing that these people know their stuff.
The club is officially affiliated with the Pony Club Association of Victoria and through that they are able to offer an extensive Riders Without Horses program that enables students to experience a genuine pony club experience, even if they don't own their own animal.
During school holidays, there are great program for kids over 8 years old and the choice between private or group lessons offers some quality horse-riding tuition to help your little one have confidence in the saddle. Like most pony clubs and horse-riding centres today, there is also the option to book a birthday party.
Group 2-hour sessions on Saturdays and after-school give a full 60 minutes of riding time, with the remaining hour dedicated to pony care and grooming, This group is a precursor to the more advanced fortnightly experience that happens on Sundays from 10am-4pm and included more riding focus, lots of animal care, plus a barbecue lunch.
What You Need To Know
Phone: 0488 244 420
Address: 88 Johansons Road , Warrandyte
More information: visit the website
6. Pams Ponies
Even very young kids can find something to please them here, with sessions open for toddlers 'pat and play' times on selected days.
If you have a beginner rider, the led rides here are gentle and safe and there is also the option to have a private lesson – in an focused one-on-one environment that helps even nervous riders gain the confidence to enjoy the riding experience.
What You Need To Know
Phone: 9702 2040
Address: 335 Centre Rd (Cnr Homestead Rd)
More information: visit the website