Best Family Farmstays Near Sydney

Best Family Farmstays Near Sydney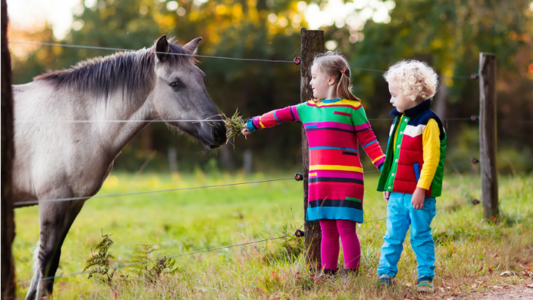 Fresh air, a sky full of stars and adorable nursery animals… a farmstay experience is just the dose of nature and tech-free family bonding that you need. We're lucky to have some gorgeous ones a mere drive away from Sydney. Here is our list of the best, including a luxury option if you feel like treating yourself.
1. Bilpin Country Lodge, Blue Mountains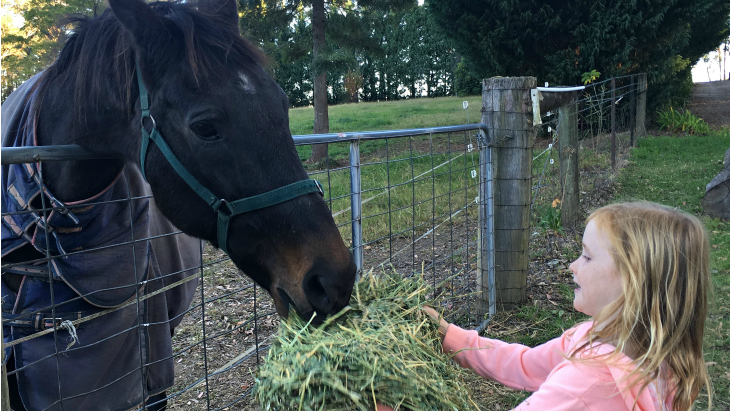 Why we love it: Bilpin Country Lodge is beautiful, clean and well equipped. There's lots of space for the kids to run around in, plus there's a game room, canoeing, hiking and, of course, a variety of animals to feed and pat. The kids won't know where to look or go first! We also love that you can book out the whole property for a big family gathering, anniversary or reunion – the lodge sleeps up to 20, so you can take over and make yourselves feel right at home.
Time from Sydney: 90 minutes
READ ALL ABOUT ellaslist's VISIT TO BILPIN COUNTRY LODGE
2. Mowbray Park Farmstay, Picton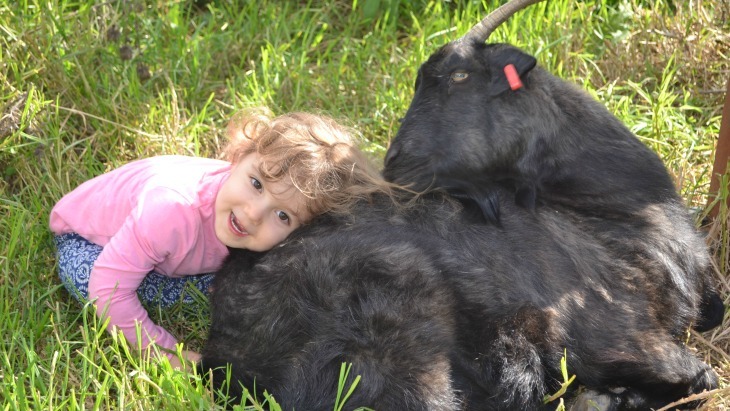 Why we love it: At Mowbray Park, your stay includes accommodation, activities and three meals a day, plus you can access the whole farm. Now that's a holiday! Activities include horse riding, tennis, swimming, table tennis, canoeing, archery, boomerang throwing, sheep shearing, whip cracking, bush dances, campfires, and farmyard activities, including feeding the cattle, collecting eggs and milking the cows. There's plenty to keep kids entertained (hello Kids' Club!) while parents relax, unwind or enjoy the farm life.
Time from Sydney: 90 minutes
READ OUR REVIEW OF MOWBRAY PARK FARMSTAY HERE
3. Calmsley Hill City Farm, Abbotsbury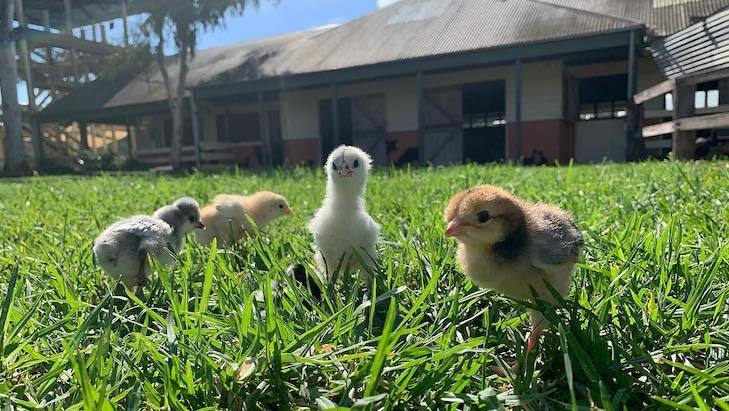 Why we love it: During Summer, you can camp at Calmsley Hill City Farm. Packages include two days at the farm, overnight camping, dinner, breakfast, exclusive activities, animal encounters, helping with morning animal feeding and collecting eggs for breakfast. Explore the farm's paddocks with the friendly farmers as the sun sets, and camp out in a paddock in front of grazing kangaroos, wallabies and emus. This is one unforgettable experience!
Time from Sydney: 45 minutes
READ ALL ABOUT ellaslist's VISIT TO CALMSLEY HILL CITY FARM
4. Ashmar Farmstay, Gloucester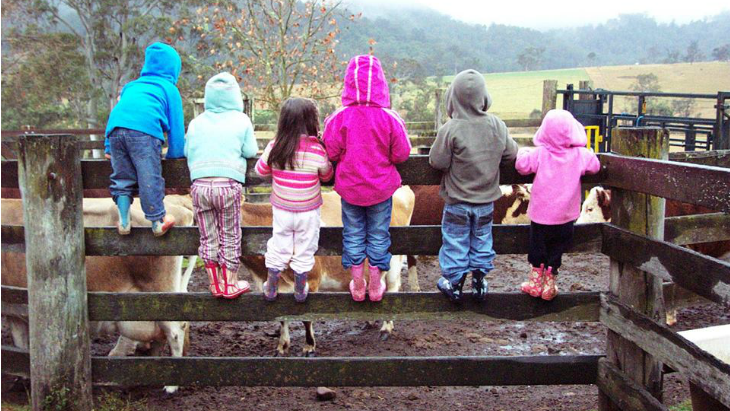 Why we love it: You'll have a gorgeous self-contained heritage cottage all to yourself in which to experience an authentic family farm life! Get started at Ashmar Farmstay by milking a cow, collecting farm eggs, feeding the animals and bushwalking through the ancient cycads. For kids, there's lots to see and do at the farm, and plenty of wide open spaces to play in. They'll learn all about farm animals and where food comes from.
Time from Sydney: less than 3 hours
5. Kookaburra Farmstay, Port Stephens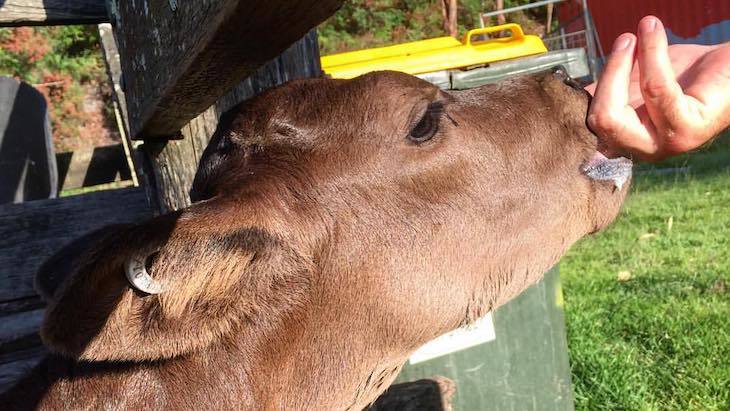 Why we love it: At Kookaburra Farmstay there's a farmhouse, cottages and cabins for your overnight stay, as well as a daily animal feeding schedule that includes cow milking, a tractor ride to feed the pig, then the donkey, goats, alpacas, sheep and ducks. The farm is also close to beaches and tourist attractions around Port Stephens and Nelson Bay.
Time from Sydney: 2.5+ hours
6. Tobruk Sheep Station, Maroota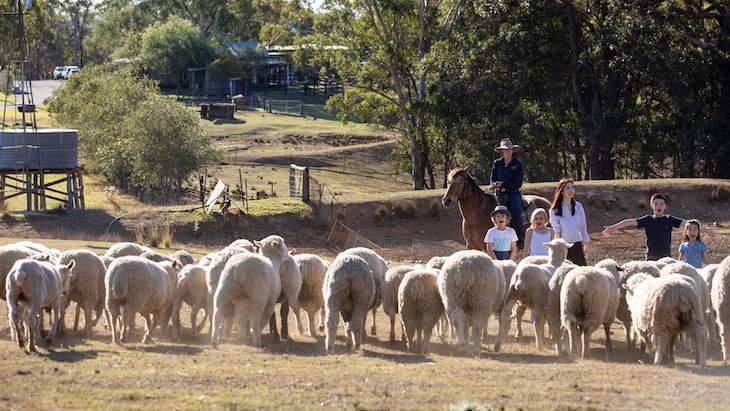 Why we love it: Tobruk Sheep Station is an authentic rural and outback setting, and a fun, interactive farm experience for the kids. It features a working sheep station with two unique farmstay options where you can enjoy the charm of the rustic buildings, blacksmith's shop and farm machinery, plus the warmth of the open campfire in Drovers Camp with billy tea and baking damper. Enjoy hearty country meals, the friendly animals and the beautiful sunsets high above the Hawkesbury River and Blue Mountains.
Time from Sydney: 70 minutes
7. Starline Alpacas Farmstay Resort, Hunter Valley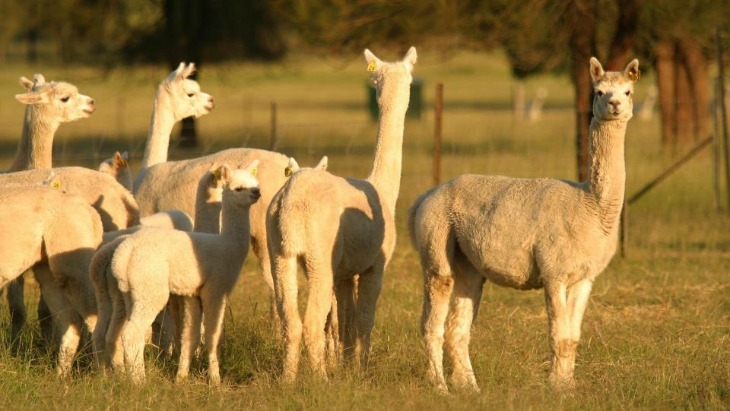 Why we love it: Starline Alpacas is a deluxe family getaway on a working alpaca farm with around 200 alpacas! Visit and hand-feed them while you wander the fields and you'll see the cria (baby alpacas) frolic in the late afternoon. There is also an orchard with quince, lemons, pears, apples and peaches, which you can pick during your stay. Choose from a range of cottages to stay in, and there's a saltwater swimming pool, spa, sauna and children's playground.
Time from Sydney: 2+ hours
8. Trudgalong Farm, Gloucester
Why we love it: Trudgalong Farm gives families a unique insight into farm life, where this mother and son team have diversified from the more traditional forms of agriculture to include aquaculture (growing Australian Native Silver Perch in large ponds) and aquaponics (recycling water from fish tanks to grow plants). There are also Boer goats, a plant nursery, native stingless bees, labradors and other animals, including miniature ponies, sheep, goats, cows, chooks, guinea pigs and more.
Time from Sydney: 3 hours
9. Barcoos Barn Farmstay, Perthville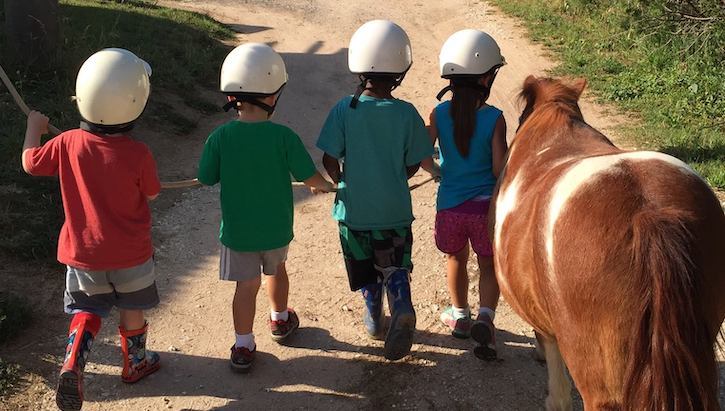 Why we love it: Barcoos Barn is a genuine working farm with loads of merino sheep, breeding cows, working dogs and horses, including Barcoo, the wonderful 20+-year-old Clydesdale, and Cody, the awesome Shetland pony. There's loads of hands-on interactive family fun and kids will love the farm activities, led pony rides and sled or sulky ride, pulled by resident Clydesdale Bella. Barcoos Barn has two self-contained units, plus caravan, motorhome and camping facilities.
Time from Sydney: 2+ hours
10. Ocean & Earth Farmstay, Limeburners Creek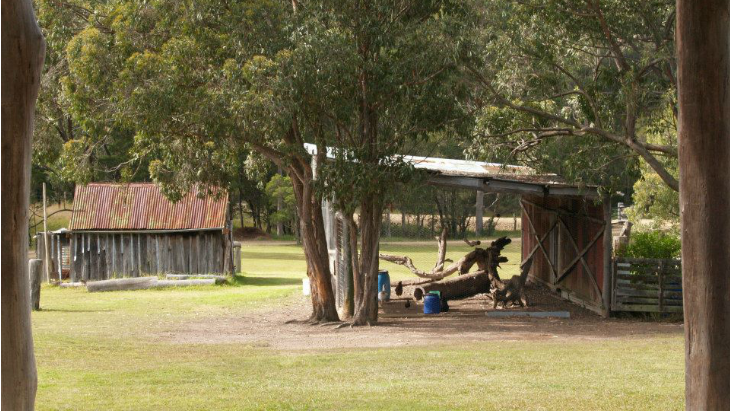 Why we love it: Ocean & Earth Farmstay is a beautiful property surrounded by natural bushland brimming with native wildlife and friendly farm animals. You get the whole farmhouse to yourself, so you can completely relax, and there's plenty of activities to keep kids entertained! While away the hours swimming in the dam, canoeing, fishing, yabbying, feeding resident farm animals – such as horses, cows, alpacas and chooks – bushwalking and bird watching. Plus, there's spectacular stargazing and a bonfire on Saturday nights!
Time from Sydney: 2.5 hours
11. Minimbah Farm, Kangaroo Valley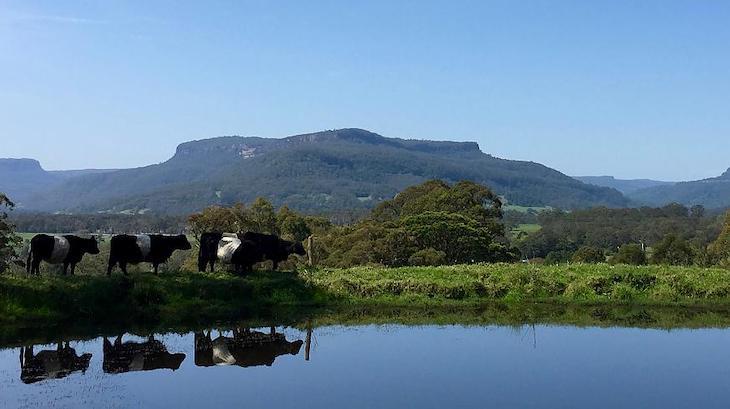 Why we love it: Minimbah Farm is a South Coast escape sprawled across 150 acres of beautiful scenic farmland, featuring its own flowing creek and amazing views with almost endless grass paddocks backing onto lush rainforest. It's a fully operational beef cattle property, that also boasts goats, alpacas, horses, chickens, peacocks and abundant native wildlife, including echidnas, wombats, kangaroos, wallabies, lizards, parrots, kookaburras, magpies and cockatoos. There are three gorgeous farm cottages to choose from, equipped with a container to feed the goats and alpacas, and a basket to collect fresh farm eggs.
Time from Sydney: 2 hours
12. Dusodie Holiday Farm, Dungog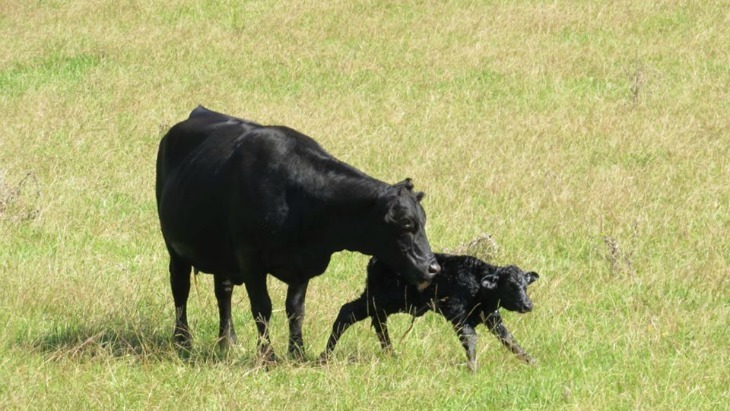 Why we love it: Dusodie Farm is set on the banks of the Chichester River, in the foothills of the Chichester State Forest. This a true farmstay experience, with plenty of animals and wildlife for all to enjoy. It makes for a great family getaway, where parents can relax while kids enjoy the cubby, sandpit or trampoline, hand-feed farm animals, and take advantage of the freedom of a country lifestyle. Wake to the sounds of abundant birdlife and inhale the crisp, clean country air.
Time from Sydney: 2 hours
13. Morvern Valley Country Cottages, Bundanoon
Why we love it: Morvern Valley is host-free, so a whole luxurious cottage is all yours! Each cottage has its own BBQ area, parking, fenced private gardens, and even its own hen house for egg-collecting fun. Children will be thrilled to meet the animals, including ponies, miniature horses, donkeys, sheep, chickens, ducks, giant geese, alpacas and other friendly farm animals that love a pat.
Time from Sydney: 90 minutes
14. Luxury Bonus: Back 2 Earth Farmstay, Berry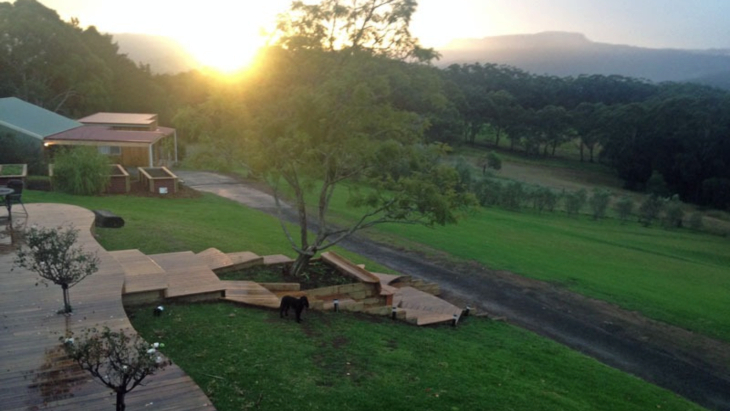 Why we love it: A sustainable and organic farmstay meets health retreat, Back 2 Earth has it all: massage, a meditative float tank experience, psychotherapy and fabulous raw vegan cuisine and cooking classes – and all of this with a magnificent mountain range backdrop.
Pick your own veggies, meet the hand-raised farm animals – including the rescue animals now enjoying the peaceful farm life – and take advantage of the water activities nearby at the untainted Seven Mile Beach. The brand new accommodation includes the Luxurious Rustic Loft (a converted milking shed!), which accommodates two. Give it a go for your next mums' getaway or romantic weekend away!
Time from Sydney: 2 hours
More Farm Fun:
Check Out This Award-Winning Farm-Themed Playground
Winter Farm Stays With A Fireplace
Thanks to Hasbro: This article is brought to you in partnership with Hasbro Gaming, our Supporting Brand Partner for the Unplug & Play Initiative. Check out our launch party to kick off Unplug & Play:

Have you signed up to our newsletter? Join ellaslist to get the best family and kid-friendly events, venues, classes and things to do NEAR YOU!