Mums Running Group - City to Surf Training with Beach Baby Fit!
Thu May 07 2015
Parents Only
$0.00
Tell them ellaslist sent you: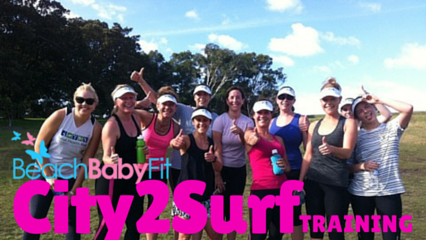 Beach Baby Fit's mission is to help women like you get back into the best shape of their lives post pregnancy.
To support this, we've built a unique 10 week running program to get you ready to run the City2Surf, with the option to add just another 6weeks to your running training (16weeks total) to prep yourself for the Blackmores 1/2 marathon! We will show you how to prepare your body for the rigours of completing these world-class events in a fun, safe, supportive group environment.
This rewarding challenge will not only give you two events to stroke off your bucket list, but is also the very best way to completing the training safely and effectively.
When can I train?
Every Wednesday at ES Marks Athletic Park, Moore Park*
(under lights)
Starts Wed 3rd June 2015, 7 – 8pm
*additional fee of $6.50 per visit
AND
Every Saturday at Centennial Park
Starts Sat 6th June, 8 – 9am
What's in it for me?
You will receive an exclusive comprehensive week by week running program that includes 2 running sessions per week with our expert running coach, home workouts to complete, tips on nutrition, hydration, equipment and preparation for the events. Oh and a very stylish running shirt or singlet to wear along with your entrant fees covered.
What's the cost?
City2surf package: Only 3 payments of $157.00 (includes entrant fee)
The City2Surf & Blackmores 1/2 Marathon: 4 monthly payments of $197  (includes entrant fees)
With a wealth of knowledge and experience our expert Coach, Andrea, will guide you through the entire program in preparation for both of the following upcoming events in 2015.
Reviews
https://www.youtube.com/watch?v=vjvFOG7ZyFY&index=15&list=PLGYb3eTcr5F351zzdh2ZOfzgFyc6XWC5S|https://youtu.be/vjvFOG7ZyFY?list=PLGYb3eTcr5F351zzdh2ZOfzgFyc6XWC5S|https://www.youtube.com/watch?v=vjvFOG7ZyFY&index=15&list=PLGYb3eTcr5F351zzdh
Pretty great post. I just stumbled upon your blog and wished to mention that I've truly loved browsing your blog posts. In any case I'll be subscribing on your rss feed and I'm hoping you write again very soon!