Puppeteria Spring School Holidays 2015: Kids Puppet Shows (2yrs+)
Sun Sep 20 2015
Preschoolers
Family
Kids
Todders
$0.00
Tell them ellaslist sent you: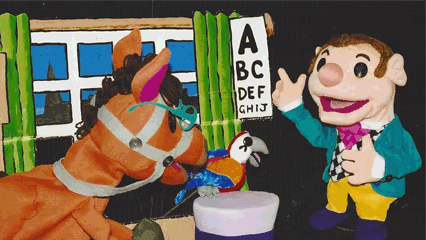 Puppeteria are back with over 33 kids puppet shows these Spring School Holidays. The shows run at two venues – Randwick and Castle Cove on various dates. Admission is $11 per child and $14 per adult and tickets can be booked on 02 9371 7328. Find out more information on www.puppeteria.com.
For 2-5's
THE THREE LITTLE PIGS is a show for two-to-five year olds, featuring the ever-popular story of "the Three Little Pigs", as well as songs, skits and shadow puppets.
THE OCTOPUS'S GARDEN-PARTY" Have a whale of a time under the sea with Starfish, Seahorses, Mermaids, Whales and Octopuses
For 4-9 years
DOCTOR DOLITTLE's AFRICAN SAFARI plus THE PRINCESS AND THE PEA. A puppet double feature, with the story of Doctor  Dolittle, who wanted to help animals instead of people, and his voyage to Africa,encountering pirates, sharks and crocodiles. Also featured is Hans Andersen's fairytale of the search for a Real Princess!

Venues
Puppeteria Randwick: 48a Carrington Rd , Randwick
Puppeteria Castle Cove: 12H Denawen Ave, Castle Cove
Tell them ellaslist sent you!
| | | | |
| --- | --- | --- | --- |
| DATE | TIME | VENUE | SHOW |
| Sun 20 Sept | 10.30am | Randwick | "The Three Little Pigs" |
| Mon 21 Sept | 10.30am | Randwick | "The Three Little Pigs" |
| Mon 21 Sept | 1.30pm | Randwick | "Dr Dolittle's African Safari " plus "The Princess And The Pea" |
| Mon 21 Sept | 10.30am | Castle Cove | "Octopus's Garden-Party" |
| Tues 22 Sept | 10.30am | Randwick | "Octopus's Garden-Party" |
| Tues 22 Sept | 10.30am | Castle Cove | "The Three Little Pigs" |
| Tues 22 Sept | 1.30pm | Castle Cove | "Dr Dolittle's African Safari " plus "The Princess And The Pea" |
| Wed 23 Sept | 10.30am | Randwick | "The Three Little Pigs" |
| Wed 23 Sept | 1.30pm | Randwick | "Dr Dolittle's African Safari " plus "The Princess And The Pea" |
| Wed 23 Sept | 10.30am | Castle Cove | "Octopus's Garden-Party" |
| Thur 24 Sept | 10.30am | Randwick | "Octopus's Garden-Party" |
| Thur 24 Sept | 10.30am | Castle Cove | "The Three Little Pigs" |
| Thur 24 Sept | 1.30pm | Castle Cove | "Dr Dolittle's African Safari " plus "The Princess And The Pea" |
| Fri 25 Sept | 10.30am | Randwick | "The Three Little Pigs" |
| Fri 25 Sept | 10.30am | Castle Cove | "Octopus's Garden-Party" |
| Sun 27 Sept | 10.30am | Randwick | "The Three Little Pigs" |
| Mon 28 Sept | 10.30am | Randwick | "Octopus's Garden-Party" |
| Mon 28 Sept | 10.30am | Castle Cove | "The Three Little Pigs" |
| Mon 28 Sept | 1.30pm | Castle Cove | "Dr Dolittle's African Safari " plus "The Princess And The Pea" |
| Tues 29 Sept | 10.30am | Randwick | "The Three Little Pigs" |
| Tues 29 Sept | 1.30pm | Randwick | "Dr Dolittle's African Safari " plus "The Princess And The Pea" |
| Tues 29 Sept | 10.30am | Castle Cove | "Octopus's Garden-Party" |
| Wed 30 Sept | 10.30am | Randwick | "Octopus's Garden-Party" |
| Wed 30 Sept | 10.30am | Castle Cove | "The Three Little Pigs" |
| Wed 30 Sept | 1.30pm | Castle Cove | "Dr Dolittle's African Safari " plus "The Princess And The Pea" |
| Thurs 1 Oct | 10.30am | Randwick | "The Three Little Pigs" |
| Thurs 1 Oct | 1.30pm | Randwick | "Dr Dolittle's African Safari " plus "The Princess And The Pea" |
| Thurs 1 Oct | 10.30am | Castle Cove | "Octopus's Garden-Party" |
| Fri 2 Oct | 10.30am | Randwick | "Octopus's Garden-Party" |
| Fri 2 Oct | 10.30am | Castle Cove | "The Three Little Pigs" |
| Fri 2 Oct | 1.30pm | Castle Cove | "Dr Dolittle's African Safari " plus "The Princess And The Pea" |
| Sun 4 Oct | 10.30am | Randwick | "Octopus's Garden-Party" |
Reviews

Reviews get lonely too
Be awesome and write a review