Flying Yogis - School Holiday Kids Acro Yoga Workshops
Mon Jun 29 2015
Kids
Teens
Preschoolers
$0.00
Tell them ellaslist sent you: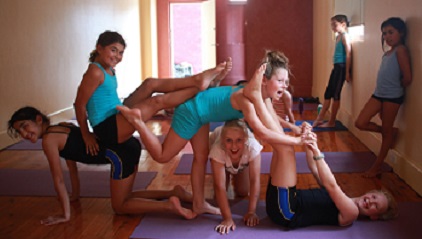 This Winter, via acrobatics, yoga, movement, mindfulness, creativity and art, your children will be having so much fun that they won't even realise that our the Flying Yogis Holiday Workshop programmes are specifically designed to help them develop the resources needed to succeed in all areas of life.
When? Mondays – Fridays from 29th June – 10th July inclusion, 1-4pm (Wednesdays- 1:30- 4:30pm)
Monday: Yoga, movement, and dance (Ivy)
Tuesday: Acrobatics (May)
Wednesday: Yoga & acro fitness activities (Amanda)
Thursday: Hula Hooping & acro (May/Gloria)
Friday: Yoga; mindful arts and crafts with the "from Mind to Made" crew.
Most of the 3hr workshops involve 3 × 45 min activity sessions with 15 minute breaks for crafts; calming activities; and snacks.
Kids will enjoy a mix of: yoga, acrobatics & gymnastics, dance, movement, hula hooping & these holidays we are thrilled to have the guys from "from Mind to Made" looking after our crafts programmes on the Fridays.
For more information or to book call Amanda on 02 9371 3628 or email [email protected].
Reviews
My daughter (8 years) and son (6 years) loved flying yogis. My kids love doing handstands and cartwheels so I was really pleased they were able to learn technique. They were buzzing when they came home, keen to show off their new skills! All of the teachers were amazing and the activities were fun - they loved the hula hooping!