Chinese New Year Lunar Lanterns 2017
Fri Jan 27 2017
Family
$0.00
Tell them ellaslist sent you: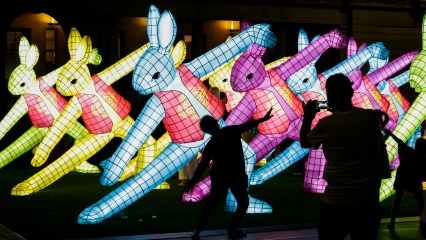 From Lunar Lanterns to zodiac inspired arts and crafts, Sydney's 2017 Chinese New Year Festival promises a feast of fun events and activities for the whole family.
From 27 January to 12 February, children of all ages can share in the wonder of Lunar New Year traditions and celebrations, while learning about the Chinese zodiac and animals. The Lunar Lanterns are a highlight of the festival, and one of our top picks for kids and families.
Bring the kids to see 12 enormous and spectacular zodiac animal lanterns ranging in sizes up to 10 metres in height on the ultimate lantern trail at Circular Quay. The lanterns represent the 12 Chinese Zodiac animals, including new Rooster, Pig, Rat and Snake lanterns that will delight and amaze the whole family.
In 2017 Kids can:
-sound the 'gong' belly of one of five pentatonic roosters in Chinatown
-be enchanted by the two 9-metre high vibrantly coloured roosters with 8-metre wingspans
engaged in a dance at the Sydney Opera House
-marvel at a 23-metre long gold glistening snake
-delight in the magical celestial Ox standing eight metres tall, comprising more than 700 illuminated giant mahjong tiles
-climb aboard the colourful glowing chariot being pulled by four 3.5-metre high horses, and
-dance about with the 7.5-metre high Happy Tiger
-play amongst 8 colourful 2.5-metre tall illuminated rabbits doing Tai Chi at Dawes Point
Where:   From the Sydney Opera House to Dawes Point Circular Quay, with additional Rooster lanterns in Chinatown
When:    27 January–12 February 2017
Cost:       Free
For more information, visit the website.

Tell them ellaslist sent you!
Reviews
Are the lunar lanterns only worth seeing during the night time when they are illuminated? Is it on during a particular time?