Kapow Parties: Kids Birthday Parties
Kapow Parties: Kids Birthday Parties
Preschoolers
Kids
Teens
$0.00
Tell them ellaslist sent you: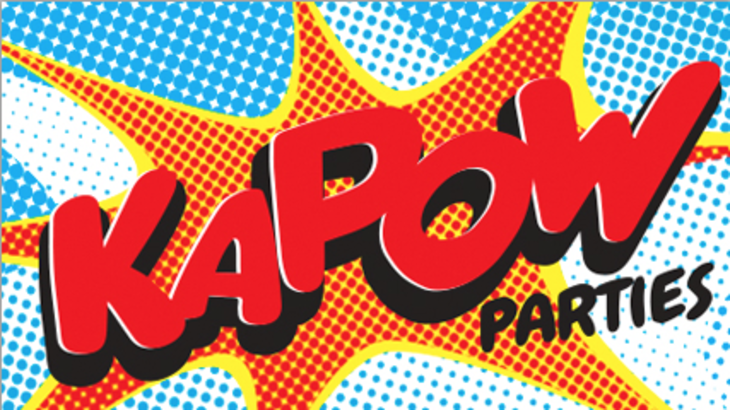 Brought to you by popular children's entertainer Fairy Crystal & Friends, with over 23 years in children's party entertainment across Sydney, KAPOW's highly professional and experienced entertainers are ready, willing and able to bring all the fun, energy and enthusiasm you need to make your next birthday party or special event a success.
Our wide range of famous and infamous characters [including Superman, Spiderman, Batman and many more] will make a grand entrance at your child's party. Famous for our realistic looking
costumes, our party and activities programs have been proven year after year, to WOW the young and young at heart!

Based in the Eastern suburbs, we will travel faster than a speeding bullet Sydney wide to ensure your superhero's day is super special.
Not sure? Click here for more party info and what to expect from your KAPOW experience!
We invite you to browse our photo gallery of Superheroes and other popular characters, and then email us [email protected] or call us on the bat phone 0410 655 161.
Catch all the action on Facebook!

Reviews
THANK YOU SPIDERMAN - I didn't know how much I loved you till you arrived on a miserable wet Sunday and entertained 25 kids full of sugar without one dip in energy. Thank you Kapow Parties, Spiderman was honestly amazing!!!! So energetic and engaging. He held all the children's attention for the entire time (which is not an easy thing to do). He was extremely punctual, all the kids and adults loved it so much, he really saved the party and everyone that attended couldn't stop raving about him. I highly recommend Kapow Parties and will be definitely using your team again!
KAPOW parties were fantastic!!!!!! My initial contact with Christina over the phone was warm, friendly, helpful and very professional. She then went out of her way to organise an additional Ninja Turtle costume so that "Leo" could attend my 4 year old's birthday party. Leo arrived on time, full of energy and fun and instantly drew the attention of both children and adults. He was captivating!!! Having him at our party helped everyone relax and have a great time!! Thank you Kapow!!! I would highly recommend you to my friends!
All I can say is OMG, Spiderman and Supergirl were amazing. Fletcher had the best time EVER for his 3rd birthday! Love it, love it, love it. 
Just wanted to say a big thank you to army guy, Major Wilson from Kapow Parties who came to my sons 7th birthday party to entertain the kids. He was absolutely awesome, he really got the kids into line and there was lots of army marching and tug o war fun. I was so worried on the day as it was raining so the thought of having 22 kids couped up inside was not ideal. Major Wilson worked so well with the inside space and it simply was not a problem at all, everyone had the best time, we would highly recommend Kapow Parties for your little boys party. Thanks Major Wilson. from Jo at Balmain.
I would like to take this opportunity to thank Kapow Parties for making my son's birthday a fantastic and very memorable day. The Power Ranger was marvellous from the moment he leaped over the fence he had all the children and adults captivated. I had invited kids of all ages and the Power Ranger had all the kids engaged for the full hour. Christine, a special thank you to you for listening and attending to all my needs and for sending out the most energetic, fun & brilliant Power Ranger. I will definitely be using Kapow Parties again in the future.
Thanks heaps. We had a Stormtrooper for our son's 5th birthday party on the weekend. He was truly amazing and made my son's day so special and memorable! My son said the party was the best ever. The whole package was awesome, including the big stormtrooper's poster given to my son and quality pass the parcel gifts and of course, the stormtrooper's brilliant performance. Christina, once again, a big thanks for your assistance, great business.
My son had an awesome Star Wars party for his 8th birthday. Luke Skywalker came to visit and was amazing in entertaining the kids. He was full of energy and enthusiasm and the group of 15 kids were kept happy playing fun games for 90 mins. Luke stayed in character so the kids were part of a great adventure and as parents we really enjoyed watching the fun the kids were having. Thank you Christina for your professionalism and efficiency in ensuring my son's party was one he and his friends will remember.
Thank you Christina for all your efforts. I really appreciate that you listened to my many questions, comments and thoughts on the party. I was always reassured after our discussions. However, one never truly knows until the day, right? So when Safari Steve made his entrance and had the kids captivated from the moment he arrived, I was delighted. As was my 5yo who had an awesome party and I couldn't ask for more.
Thank you Christina, for sending such a fantastic Spiderman to Hughie's 5th birthday party. All the boys (and their parents) were very impressed. He kept the boys entertained so well - with pass the parcel and sword fights and some pretty amazing dance moves! It was a fabulous party and Hughie was so happy. We have two older daughters who have both had your beautiful fairies at birthday parties in the past, so we knew to expect good things from you. Looking forward to more superhero parties! Thanks again.
Kapow do an awesome job, Christina is a joy to deal with and our son loved having a very realistic Optimus Prime show up to his 5th party on the weekend. Optimus was a true professional, keeping the kids fully entertained the whole time he was there, with lots of great games and gifts for the kids, despite the 35 degree plus heat. Thanks Christina and Kapow I wholeheartedly recommend you to anyone who is looking for a special guest for their kid's party.
Thank you once again for arranging for two black ninjas to arrive so dramatically at six year old Will's party. I saw him and his friends beaming throughout the hour long extravaganza. I could not believe how many great activities were included in your package from stealth games to pass the parcel. We could not have kept a group of Kindergarten boys with swords and daggers so entertained (and safe) without the ninja masters being there to instruct them in the secret arts of warfare.
I cannot even begin to say how wonderful, fun, exciting and special Zac's party was because of your organization and Ironman coming!!!!!! He was AMAZING! From the minute I opened the door he had the kids entranced- held their attention, had them cheering, laughing, running, using their balloon swords, pulling ironman poses- I couldn't have asked for a better entertainer for my son's party (and it was great entertainment for us parents too!Many of the parents commented about how great he was with the kids and also the quality of the pass the parcel gifts. I had to write this to you tonight so you see it first thing Monday- thank you a hundred times over for pulling it together last minute and for providing a service that was every bit as great as you promised. I have already told my friends about you and Kapow parties, and will continue to let anyone that is looking for an entertainer know about your business!