Flying Yogis: Acro, Yoga, Gymnastics & Birthday Parties for Kids (18m-18yrs)
Flying Yogis: Acro, Yoga, Gymnastics & Birthday Parties for Kids (18m-18yrs)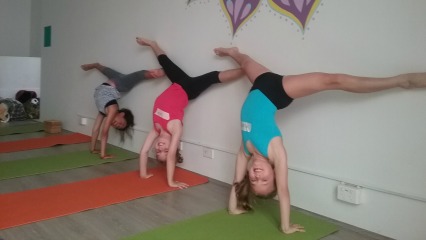 The Flying Yogis offer mindful acrobatic, yoga, and gymnastics programmes for kids from 18mnths- 18yrs in Sydney's Eastern Suburbs.
The courses, classes, parties & holiday camps give children fun ways to gain all the tools needed to cope with hectic lives: focus; trust; confidence; cooperation; self-esteem; fearlessness (within boundaries); and mindfulness.
There are currently two locations: Headquarters in Bondi Junction, where programmes for all age groups are run; and Rose Bay at Prana Space Yoga Studio, offering after school classes for ages 4.5 – 18yrs.
Flying Yogis offer: school term courses; exciting holiday programmes that include a wide-scope of activities; unforgettable birthday parties; and kids yoga teacher training (Yoga Australia Accedited)
Experienced "Gurus" (ex gymnasts, dancers, dedicated yogis as well as Mums) have been fine-tuning the teaching of conscious movement techniques that has enabled children to improve focus and agility in a wide range of disciplines.
FLYING YOGIS GROUPS
Bendytots toddlers (18mnths-3yrs) A fun yoga/acro class with mums, dads, or carers. Songs, yoga adventures, concentration games; activity circuits… mindfulness and loads of fun. These classes are held Mid-morning
Bendybods preschool (3.5- 5yrs) Active learning concepts – numeracy & literacy while learning agility, coordination, mindfulness and yoga. Without parents. Classes are held mid-morning.
Bendybods for school kids (4.5-6yrs) After school programme: Ideal for concentration, dedication, focus and agility.
Flying Yogis Juniors (7-9yrs) . Mindful yoga/ acrobatics. Concentration, focus, agility, coordination, awareness & fitness.
Flying Yogis tweens (10-12yrs) Yoga/ Acro/ Gym fun. Trust; cooperation; mindfulness; consciousness.
Flying Yogis Teens (12-18 yrs) Yoga program specifically for high school kids/teens.
Now offering AcroYoga Fit Classes (AYFIT) for mums and babies under 18mnths. Flying Yogis can now take children and their families on their yoga journey from birth all the way through to their high school education years.
JULY SCHOOL HOLIDAY 2018 PROGRAMS
For more information please call 02 9371 3628 or email [email protected].
Tell them ellaslist sent you!
Reviews
Absolutely FANTASTIC! I enrolled my 3yo Son for a term and was amazed by all the skills he learned. The teacher was lovely and got them to do several different types of exercises through the lesson. From highly energetic, to focusing, and relaxing. By the end of the term I noticed my lil'stubborn boy was following instructions without fuss, focussing and hearing better when I spoke to him, and with improved motor skills. Best of all, he got home exhausted and needing a big nap! Looking forward for more terms!
Went to an awesome bendy tots class today with my preschooler and toddler. I've never seen them connect with a teacher instantly like they did today and concentrate so well! Fabulous mix of high energy gross motor, focussed fine motor skills, imaginative storytelling, as well as wind down and relaxation. Can't wait for next weeks class!