Fly By Fun: Quality Children's Entertainment
Fly By Fun: Quality Children's Entertainment
Preschoolers
Family
Kids
Mums & Bubs
$0.00
Tell them ellaslist sent you:
Looking for fun and unique birthday party ideas? Wanting to take the stress out of your next event? Don't know what to do with your children next school holidays? Look no further than Fly By Fun!

Fly By Fun is one of the most successful and recommended children's entertainment businesses in Sydney and your one-stop-shop for all things Birthday & Entertainment perfect for boys and girls of all ages and for all occasions such as Birthday Parties, Christenings, weddings, community events and promotional and corporate events.

BIRTHDAY PARTIES & EVENTS
Fly By Fun provides a range of characters and party themes including:
- Art & Craft Parties
- Circus Parties & Clowns
- Cupcake Parties
- Dance Parties (Hip Hop, Ballerina & Cheerleader)
- Dinosaur & Fossil Hunter Parties
- Face Painting
- Fairies & Princesses
- Glitter Parties
- Harry Potter Parties
- Lego Parties
- Magic Shows
- Masterchef Parties
- Pamper Parties
- Paw Patrol Parties
- Science Parties
- Shimmer & Shine Parties
- Slime Parties
- Sports Parties
- Spy & Detective Parties
- Superheroes
- ... and lots more!

Entertainment packages include quality face painting, balloon twisting, magic shows, craft, treasure hunt, pass the parcel, bubbles, musical games, singing and dancing, as well as cupcake decorating, science experiments and arts and crafts depending on which theme you choose. Each child that attends a Fly By Fun Party receives a Party Bag to take home too!

Fly By Fun also offers a personalised party planning service to help you organise all the other bits and pieces such as jumping castles, birthday cakes and candy buffets!

For more info or to make a booking call 1800 FLY BY FUN (1800 359 293), email [email protected], or visit www.flybyfun.com.au.

Find Fly By Fun on Facebook and Twitter.

Tell them ellaslist sent you!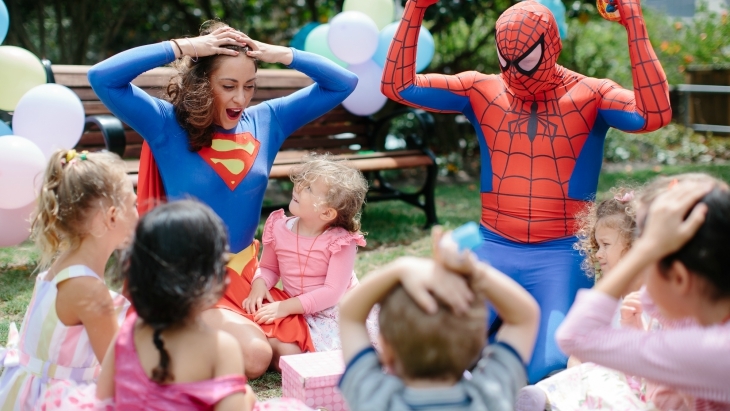 Reviews
I highly recommend Fly By Fun. They where very professional from start to Finnish. They worked with me and made suggestions so that Orlando's day would be spectacular and that it was.
Would fully recommend Fly By Fun and we were thrilled by their service. We hired an entertainer for a Minions themed first birthday with kids from 1-9. The entertainer (Brendan) was excellent, the kids loved him and he had a great rapport with them. He put on a great show (games, tricks, jokes balloons and more) and also was able to work alongside other things we had planned separately (e.g.: Piñata). Fly By Fun were superb and I would have no hesitation in using them again. Thanks again!
Queen Elsa was simply amazing at my daughters 3rd birthday party! The kids had a ball! The entertainment; face painting & the tattoos were an absolute hit! Queen Elsa kept every single child engaged which allowed the parents some time out to also enjoy themselves! Highly recommended & will definitely be used again at future birthday parties! Thank you!
Superman & Superwoman were simply awesome at our four year old's birthday party. Our son has autism and is normally a little afraid of entertainers - but he was right there amongst it as the team were sensitive to his needs whilst keeping all the other kids equally enthralled! We will be using you guys again next year. Thanks you so much!
Thank you so much for organising Alex to attend the Operation Art Opening on Saturday. Alex was simply wonderful, a beautiful fairy and a pleasure to work with, recommended to all. Thank you!
We organised a mega Winter play date 20 kids ages 2 - 7. Fly By Fun kept all the kids entertained with active games that they loved and were age appropriate. It was the perfect way for the kids to spend time together in the cold school holidays and escape cabin fever with their friends. I will definitely be booking with Fly by Fun next time. Thank you.
Absolutely brilliant! I was having trouble trying to come up with ideas for a pokemon themed birthday, so the closes thing that I could get was a Safari Entertainer from Flybyfun. They were amazing, so accommodating with all of my requests and incorporated the pokemon theme to a tee. The kids had and amazing time with lots of games, magic tricks, jokes and balloons swords and prizes! It made my job much easier. Highly recommend and will defiantly use them again in the future. Thanks guys, thumbs up!
Thank you so much Fly By Fun for the great customer service and providing us with Lawrence's favorite superhero for his 5th birthday with short notice. Spiderman was fantastic, the kids had so much fun, he kept them involved and on their toes, parents were impressed by his magic tricks and tree climbing. We were entertained too. I would definately use your service again. Rate 100%
After much research online I found Fly by Fun to be the most user friendly, professional and value for money. They were always responding to my enquiries promptly and thoroughly. They seem to want to work with you to ensure that you get exactly what you want. Our fairy Gemma was lovely and kept our 20 young kids entertained and occupied from the minute she walked in the door to when she left. They loved her! Don't think I could fault these guys.
For the last 3 parties I've had Fly By Fun entertainers. All of them have been fantastic! It's the one thing, apart from the birthday cake, that I wouldn't go without now. The kids love them and it makes it possible to invite as many kids as you want.
We have used Fly by Fun for the past 3 years for our annual Work Family Christmas party. I couldn't rate them higher! Each year they have offered different activities for the kids keeping every party unique. The girls who run it are fabulous. This year we had Nicola who was especially wonderful. The kids are parents just loved her. She did so much more than just running the activities, she also engaged with the kids and ran around with them the entire time. 100% recommend!
We recently had a cooking party for my son's 5th birthday. 20 little boys put on their chef's hats and made the most gloriously decorated cupcakes I've ever seen! Some were eaten on the spot, and some were taken home in their own little boxes. Isobel was fantastic in the lead up to the event, and Adelaide did a marvellous job on the day. I would recommend them in a heartbeat.
I had the pleasure of using Isobel and her team for our recent corporate Christmas function - 60 adults and 75 children! The lead-up to the event was seamless, and no request was too hard. Isobel looked after everything and the staff and entertainers she bought along were amazing. I would highly recommend Fly By Fun to anyone, and will be using them again! Thanks Isobel and team!
Just would like to commend Fly by Fun for the great service and professionalism they had. Spiderman was great with the kids. He kept the kids all entertained and most importantly, "ünder control" :-)! Definitely recommended if you are having a kid's party. Cheers, Victor
It was a wonderful day and I have heard nothing but glowing reviews from all of the girls that attended! I have posted a picture on Facebook of you and Bridget, she wants me to blow it up and put it in her room! Once again, thank you for making her birthday party an experience to remember.
The entertainers were fantastic, very friendly and great with the kids. All the kids had fun and the parents were very impressed. I can't thank you all enough for making my daugther's birthday party the best one yet and very memorable.
Shannon was fantastic and as always Fly By Fun was a hit! She looked fantastic (your outfits are always just amazing and so colourful). She was a pleasure to deal with and everything ran smoothly. Thanks again for another wonderful day.
Thank you so much for being our entertainment at Luca's Christening. Nicola was fantastic and we couldn't have hoped for it to have gone better. And all the parents loved her and especially the kids too - it was perfect and we will definitely keep you in mind for any future events we may have or pass on your details to our friends. Thanks again
We were very happy with Nicola. She did an amazing job with the kids! The girls felt very special. We hope to use Fly By Fun again in the future and would highly recommend you to friends and family.
I was very happy with the party, thanks for agreeing to provide the entertainment at short notice. Your customer service is terrific. It was so efficient to book and organise, you were able to accommodate a change of plans with very short notice, the website is cute and informative, and – of course – pretty fairies with lots of games that the children enjoyed. I'd very happily recommend your company to others. Regards, Katie 20th Dec 2012
Fairy Sparkle was absolutely amazing. My daughter is a very shy girl and she was overwhelmed by so many kids and noise. But as the fairy started, she noticed how Bella was and immediately went into damage control. She gently included her in the activities with no pressure. And before I knew it, the fairy was babysitting 15 kids and us parents just sat back and relaxed. Bella then sat next to Fairy Sparkle whilst she face painted the kids and had a conversation about fairy life etc. It takes Bella hours to warm up to people she doesn't know and the fairy made it so magical for all the kids that it was something they didn't stop talking about when she left. I am very very happy with the service and Bella has already requested for the same fairy for her birthday next year. I will highly recommend the service to my other friends without hesitation. Thank you for making Bella's 5th birthday such a success! Cheers Linh P.s. would it be at all possible to grab the name of the fairy that attended our party for future records?
Pirate Pete he was absolutely fantastic. We couldnt have asked for anything better he entertained all of the children which allowed the parents including myself to sit back and relax. We were very pleased with his entertainment and enjoyable antics that kept us all entertained. We cant thank you enough for sending such a delightfull entertainer and would ask you to thank him once again for making Jacob's party such an enjoyable day. We would recommend your company in the future to any friends requiring children's entertainment. Thanks again Isobel Kindest regards and merry christmas, kelly hurdman :-)
Sam from the Collaborative
The girls were awesome yesterday...they were super upbeat and the kids seemed to be loving the face painting. Thank you so much for your wonderful help in the lead up to the event and we'll be in touch for future events. Take care and have a fabulous festive season. Cheers, Sam
Isobel we can't thank your Spiderman enough for doing such a wonderful job! He kept all the kids (and grownups!) highly entertained which is no easy task. You made the process so easy and relaxing and stress free.
Kate was fantastic at Lucy's party! She got so many compliments from the parents. What I liked about her is that she really was genuinely engaged with the kids, which is the most important thing. Thanks for helping make Lucy's party such a success (despite the weather!).
Thanks again for a wonderful day on Friday. Kate was a fantastic entertainer and the kids and adults absolutely loved the cooking workshops. I would highly recommend your company for any kids event.
Isobel was not only a great clown – nad a very friendly one at that! – but she is also very professional. The whole experience from our first enquiry to final payment was so easy, she really made the whole experience fuss-free, even offering to make lolly bags for a small extra charge! We saw Isobel the following week – this time, as a fairy at another party – and she was equally great; freeing up parents to talk, while the kids were happily entertained in the corner!
Looking back on our daughter's 2nd birthday, our choice of the Dora character was ideal. She certainly provided the WOW factor for the kids, and had them well entertained for the afternoon. Isobel seems to have a natural knack for immediately bringing life to the party for the kids, and keeping them all involved and entertained – I wouldn't hesitate to recommend her to anyone thinking of booking entertainment for their next event!
Gosh Isobel, we have used you exclusively for over 3 years now and have recommended you to our friends and will continue to do so! You and your team have a great vibrancy that the children adore and respond well to. The girls now ask for you by name, "can Isobel come to my party again?" Keeping the toddlers engaged, happy and motivated for several hours is a rare talent, which in turn gives parents a rare gift – time out! Seriously, the activities are exciting for the children and nothing is ever too hard for the team at Fly By Fun!