Fairy Crystal: Fairy Party Magic & More
Fairy Crystal: Fairy Party Magic & More
Preschoolers
Family
Kids
Mums & Bubs
Todders
$0.00
Tell them ellaslist sent you: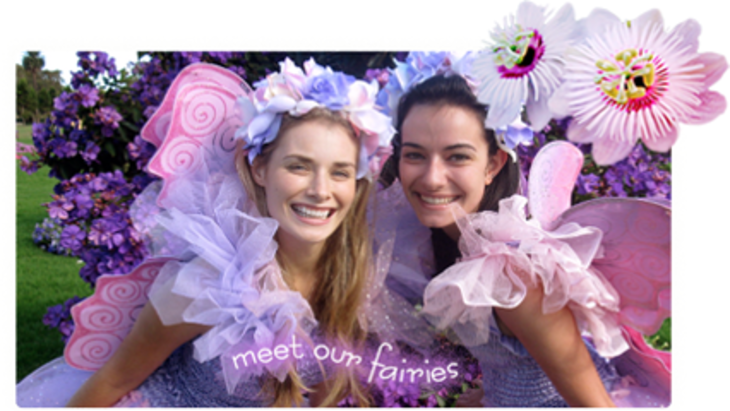 If you are looking to add a touch of magic to your child's next party then look no further. Fairy Crystal & Friends has built an outstanding reputation in delighting thousands of children across Sydney for the past 23 years.
Whilst fairy parties are a great way to surprise and celebrate any special occasion we have over 200 popular characters to choose from including Sydney's best Cinderella and Frozen parties .We cater for all themes. When the children  choose a character to visit their party they'll be guided on a magical journey of discovery aimed to captivate and ignite their blossoming imaginations.
Our entertainers are available for parties ,fetes, pre-schools, corporate events infact any event where extra sparkle is needed.
Read some of our happy quotes or follow us on Facebook to see the wonderful feedback we are receiving across Sydney .
For more information, or to book click here or call us on 0410 655 161, or email us here.

Tell them ellaslist sent you!
Reviews
Had Cinderella and Aurora for my daughters 6th birthday party. Definitely worth every cent. Professional and kept all the kids interested and under control. 5 stars!!
We were very impressed with the customer service before our daughter's 6th birthday and were even more pleased with the amazing job done by our Crystal fairy Bell. 25 kids were kept enthralled for 2 hours and she had such a warm and engaging personality. Thank you so much!!!! Will definitely be recommending to all we know.
Possible the best party entertainers I have EVER used! I have now had Fairy Crystal and Kapoow Parties ( for the boys ) from the same company. The entertainers are the most professional we have ever seen, the child are so engaged by them! The outfits are beautiful and they have so many fun games and entertainment. They really are exceptional entertainment for children's parties!!!
Fairy butterfly was a wonderful host. I have used this company before bash Wu never fail to deliver great service and fantastic entertainers. Very highly recommend
My daughter who turned 5 had Rapunzel come for a visit from Fairy Crystal Parties and she was excellent. She was in character from the very beginning and very engaging with the girls. My daughter is all about princesses and her and mine expectations we're definitely met. She does actually think that the real Rapunzel attended. My older daughter who was a bit too cool for a princess even admitted that she had a good time. Feedback from the other parents at thd party was also positive. I would highly recommend Fairy Crystal. Kiana also loved the unicorn crystal that Rapunzel gave her and brought it in for show and tell thd next day. Thank you
Yet another fabulous party thanks to Fairy Crystal! This is the second time I have used them and they are just wonderful. The entertainers are brilliant and have the kids absolutely transfixed from the minute they arrive!! It makes for such a stress-free party having the kids entertained and they just love it!! Thanks again and we will definitely be back - you're the best!!
Dear Fairy Crystal, just to let you know Mia had absolutely amazing time with Elsa and Anna!!!All the kids loved them and were entertained the whole time!!! Well done to another amazing Fairy Crystal party!! Your people are just wonderful and will definitely be in touch over the next few years:)Thank you again and keep up such beautiful work for the kids:)
IAurora was wonderful! The girls loved her. She was punctual, professional and more importantly kept the little ones entertained and happy the whole time she was with them. Her face painting was also fantastic. Thanks for organising her Christina and please thank Aurora again for everything!!!
Apologies this has been a while coming but thank you Fairy Crystal & Queen Elsa for making Alana's 5th b-day party AMAZING! Alana & all the girls had an absolutely fantastic time all thanks to Queen Elsa! She was so friendly, engaging & fabulous and sang beautifully! & we all know 'Let It Go' has notes that are not easily hit but she did it no problem!! One of the mothers said she'd seen about 20 Elsa's & that yours was by far the best! Queen Elsa took the reigns straight away & I didn't have to interject at any stage! Thanks for the great quality work and thanks also for happily helping me out with last minute number changes!
Our five year old just celebrated a very special birthday party with the arrival of a lovely princess and brave knight - both very talented! Thank you Fairy Crystal for helping to make this birthday one she will always remember!
Second time around was just as great as the first time! Thanks so much Fairy Crystal and Cinderella, the girls had a great party!!
A very belated but big thank you to Fairy Crystal and Leilani for making Alicia's Hawaiian party so special. Alicia and all her little friends had such a wonderful day dancing and playing games. I would not hesitate to recommend Fairy Crystal for any little girl's party. I should know - this was the fifth time we have gone with Fairy Crystal and my girls still talk about their parties!!
Just wanted to say a big thank you for helping us celebrate Charlotte's 2nd birthday in April. Fairy Twinkle was so lovely and gentle with the kids, everyone really enjoyed the entertainment. We will most definitely be recommending your business to our friends. Thank you Kind Regards Jade Gould Queens Park
Hello Fairy Crystal, Queen Elsa was AMAZING!! She is such a lovely person and was so great with the girls. Juliette had the best birthday ever and we had lots of comments on beautiful Queen Elsa. Could you please pass on my sincere thanks to your lovely Elsa. Thanks again. Michelle
We have now had 8 princesses/fairies on 5 separate occasions from Fairy Crystal. Simply the fact that we continue to invite them to our girls' parties show how much we have appreciated their special brand of magic.
"Thank you Fairy Crystal! Queen Elsa made an appearance at Jesse's 5th Birthday and was absolutely delightful resulting in the best character party I have attended! She kept the children mesmorised at all times and the adults aswell with her gorgeous voice - stunning and unexpected!! All the activities were perfectly age appropriate and my daughter and her friends had a magical day that will always be remembered.Thanks again for the lovely memories xxx"
Fairy Blossom made my daughter's first birthday very magical and special!! She put a smile on every child's face and made it a truly unforgettable day. Thank you for the beautiful work!!
Queen Elsa joined us for my daughters 6th Birthday Party. I am thrilled with the atmosphere that Elsa produced at the party. Any Mums dream is to make a fairy tale real for their princess, and Elsa certainly had all girls mesmerised by her beauty, games and singing. Very impressed with the professionalism of this business and entertainers. Hence this is the second time I have used Fairy Crystal, and will book again in the future x x
Thank you so much for bringing absolute magic to our little girl's birthday party. I have never seen such little faces light up when Fairy Butterfly arrived, they were mesmorised from beginning to end. Every effort was made to make everyone feel so special and involved, and every parent commented on how professional and organised the whole afternoon was. I have already recommended Fairy Crystal to so many people and will continue to do so!
Thank you for a fantastic party. Holly was thrilled to have Sleeping Beauty visit her party. Sleeping Beauty was beautiful, kind, calm and entertaining. All the children adored her and she was able to captivate their imaginations. Holly went to bed with her special crystal under her pillow and whispered if she could have her visit for her 6th birthday. Thanks again, Alana.
Thank you Fairy Crystal. My daughter had a fantastic time with her friends at preschool. Queen Elsa and Anna were a huge hit and everything was so professionally handled in the lead up to the day!
Fairy Crystal was absolutely wonderful. The children were enthralled. It really made their party extra special. I would highly recommend this site - professional, organised and magical!
Queen Elsa came to my daughter's birthday party on Sunday and did an amazing job of keeping 15 4 year olds entertained and enthralled for a whole hour! She even managed to keep the attention of the only boy in the group. He loved her! Thank you so much for making the party a great success!!!
Princess Leia did extremely well keeping all the youngsters entertained on such a hot afternoon! Thank you for a beautiful birthday experience for Sofia and her friends. Definitely one of those special birthday parties that will be remembered for many years to come.
Hi Christina thanks you so much for Elsa, the kids adored her and the parents were amazed that she managed to keep the kids so engaged and in-check for the whole time. She did a fantastic job and was the perfect Elsa. As a result we all had a magical party.
Thank you so much for making Maggie's 4th birthday party a big hit with her and her friends. The lady who came as Elsa had them all enthralled for the whole party. She had such a good rapport with the children and so many parents commented that she was by far one of the best party entertainers they had seen. The children all enjoyed the different activities and party games. The pass the parcel gifts were really lovely and not the usual cheap silly plastic stuff! Maggie especially loved the face painting and the artwork scroll. She loves rolling it out and looking at all the pictures that her friends drew for her. Such a great idea and a lovely memento.
Queen Elsa captivated the children from the minute she walked in. There was so much fun and excitement that the children barely stopped to eat. The children (and their mum's) cannot stop talking about Queen Elsa and my daughter sleeps with the crystal under her pillow every night. Everything to do with Fairy Crystal was easy and positive, for me, my daughther and her friends.
Dear Christine, I would like to thank you and your amazing queen elsa. my daughter was absolutely entranced and in love with elsa not only was she but so were all the other children . They were so occupied and busy for the 1 1/2 hours I was surprised at the great selection of activities and how well the entertainer kept there attention our ages ranged from 1yrs old-12yrs old boys and girls. It was the best present I could have given my daughter at the end of the night she held mine and her fathers hand and thanked us for her party with elsa that was a perfect ending to perfect day that I could have asked for my 4yr old daughter.
Sparkle Witch had my daughter and all her spooky friends completely 'Under her Spell' ! The REAL connection that she took the time to make with the Birthday girl was really lovely. I couldn't recommend her more highly. My daughter still talks about it as "her best day ever" and her Special 'Wishing Crystal' gift is her most prized possession.... only problem, how do we top it next year ! Pretty cool problem to have :)
My daughter had a frozen party and we had Elsa from Fairy Crystal come to entertain the children. She was fantastic and had the children captivated and entertained the whole time. It made the party exceptional. Thank you!!
Elsa was fantastic - the kids thought she's walked straight out of the movie…even thought it was 25 degrees! Thanks Fairy Crystal for organising with military precision - the communication before and after the party was impressive. 6 Stars
Morning Fairy Crystal, What a magical party Queen Elsa created for Sarah's 5th birthday! The kids were utterly enchanted by her. We have had the joy of sharing several of our girls' parties with your wonderful crew over the years, and every one of them has been a great success and a treasured memory. You must be very proud of your team. Please pass on our thanks to Queen Elsa. Warm regards, Leanne
Hi there My 5 year old had a wonderful party yesterday with all her friends and 'Elsa' from Frozen....they all thoroughly enjoyed themselves - I thought they would be tearing around as kids do but they were so mesmerised by Elsa they all behaved like angels and did exactly what she asked them - they loved it. Thank you! Maxine
Hi Christina - thank you for organising "Dora" to visit Scarlett and all her friends as she was just fantastic and did an amazing job - the kids and the adults all thought she was incredible and had the kids eating out of her hand - no jumping castle next time as way more interested in Dora. Once again THANKYOU and you do an amazing job providing such great entertainers. Cheers from one very happy customer. :-))))
Hi Christina, I don't know how to even describe how incredible 'Elsa' was at Jack's party today! She was just beyond amazing with the kids and her voice was absolutely stunning! Wow, wow, wow - seriously the best entertainment I've ever seen at a kids party. Kristoff was fantastic too and I wanted to say thank you so much, I will definitely be in touch for our next party as I'm sure a few of my friends will be too. Thanks again!
I attended an event where Spiderman entertained 20 children in the rain and cold and thought, "This is the company that gets kids' parties!" My 4 year old daughter had a Frozen themed party on the weekend. After booking the event, I had an informative session with the company owner about how to approach party entertainment which helped set my expectations. Queen Elsa arrived on time and had the kids enthralled for an hour and helped us keep the party moving. My daughter still talks about this being a great party and how Queen Elsa entrusted her with secrets. All of the adults were able to catch up with each other because Queen Elsa had the kids so engaged in different activities. One thing I would point out is that there were a couple of kids who did not participate because (a) they thought it was too "princessy"; or (b) it wasn't active enough.
Thank you so much for sending Mermaid Sparkle to our daughter's 4th birthday party today! She was so lovely with the girls, various parents commented on how good she was and how engaged the children were! They had the best 1.5 hrs of solid entertainment, and it was so clever to add 'Let it Go' to the playlist as twenty 4 yr olds were all singing their hearts out! The birthday girl was very concerned at the end of the party that mermaid sparkle get back to the ocean very quickly so her scales did not dry out! Can't get more realistic than that! Thanks again, Fairy Crystal, for a very special day for the birthday girl and for making it such a pleasant party for all the adults too!
Thank you, thank you, thank you! Lily and her little friends had the BEST time on Sunday. Your queen Elsa was just amazing...and the whole program is just fantastic. And most interestingly. .all the parents and adult friends had a ball too. We just had a perfect party and would most certainly come back to you again should we choose to do another birthday party at home. What an amazing business idea!!!
My 4 yr old loved her fairy party. Rainbow sparkle was lovely and the kids all had a ball. Thank you for a great party
Fairy Crystal was so wonderful on the weekend, providing the most sensational Fancy Nancy for my daughter's tea party. She was so professional - kids and parents thought she was amazing. All the research and preparation to getting the character, accent and pressies to match the theme were really appreciated. Christina has also organised a fairy and Hello Kitty for us in the past which were great as well. Thank you once again for helping make another party so special.
I cannot recommend Fairy Crystal highly enough. We have used her for a number of parties, most recently for my daughter's 5th birthday. Queen Elsa came and had all the children captivated from the minute she arrived. Absolutely fabulous!
I just wanted to write and say a big thank-you to Queen Elsa who attended my daughter's Frozen party today. She was wonderful and looked like she'd just stepped straight out the movie. She was in character from the moment she arrived and kept all the kids enthralled for the full 1.5hrs. My husband and I were so pleased to have the time to chat to our friends and family while Elsa wove her magic. Thanks again and I'll certainly be using your company again in the future.
Thankyou Princess Belle for coming to my daughter, Angelica's 4th birthday party. I was truly taken aback by Princess Belle's innate ability to get on the children's level and sweep them up in her magical world. She made my daughter feel so special and I believe made every other little girl truly want to be a princess. Thanks to Princess Belle Angelica had a birthday party she will never forget.
Thank you to Queen Elsa who came to my daughter, Sophia's, 5th birthday party. I always knew she was going to be great but she literally swept the kids up in her magical energy and had them all glued to her the whole time she was with us. I don't think we could have had a better person there. My daughter was in Frozen heaven and all her friends could not stop talking about it. It is the first birthday party I've had for my kids where I actually got to talk with other parents. Queen Elsa looked after the kids and entertained them so well I got sit sit back and enjoy watching it all happen. Well done Fairy Crystal and Queen Elsa for helping me host a wonderful, memorable party.
We had Fairy Crystal at my daughters birthday for the second time and were so glad we did. We had the Disco Sisters run a fantastic party this year and the kids were so excited and kept entertained the entire time - I don't know how they do it! They clearly genuinely love entertaining kids and are so great at what they do. The format they follow is perfect and everything just runs smoothly and perfectly. My daughter had such a great time and hasn't stopped talking about the Disco Sisters. Thanks again, you guys are amazing!! Liz
Rapunzel was captivating. The kids loved her.
Rainbow Dash recently visited my daughters 5th birthday party and she could not have been more brilliant!! Rainbow Dash had all 24 kids mesmerized with her stories and games for the full 1.5 hours! My daughter felt so special and was smiling ear to ear. Thank you Christina and Rainbow Dash...you are so professional and wonderful to work with too. I appreciate all the care and attention you give to each party. Definitely you are the best in town!
Thanks so much for a wonderful party our daughter's 6th birthday party she thoroughly enjoyed herself and had so much fun. All the children were captivated and kept entertained. This was the talking point the next day school and one parent has asked for the number to have Repunzel host her daughter's party. Thanks again
Just writing to say a very big thank you to Fairy Dream who was wonderful today at our daughter's 5th birthday party. All the children adored her, loved the story, the glitter sprinkling, the music and dancing, the face painting, EVERYTHING! Fairy Dream was so very professional and in role the entire time. Our daughter has been 'talking' to Fairy Dream through her beautiful crystal and 'wrote' her a letter saying how much she loved having her at her party and thanking her for making it so special! I have no hesitation to recommend you to my friends and will certainly use you again, Fairy Crystal!
Our four-year-old had a great time with Fairy Sparkle at her party. Needless to say she was very popular with all her friends the day after the party! Very enthusiastic and friendly throughout, really great at looking after the kiddy fairies despite some of the chaos around her. Can't have been easy with 20+ kids of all ages! Well done, highly recommended.
A big thank you to Princess Belle and Fairy Crystal. Belle did a fantastic job with the children. She kept them engaged the whole time and was just so lovely. My daughter was very happy! All the parents watched as their kids had so much fun and some even had the chance to sit and relax. Thanks again and we will definitely consider you for our future functions and recommend Fairy Crystal to our friends. Tee
Thank you fairy crystal and fairy butterfly for making my daughter's 5th birthday party truly magical and special. Fairy Butterfly was really sweet and professional. All the girls and even boys really enjoyed the time with fairy Butterfly. Thank you!
We had Tinkerbel at my daughters 6 th birthday party.....she was brilliant, passionate, punctual and most importantly very very polite with the girls... The girls had a wonderful time completely enchanted by her vibrant energy during story time... Once again thank you for contributing to our armies success.
We were so happy with the beautiful fairy that arrived on Sunday for our daughters 5th Birthday. This is the second time we have used a fairy from fairy crystal. They are always punctual, professional and beautifully dressed. I could not speak highly enough of them.
Lottie the Ladybird was terrific - my little girl Nova loved her like crazy and from the moment she arrived the kids were totally absorbed. Thanks so much, I'd recommend Lottie to anyone having a Ladybird themed party.
Thanks so much Fairy Crystal and Arial for coming to lexies's party! There were 10 three year olds and 10 slightly older children at the party and they were all thoroughly entertained for two hours. Lexie had the best day and party and Fairy Crystal made her feel very special. We have used Fairy Crystal for many of our parties and again on Sunday we were delighted! Thanks again Fairy Crystal, see you next time!
Exceeded all expectations. Fairy Star was brilliant. My daughter and her friends simply adored her and all her activities. My husband and I didn't know what to do with ourselves for the 90 mins as the little girls were all so enthralled. Clever concept and brilliantly executed. Couldn't recommend more highly.
What a wonderful 4th birthday celebration you created for Sarah! The girls were utterly entranced and loved every moment. Sarah has not stopped talking about Twinkle, and other mums have told me today that their children have also be talking non-stop about the experience. From start to finish the professionalism of your group really is unmatched. We will continue recommending you to others and will definitely use your services again.
Dear fairy Crystal, thank you for sending the wonderful Fairy Star to our daughter's party. Soraya, her cousins and her friends loved the experience and Soraya is still talking about Fairy Star. Can I just say that the gifts and the games Fairy Star provided were excellent and - especially the limbo! It was gold!! She engaged with the children with such a lovely manner too. Thanks again and we'll definitely be in touch for the next party.
Fairy Crystal, just amazing. Alice came all the way from Wonderland to help celebrate my daughters 1st birthday and the kids - of all ages, boys and girls - were instantly captivated and stayed that way until the end. Importantly, Fairy Crystal were professional and lovely to deal with. Would highly highly recommend them. Thank you for making my daugther's birthday so special.
I just wanted to say a huge thank you for yesterday - Cinderella was fantastic. She was bright and energetic for the whole event. We particularly loved getting the roll of little drawings to keep. Isabel slept with her crystal next to her bed last night, but wouldn't tell me what her wish was :) The other parents were impressed as well and I was happy to pass on your business name to them. Thanks so much again, we couldn't have been happier with your service.
A big Thank you to Fairy Crystal for once again a brilliant party! This is our third time we have used Fairy Crystal and we have never been disappointed. We had Princess Belle and Private Pete attend my four year olds birthday party and it was wonderful. The children all had a ball and I would throughly recommend using any of Fairy Crystal's gorgeous friends for your child's next birthday party! Once again thank you and I hope to see one of your delightful entertainers again soon.
For my daughter's 6th Birthday last weekend we arranged for Fairy Twinkle to come to our home. She was in character from the moment she walked in the door and completely captivated her audience of 12 little ones. The games and stories were thoroughly enjoyed by all the children and they didn't want Fairy Twinkle to leave. I would highly recommend Fairy Twinkle!!
I just wanted to say a great big thank you to the absolutely lovely Fairy Blossom who entertained at our daughter's 5th birthday on Saturday. Our 'fairy party in the park' plan got rained but she absolutely saved the day. All 15 children were enchanted by her and all claimed it was the best party ever. I really couldn't recommend you fairies highly enough. Thank you!
What a truly magical fairy party my little Princess Jacinta had with all her cousins at her christening on Sunday! Fairy Dream was an absolute delight keeping all the little fairies entertained and in awe of her amazing fairy talents! Thank you so much for making Jacinta's christening so special & magical!
We are just writing to say a huge thank you to Fairy Crystal and, in particular, to Tinkerbell. Both parents and children had a great time thanks to Tinkerbell. From the moment Tinkerbell entered the party it was clear that she knew exactly what to do and had done so many times before - she was entertaining, friendly and engaged the children with ease. There is nothing that Tinkerbell could have done better, she was fabulous. We will definitely try and book Fairy Crystal for next year and would without hesitation recommend Fairy Crystal to others. Thank you for being so professional and making our day both special and enjoyable.
Just wanted to say thank you for making a 3 year old the happiest little girl in the world on her birthday. Princess Aurora was a big hit with the birthday girl and all her friends. The beautiful "sleeping beauty" kept the kids entertained non stop for an hour and a half giving the parents time to chat and enjoy a coffee. We will definitely be calling upon your services again!
Fairy Crystal, we just wanted to thank you for sending such a wonderful mermaid to our daughter's 4th birthday party!!! All of the children had an amazing time and thoroughly enjoyed the experience! We had Dora last year and the mermaid princess this year and they were both outstanding! The children were constantly entertained with games, face painting, drawing, dancing and much more! We always recommend you to our friends as every aspect of your service is so highly professional. Thank you once again and we will be in contact again soon.