Bambino Ballet: Classical Ballet & Jazz Classes (14m-7yrs+)
Bambino Ballet: Classical Ballet & Jazz Classes (14m-7yrs+)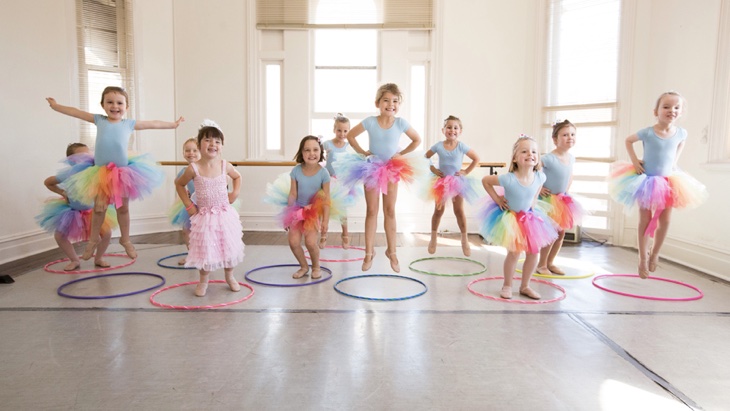 MISS TARA STUDIOS offers Bambino ballet and Bambino Jazz classes for preschoolers and children 14mths-6yrs, and structured ballet classes for children 7yrs – adult, from a customised studio in Bondi Junction, complete with a waiting room for parents and siblings.
Each program is finely tuned and carefully designed by the principal with the right balance of fun and education in mind, with our customised studio providing a beautifully inspiring environment to learn.
Classes are designed to enhance beauty in all ways, with the aim of inspiring confidence, positivity and a life-long love of dance.
Also, for the mums! Barre workout classes, Jazz/Funk/Hip-Hop, and beginner and intermediate Ballet classes available.
Miss Tara Studios is offering a fantastic NEW drop-in class on Thursday mornings: ROCK-YA-BABY! Pregnant mamas and new mums who are at least 6 weeks post-partum are invited to this baby-wearing class where repetitions of ballet-inspired exercises will help you to tone your butt, legs, arms and core.
Please visit Miss Tara Studios website for more information or call Miss Tara on 0409 355 373. Email for a free trial or to take advantage of our 'pay as you go' teeny tiny dancers program (14mth-2yrs)
Tell them ellaslist sent you!
Reviews
Hi. Looking for a class for 3 yr old for Monday or Tuesday
Miss Tara has the most magnetic personality of any kids' instructor I have come across. She brings joy to the dancefloor and magic to the concept of ballet for littlies. My now 5yr old daughter has been doing BB's Imagination Ballet since she was 2 and has loved every minute of it.
My 6 year old daughter has been at Bambino Ballet since its conception and is always happy and excited after class. Miss Tara makes it fun and magical, combined with a strong basic learning of steps and good discipline but with no pressure on child or parent. MM My four year old daughter Clementine has been attending Bambino Ballet since she was just two and a half and absolutely adores coming to see Miss Tara every week. She has developed a real love of dance and self expression. It is a great joy for to me to see that she has benefitted so much from the enjoyment and added confidence she has gained from the classes. Thanks Miss Tara we Love you ! GH We have two girls under 5 enrolled at Bambino Ballet and the greatest gift Miss Tara has given them is the joy of dance. They learn all the usual ballet postures and positions but the lessons are enhanced with imaginiative role plays that encourage participation and allow the students the freedom to explore their own creativity and show off their unique personalities. There is an emphasis on inclusiveness regardless of technical ability and this leads to improved confidence among all participants and happy, smiling ballerinas. For my girls, dance class with Miss Tara is a highlight of the week. KH My three-year-old has been attending Bambino Ballet since the beginning of the year and absolutely loves it. Miss Tara is a lovely teacher, kind to the children and genuinely interested in their development. The children have so much fun dressing up in their tutus and leotards and are getting the fundamentals of ballet and movement while learning to love dance. My toddler cannot wait to join the class when she's old enough, too. EM<!--more-->