Paint and Play: Playgroup and Classes for Babies, Toddlers & Preschoolers (0-5yrs)
Paint and Play: Playgroup and Classes for Babies, Toddlers & Preschoolers (0-5yrs)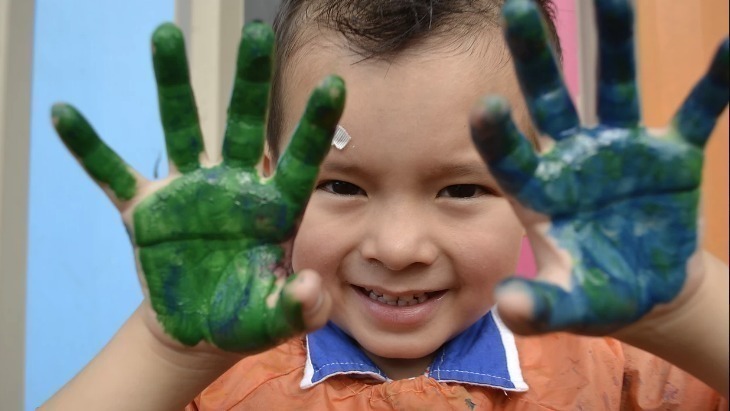 Paint and Play is a popular drop-in/casual playgroup session for children 0-5yrs in Alexandria in Sydney's inner city.
Every session has been specially designed and developed for children by a qualified and experienced Early Childhood Educator.
Each session lasts for 2hrs, which allows the opportunity to provide a range of experiences to suit babies, toddlers and preschoolers. It gives plenty of time to move around and try new activities and then to enjoy the more structured experiences in the latter part of the session.
Read more about the complete program.
A complete morning tea is also provided.
When? 10am-12pm on Monday & Thursdays
How much? $16 per child | $10 per additional sibling | $140 for a 10 visit pass (valid for 3 months) | Under 1's are only $5 (or FREE when with a paying sibling).
Where?
Action Studios: 160 Bourke Road (Graphix Row, South Sydney Corporate Park), Alexandria
For more information call Nicole on 0450518731, email her, or visit the website any time.
Tell them ellaslist sent you!
Reviews
We've been going to Paint & Play in Alexandria for about a year now. My son is 2.5yrs and LOVES it, he's always asking to go to Playgroup! He (and I) enjoys the variety of activities/crafts that are set up, big selection of indoor & outdoor toys and singing, dancing and playing instruments with Kirsten. There is also a great morning tea provide with crackers, fruit, etc. All this in a friendly, relaxed and safe environment - it's perfect. I highly recommend this place :)
We love Paint and Play for so many reasons. It's great for all younger kids and it's open during the school holidays. Read our review here - http://www.ellaslist.com.au/paint-and-play-the-perfect-playgroup/
Paint and Play has become a regular weekly outing for my 2 1/2 year old daughter and me. There is so much to keep the kids entertained... A healthy morning tea is also provided, and they all love sitting together eating fruit and vegemite sandwiches. Kirsten - your hard work, patience and dedication is so appreciated by everyone and certainly does not go unnoticed! I have met so many great people there and it's great to see so many regulars attending each week. If you haven't been yet, do yourself a favour and give it a go.
We have been attending Paint and Play for about a year now on an almost weekly basis. It's fantastic for a number of reasons: - Pay weekly or get 10 week pass as opposed to being locked into a term (great when your child is sick... You just don't go). - Kirsten who runs it is LOVELY! Always remembers Mums and children's names and has a great sense and understanding about children (my 3 yo is very shy and sensitive and Kirsten is so good with him and in return my son loves her) - free play, morning tea for the children (smorgasbord of fruit, healthy snacks, water as well as tea coffee in the kitchen for parents), music, singing, playdoh, weekly craft theme, mini library, rotation of different toys. - structure as well as freedom for kids to do as they please - great atmosphere for parents to relax and socialise with other mums whilst kids play. I have a 3yo and 8 month old and they both love it and its great I can take them both knowing there are activities/toys for both their age groups. I can't rate Paint and Play highly enough. We've done Gymbaroo etc before and this, in my opinion, has given my son so much more than other program's.