OceanFit 4 Kids: Beach Safety & Ocean Swimming Lessons For Kids 5-12yrs
OceanFit 4 Kids: Beach Safety & Ocean Swimming Lessons For Kids 5-12yrs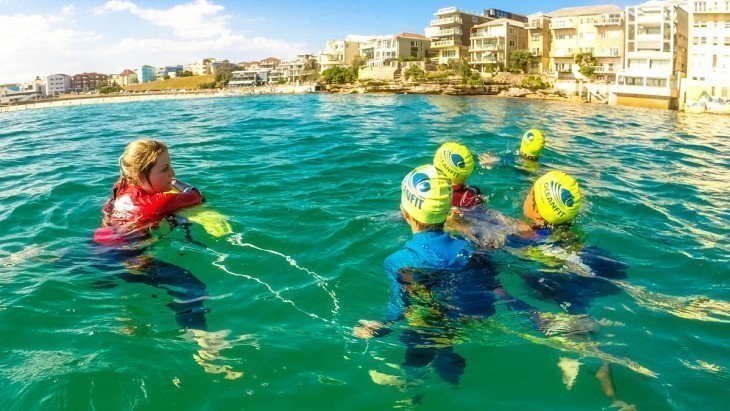 Would you like your child to be ocean fit this summer?
At OceanFit 4 Kids - based in Bondi in Sydney's Eastern Suburbs – we deliver engaging beach safety and ocean swimming lessons that turn the ocean into a natural playground for children to enjoy safety.
Our lessons teach children to appreciate the power and majesty of the ocean environment, promote a connection with the beach ecosystem, and develop confidence in their abilities.
The practical skills and techniques we teach will prepare your child for an ocean lifestyle beyond simply swimming, and our self survival and assisted rescue lessons will ensure they become guardians of the ocean.
OceanFit 4 Kids can be an alternative or complement to nippers and lessons are competency-based, hands on, and on the go from start to finish with maximum time spent in the water.
Sign your child up for private lessons or get a small group of up to four children together and organise your OceanFit 4 Kids lessons on days and times that suit you.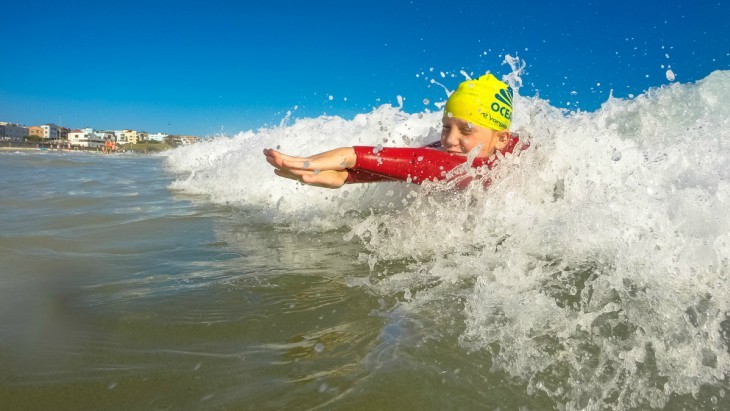 What can you expect your child to learn?
- Awareness of how the ocean works
- Respect for the ocean environment and marine life
- How to identify & avoid risks at the beach
- How to survive a rip current
- Ocean swimming techniques in the waves
- An understanding of their limits
- How to bodysurf like a pro!
- The beach as a fun fitness location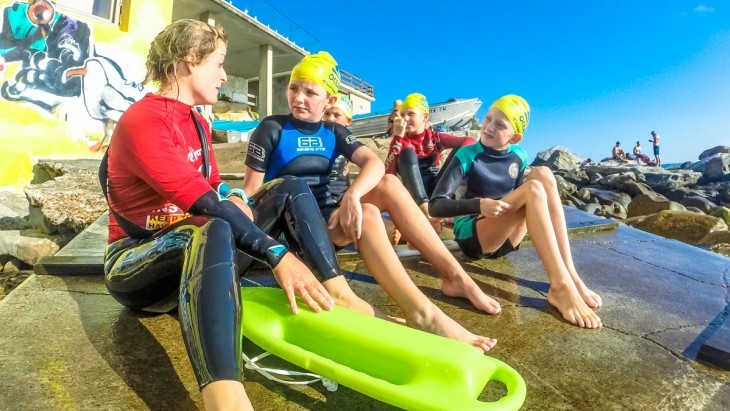 Ready to book your child in?
We don't have scheduled program times, instead we leave scheduling up to the pro's – the mums and dads like you – to organise your children, or a small group of friends, and to choose times that suit you. When you're ready, contact us and we'll do our best to work around your schedule.
Open Water Swim School - January Holiday Intensive Watsons Bay
OceanFit has collaborated with the Watsons Bay Pilot Station to deliver swimming and water safety programs in, and on, the open water this summer!
The intensive 4-lesson holiday program introduces 7-10 year olds to the open water environment, and develops their swimming & water safety skills.
Lessons are are great complement to swimming skills learnt in traditional pool swimming lessons. Spots are very limited.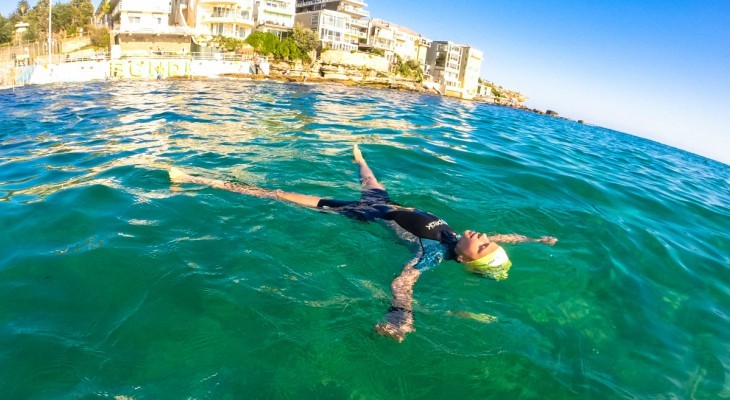 Visit OceanFit 4 Kids for more information, email Andre, or call him on 0433 082 541 to discuss your options.
You can also find us on Facebook and we have lessons for grown ups too.
Tell them ellaslist sent you!
Reviews
To be honest, the kids weren't keen to go (8 and 10), they prefer swimming in pools. The bigger of the two, a boy, came out saying "I didn't know it was going to be that much fun." They told us how they learned to dive under waves, how to face sideways into a wave and a bunch of other stuff. It was only one lesson because it's end of season but we'll come back and do the four week course next summer. Andre is a nice guy and got on well with the kids. They're more interested in the beach now and I have more confidence in them being in the waves.
Andre had a single timeslot spare at the end of the season so we grabbed our chance. In the space of an hour he took my 7yo daughter and her friends rock-walking, discovering new creatures, and exploring the surf at Nth Bondi. They all loved it. Andre has a really genuine love of the surf, and a fantastic connection with kids, and we will definitely book a full course of his workshops next Spring.
The difference Andre has made to our daughter's enjoyment of the beach has been enormous…the fun is back. Whatever level your or your kids interest is in the beach, surf or ocean swimming do yourself a favour and arrange some time with Andre.
The day I watched Sarah (9) and Max (10) float out on a rip past the breakers and swim back in, I knew my kids were learning critical skills that will stay with them for the rest of their lives.
We chose Oceanfit because we were after more than Nippers at a time which fitted in to the school week. Henry (5) started as a confident swimmer in a pool over 10m. Over the 4 sessions he developed more water confidence and awareness of surf safety and an appreciation of the ocean environment. He really looked forward to every lesson and Andre generated a great rapport with the children. By the end of the month his swimming had improved to 50 m in a pool. We will definitely be coming back for more.