Decorati - Children's Recreational Centre
Decorati - Children's Recreational Centre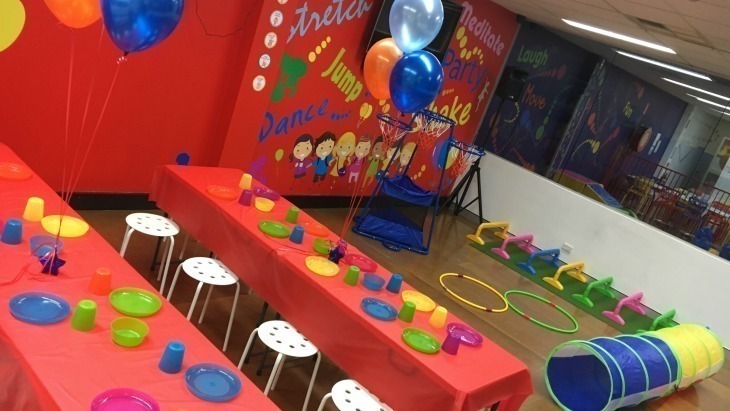 Decorati is a fun indoor recreational centre in Wetherill Park in Sydney's Greater West, that offer a range of programs for children 6mths – 12yrs to get them learning, moving and exploring.
Activity Rooms & Play Equipment
The centre has three designated rooms: Strawberry Delight Room, Bubble Gum Room and Active Play Zone.
Services Offered
Each room offers classes and programs for kids to participate in, such as:
Decorate & Move, Kids Yoga, Mummy and Me Yoga, Playgroup, Kids Gym Time, Kids in the Kitchen, School Holiday workshops and Kids parties
The Play Zone area contains play equipment such as climbing corner, stepping stones and balance kit, all designed to help kids stay active and entertained.
Decorate & Move Program
Decorati's Decorate & Move Program is a creative and educational program for children aged 2-5yrs during school terms. Parents/adult participation is required.
Kids Yoga
Learn to move, breath and stretch in this 45 minute class.
Playgroup
Loads of activities to join in such as playdough, story books, balance beam, parachute, fun activities and unlimited time in the Play Zone.
Kids Zumba
Classes feature kid-friendly routines based on original Zumba® choreography.

Baby Activity time
Our class is a movement and creative based educational program just for babies. It promotes sensory and physical development through activities, music and fun interactive games.
Kids gym time
Kids Gym Time is a movement educational program for children aged 1-5 years. The program is designed to promote children's physical, emotional and social development through activities, music and fun interactive games.
Decorati Birthday Parties
If your child loves coming to the Centre and is celebrating a birthday then let Decorati handle it for you.
You can indulge in a High Tea or Pamper Party in the Strawberry Delight Room. Check out packages HERE.
Or get creative with a Cup Cake or Painting Party in the Bubble Gum Room. Check out packages HERE.
School Holiday Programs
Decorati offers a range of Health &Wellbeing, Fitness and Creative based workshops every School Holidays. Be sure to visit our website for the current timetable.
For the latest School Holiday Program
click

HERE
.

Centre Hours
Monday – 9:30am: 12:30pm
Tuesday, Thursday: 9:30am – 6pm
Friday: 9:30am – 2:30pm
Wednesday: closed
Saturday & Sunday: Group bookings only/By appointment only
Entry Fees
Adults and Under 12mths: FREE
1-2yrs: $7
3-5yrs: $9
6-10yrs: $11
For Birthday Party Bookings, Decorate & Move Program and School Holiday Bookings or for more information, visit the website, email [email protected] or call 02 9609 4917.
Tell them ellaslist sent you!
Reviews
My daughter loves playgroup at decorati she loves the play zone
Great venue! Carla and the team are so helpful and make having a kids party easy and stress free. Lot's of packages to choose from. My daughter also took part in the Kids Gym Time program during the week. She really enjoyed it! Definitely recommend to any busy parent!
Excellent Service, great staff, very clean centre and super fun for kids! ?
We have been attending Decorati for a couple of years now and we can't recommend them enough. My kids love their programs and Miss Carla is amazing with the kids. Decorati is fun, creatine and educational. You will love it-check it out!!
I had my daughters 6th birthday pamper party at Decorati it was such a delightful event. The venue is set up so lovely, very clean and organized. Great food and coffee for the parents!
My daughter and her friends ( both boys and girls) had a ball at her birthday party. The parents were impressed too. Carla and her team did an amazing job. ?
Thank you Carla for the lovely experience you provided my daughter, niece and friends at the Christmas Tea Party. The girls loved decorating their gingerbread and the entertainment you provided. The lovely treats were absolute yummy. Cannot wait to attend future special events and I highly recommend Decorati to my friends!