Cheeky Tunes: Learning music through FUN and PLAY - Surry Hills and Leichhardt
Cheeky Tunes: Learning music through FUN and PLAY - Surry Hills and Leichhardt
Shows currently running in Surry Hills and Leichhardt
Cheeky Tunes is the newest song and dance craze. It is a unique and different music program for kids from 1-5years.
Pop bubbles. Play the drums. Rock a baby doll to sleep. Dress up as a super hero. Dance with streamers. Sing. Laugh. Learn. Cheeky Tunes is designed to engage children in multiple activities in 'show' like environment. It works with a philosophy of learning music through fun and Play.
Eleanor Clapham, the creator of Cheeky Tunes and a professional singer and performer, returned to Australia after enjoying fame and success as an opera singer in Vietnam. She was the first foreigner to master and perform traditional Vietnamese Opera.
It is a unique experience as it is set up like a live show but is designed like a class. The room is lit with stage lights and disco balls so you feel like you are there for a show but then children are given props to interact and become part of the show. 'Cheeky the Monkey' is projected onto the screen behind, she dances, sings, and even plays tricks on the performer.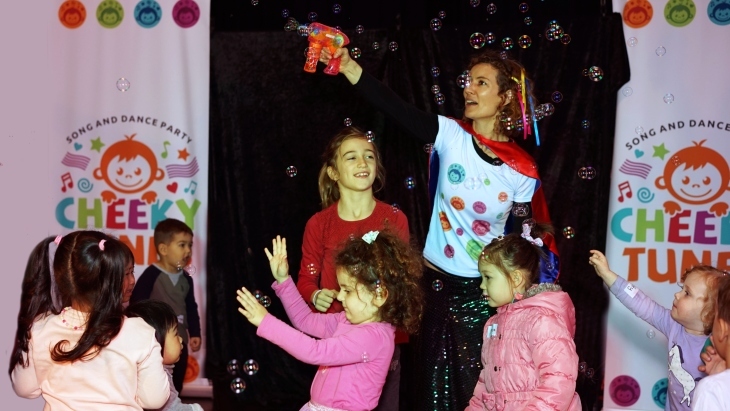 Aside from having a whole lot of fun the benefits of this program are enormous. Of course they learn to sing, dance, and play instruments but the real benefits are that they build confidence from being able to take part of and contribute to the show.
At Cheeky Tunes they love silliness, cheekiness and fun. Cheeky Tunes is a show and a class combined for kids aged 1 to 5yrs where kids can sing and dance along and be part of the show. They call them 'Weekly Shows' as they're held weekly just like a class. Each week the show changes. Inspired by the belly laugh songs Peter Coombe, all the original songs from Cheeky Tunes are Funny and Cheeky.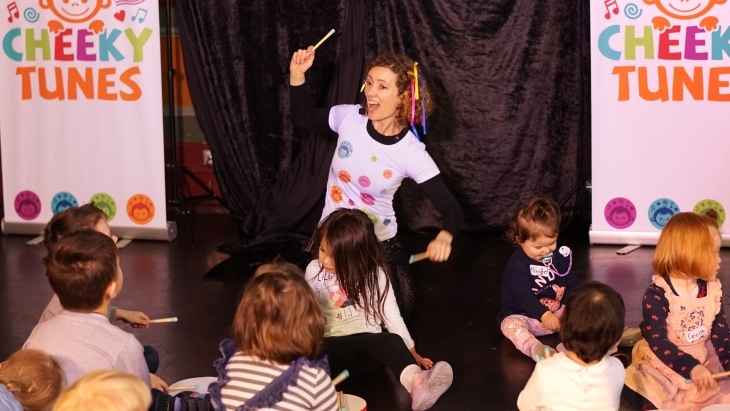 This weekly show is designed to involve the children far beyond singing and dancing along. The children are given multi sensory interaction so they are able to become part of the show. Your child will put on a cape and fly around as we sing the Super Hero Song.
Cheeky Tots (1-2 years): This will be the highlight of your tots week! Parents are encourage to get involved as we Sing! – Dance! – Pop Bubbles! – Play Some Tricks! The show evolves every week. New songs and activities added combined with familiar, repeated activities.
Cheeky Tunes Preschoolers (3-5yrs): Parents can relax, sit back and chat as we take your preschooler on a musical adventure.The Show is specially designed to engage, teach and delight Preschoolers.
First Show is FREE!
For more information or to enroll your child, visit the webiste.
Tell them ellaslist sent you!
Reviews
I love how the songs even make the parents laugh, my favourite is the Babicino song.
The first time I brought my 2 daughters to Cheeky Tunes they were shy. They stood back and didn't really join in with the activities. I wasn't sure if they liked it but through the week they nagged me to go back again. As the weeks continued I noticed a change in them, they started to join in more of the songs, they were getting into it more, dancing along, and really coming out of their shells and embracing their 'silly side' more. They had a lovely connection with the performer. They love the songs and listen to them all week long. But my favourite thing about Cheeky Tunes is the that both fall straight to sleep after lunch but they've really had a work out.